« previous post | next post »
Google Suggest is an fun new tool for probing the textual Zeitgeist. Using it on "Language Log" yields: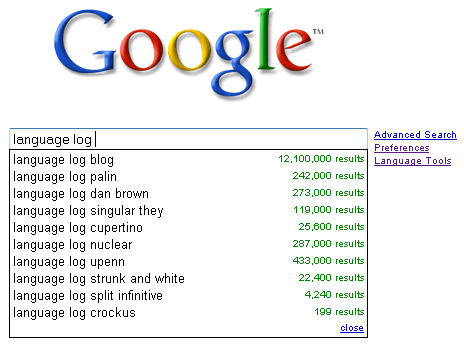 Bare "Language Log" gets 36,900,000 results (as we can see by getting suggested continuations for "language lo", though I'll spare you the picture). It's clear that lots of regular readers use Google to find us, rather than typing in the URL or using a browser bookmark or an RSS feed.
The Google Suggest FAQ explains:
Our algorithms use a wide range of information to predict the queries users are most likely to want to see. For example, Google Suggest uses data about the overall popularity of various searches to help rank the refinements it offers. An example of this type of popularity information can be found in the Google Zeitgeist. Google Suggest does not base its suggestions on your personal search history.
Exactly how the "results" number is related to query-log counts is not clear — is it a cumulative number, or a number from a recent period, or some kind of weighted running sum, or a projection of some more complex kind that also involves click-through rates, number of results, etc.?  Whatever the meaning of the suggestfulness (suggestionality?) numbers, a test for continuations of "linguistic" and "psycholog" shows that in this dimension, psychology is only about 4.3 times more popular than linguistics — 105 million to 24.3 million. Could we be catching up?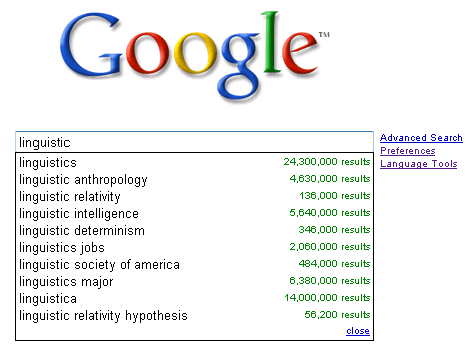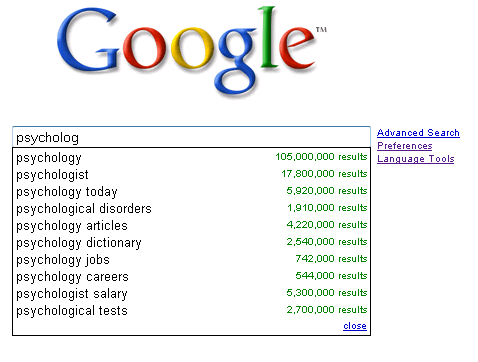 Alas, this same metric suggests that Language Log (36,900,000 results) is 6.2 times more popular than Psychology Today (5,920,000 results), which is absurd. (Though this doubtless gives a fair picture of web search counts, it leaves out the crucial Supermarket Checkout Line factor, where the psychologists are still winning by default.)
Aaron Davies, in an email under the subject line "Snowclones are the new Breakfast Experiment",  has drawn my attention to the fact that this method is not just for doing misleading market research — it can also be used to probe for popular phrasal templates.
---