« previous post | next post »
Earlier today, Ann Althouse noted President Obama's use of the expression "hair on X" to mean that X is complicated, from David Remnick's New Yorker interview. The two Obama quotes that she discusses:
Because, if you're doing big, hard things, then there is going to be some hair on it — there's going to be some aspects of it that aren't clean and neat and immediately elicit applause from everybody.
Having said all that, those who argue that legalizing marijuana is a panacea and it solves all these social problems I think are probably overstating the case. There is a lot of hair on that policy. And the experiment that's going to be taking place in Colorado and Washington is going to be, I think, a challenge….
Googling the term lead Ann to the conclusion that "this phrase … came from the realm of business deals", based on "a 2010 Globe and Mail article defining mergers & acquisitions buzzwords":
So it came from The World of Those Terrible One-Percenters. It's got nothing to do with the rough and tumble of that experience, long ago, when we smoked pot and wanted a head with hair, long beautiful hair, shining, gleaming, streaming, flaxen, waxen, down to there, hair.
But in fact I think that we can let the one-percenters, terrible and otherwise, off the  hook.  Consider the famous early-1970s quote from the physicist John Wheeler, summarizing a theorem about black holes (known as the "no-hair theorem") in the phrase "Black holes have no hair". This means, as Wikipedia puts it, that
all black hole solutions of the Einstein-Maxwell equations of gravitation and electromagnetism in general relativity can be completely characterized by only three externally observable classical parameters: mass, electric charge, and angular momentum. All other information (for which "hair" is a metaphor) about the matter which formed a black hole or is falling into it, "disappears" behind the black-hole event horizon and is therefore permanently inaccessible to external observers.
Here's a passage from Charles Misner, Kip Thorne, and John Wheeler, Gravitation 1973, showing that the usage is at least that old: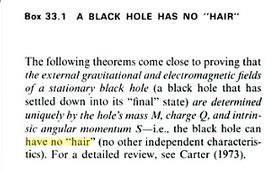 This usage naturally leads to talking about hair being on things, as e.g. in M.G. Alford et al., "Discrete quantum hair on black holes and the non-Abelian Aharonov-Bohm effect", Nuclear Physics B 1990, or Sidney Coleman et al., "Growing Hair on Black Holes", Physical Review Letters 1991, or Takashi Torii et al., "Scalar hair on the black hole in asymptotically anti–de Sitter spacetime", Physical Review D 2001, or etc. (For a review, see V. Gates et al., "Stuperspace", Physica D: Nonlinear Phenomena, 1985).
And I believe that this physicists' sense of hair  comes from an earlier hacker/engineering usage, summarized in the Jargon File entry for hair:
[back-formation from hairy] The complications that make something hairy. "Decoding TECO commands requires a certain amount of hair." Often seen in the phrase infinite hair, which connotes extreme complexity. Also in hairiferous (tending to promote hair growth): "GNUMACS elisp encourages lusers to write complex editing modes." "Yeah, it's pretty hairiferous all right." (or just: "Hair squared!")
I recall hearing this usage around MIT in 1965 or 1966, which would be consistent with the mention of TECO in the jargon file entry.
And in the (I think earlier) adjectival form hairy, the OED traces a version of this usage back to British schoolboys in the mid-19th century (lots of hacker jargon come from schoolboy slang, including the word hack itself):
A.1.f. In various fig. and slang senses: difficult (quot. 1848); out-of-date, passé; frightening, hair-raising; crude, clumsy, rough, erratic.
1848   A. H. Clough Bothie of Toper-Na-Fuosich ix. 146   He..never once had brushed up his hairy Aldrich.
Some additional context from that work:
Three weeks hence be it time to exhume our dreary classics.
And in the chorus joined Lindsay, the Piper, the Dialectician.
Three weeks hence we return to the shop and the wash-hand-stand-bason,
Three weeks hence unbury Thicksides and hairy Aldrich.
But the Tutor enquired, the grave man, nick-named Adam,
Who are they that go, and when do they promise returning ?
[…]
Answer was made him by Philip, the poet, the eloquent speaker.
Airlie remains, I presume, was the answer, and Hobbes, peradventure ;
Tarry let Airlie May-fairly, and Hobbes, brief-kilted hero,
Tarry let Hobbes in kilt, and Airlie ' abide in his breeches ; '
Tarry let these, and read, four Pindars apiece an it like them !
Weary of reading am I, and weary of walks prescribed us ;
Weary of Ethic and Logic, of Rhetoric yet more weary,
Eager to range over heather unfettered of gillie and marquis,
I will away with the rest, and bury my hairy 'Tottle.
That "hairy Aldrich" is presumably Henry Aldrich's Artis Logicae Compendium, which was written in the late 17th century but "continued to be read at Oxford (in Mansel's revised edition) till long past the middle of the 19th century", according to Wikipedia. And "hairy 'Tottle" is of course Aristotle.
Some more recent OED citations:
1946 B. Marshall George Brown's Schooldays 7 There you go again using great long hairy words.
1962 D. Slayton in Into Orbit 22 If you happen to be pulling a lot of Gs..it might get a little hairy trying to manipulate the controls with all the finesse you'd need.
1966 'W. Cooper' Mem. New Man iii. iv. 239 The problem was of the kind that Mike described in his up-to-date slang as 'hairy', meaning complex in surface detail and involving more parameters than anybody would want to cope with simultaneously. In a word, messy.
It's possible that the M&A culture derived this usage independently from 19th-century schoolboy slang; but pending evidence of such a history, I'm going with the theory that it arrived on Wall Street with the advent of a new breed of "quants" in the 1990s. As Wikipedia explains,
Quantitative analysts often come from mathematics, physics or engineering backgrounds rather than economics-related fields, and quantitative analysis is a major source of employment for people with mathematics and physics Ph.D. degrees in the US education system, or with financial mathematics D.E.A. degrees (Univ. Paris VI, Univ. Paris VII, ParisTech…) in the French education system. Typically, a quantitative analyst will also need extensive skills in computer programming, most commonly C++ and/or Java.
How did hair="complexity" come into Obama's lexicon? Again, pending evidence to the contrary, I'd suspect the general diffusion of engineering slang into the world of political operatives, some of whom have a background in statistical modeling or computer science or whatever. Though I guess there might be enough back-and-forth between Wall Street and high-level politics to allow some terminological flow from M&A jargon into political deal-making.
---