« previous post | next post »
At the bottom of our New Year's greeting letter to friends, I put this picture of a very special Dutch Belted cow: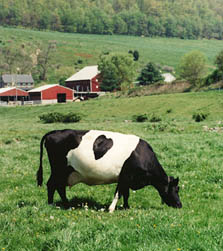 When I looked at a few of the letters my wife had signed, I noticed that she had added "Happy" on one side of the cow and "Year" on the other side of the cow. I thought that was extremely clever, because she was using the cow as a cross-lingual pun: "Happy 牛 Year!" Upon being read out as "Happy NIU2 Year," any speaker of English will immediately understand the greeting. And, this being the Chinese "Year of the NIU2," which was why I put that animal at the bottom of our New Year's message in the first place, Liqing's formulation is particularly fitting for the beginning of 2009.
This morning when I came to the office, I received the following note from Bruce Balden:
According to my correspondent in Dalian, "Happy 牛 Year" seems the latest cross-lingual pun over there. (Of course since Year 2009 is 牛年 it becomes almost a visual pun too).
Apparently Liqing wasn't the only person to have thought of this exceedingly apt pun! Indeed, when I Googled "Happy 牛 Year!" I found that millions of people in China are ringing in the New Year with this salutation. The short text messages (STM) consisting of precisely this wording will undoubtedly run into the billions. In fact, "Happy 牛 Year!" is the most popular STM New Year's greeting in China this year.
I shouldn't be surprised by this phenomenon, however, because I've long observed how English is increasingly being inserted into Chinese sentences. For example, "我有個paper要hand in." ("I have a paper to hand in.") What is somewhat unusual about "Happy 牛 Year!" is that this is fundamentally an English expression with an inserted Chinese word being employed for its punning value in English, and that this English expression is being used ubiquitously in China by Chinese speakers.
A couple of notes before closing. First, NIU2NIAN2 牛年 is usually rendered as "Year of the Ox" in English, but NIU2 actually refers to any bovid. Second, although the Chinese graph for NIAN2 年 ("year") looks somewhat like that for NIU2 牛, they are completely unrelated. The earliest form of 牛 is the schematic representation of a bovid, whereas the earliest form of 年 depicts a man carrying a bundle of crops on his back (the original meaning of the graph was "harvest").
---