« previous post | next post »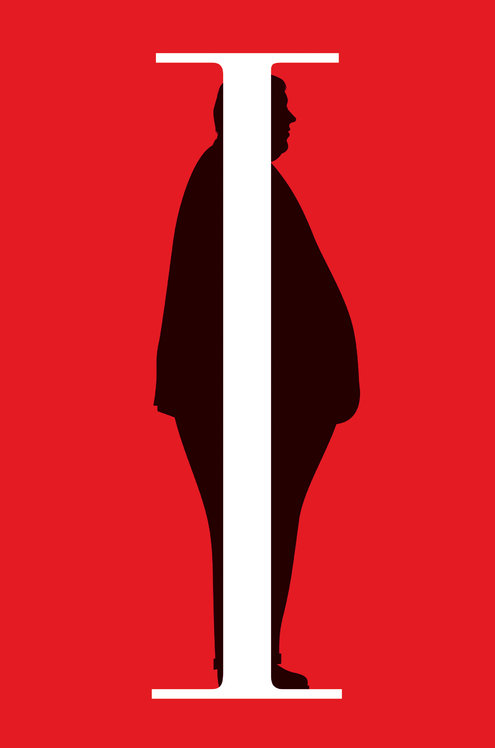 Benjamin Wallace-Wells, "The Narcissistic Drama of Chris Christie's Apology", NY Magazine 1/9/2014:
"What does it make me ask about me?" the governor of New Jersey said about halfway through his press conference today, paraphrasing a reporter's inquiry, and even though the event continued long afterward, this question seemed to contain its essence, and in some way the essence of Chris Christie too. 
Frank Bruni, "The 'I' in Christie's Storm", NYT 1/12/2014:
POLITICS boils down to three pronouns: I, you, we. The politician who has them in balance goes a long way. […]
In his news conference on Thursday [Chris Christie] found a way to spell apology with a thousand I's.
But the self-referentiality of Gov. Christie's apology is typical of the genre. Consider the apologetic mosaic created by Bill Marsh, Alicia Parlapiano, and Wilson Andrews, "Seeking Redemption, Sometimes With a Familiar Ring", NYT 1/10/2014:
Gov. Chris Christie's lengthy press conference on Thursday had many echoes of previous political moments of regret. Herewith, strung together, apologies culled from notable speeches and statements made in the aftermath of wrongdoing or other officeholder embarrassments.
The whole verbal collage is worth reading — and one of its obvious features is the focus on the first person singular. The composite plea is 429 words long, of which 32 are I's (7.5%) and 40 are first person singular pronouns of all sorts (9.3%). The individual speeches  — minus Arnold Schwarzenegger and Kwame Kilpatrick, for whom I couldn't find online transcripts, and plus Chris Christie — stack up as follows, in descending order of FPSP percentage:
Larry Craig, Statement 6/27/2007: 558 words, 45 I's (8.1%), 65 FPSP (11.6%)
John Edwards, Statement 8/8/2008: 358 words, 25 I's (7.0 percent), 39 FPSP (10.9 percent)
James McGreevey, Resignation speech 8/13/2004:690 words, 32 I's (4.6%), 68 FPSP (9.9%)
Eliot Spitzer, Apology to the public 3/10/2008: 184 words, 12 I's (6.5%), 17 FPSP (9.2%)
Anthony Weiner, Confession 7/23/2013: 581 words, 30 I's (5.2%), 49 FPSP (8.4%)
David Vitter, Press Conference 7/16/2007: 388 words, 23 I's (5.9%), 32 FPSP (8.2%)
Bill Clinton, Prayer Breakfast apology 9/11/1998: 1191 words, 52 I's (4.4%), 96 FPSP (8.1%)
Chris Christie, Press conference (Opening statement) 1/9/2014: 1982 words, 114 I's (5.8%), 159 FPSP (8.0%)
Randy "Duke" Cunningham, Personal Statement 6/23/2005: 1674 words, 69 I's (4.1%), 117 FPSP (7.0%)
John Ensign, Farewell to the Senate, 5/2/2011:  2039 words, 96 I's (4.7%), 148 FPSP (7.3%)
Mark Sanford, Press Briefing 6/24/2009: 1689 words, 90 I's (5.3%), 117 FPSP (6.9%)
Richard Nixon, "Checkers" speech 9/23/1952: 4613 words, 188 I's (4.1%), 265 FPSP (5.7%)
In graphical form: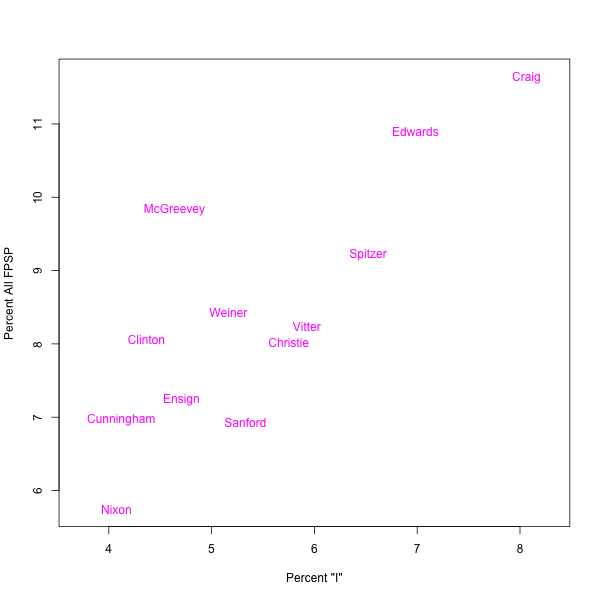 And in terms of Frank Bruni's desired balance among I, you, and we, Gov. Christie's statement is also more or less in the middle of the apologetic pack:
In "Fact-checking George F. Will", 6/7/2009, I noted that Mr. Will accused President Obama of being "inordinately fond of the first-person singular pronoun", with specific reference to a particular press conference. So I compared the actual counts from that press conference with the comparable numbers in comparable presidential press conferences of George W. Bush and William J. Clinton. Let's add those points to the plot in question: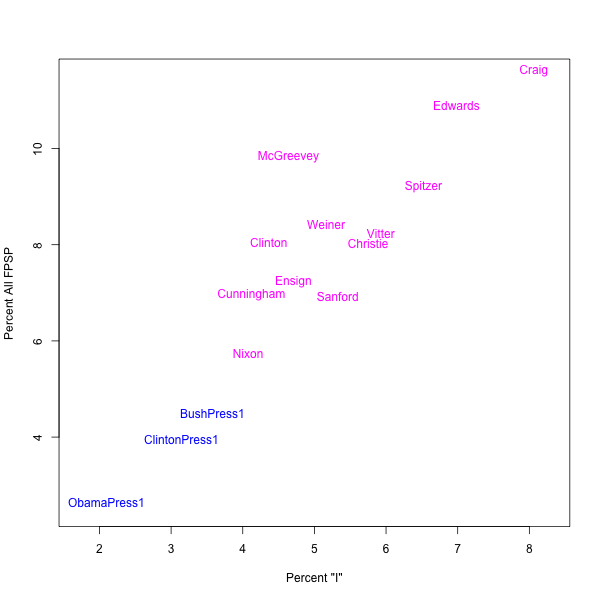 From this we can conclude two things: First, that political apologies are indeed more self-referential than the general run of political press conferences; and second, that George F. Will is singularly uninsightful and also … well, something else.  It's normal for George Will to state falsehoods as if they were obviously true — but he seem oddly committed to this particular false claim about Obama's pronoun usage.
In "Fact-checking George F. Will, one more time", 10/6/2009, I noted that he accused Barack and Michelle Obama of "An Olympic Ego Trip", in which they "gave heartfelt speeches about . . . themselves", with actual pronoun counts (but without any comparison to similar speeches by others); and in "Another lie from George Will", 5/7/2012, I quoted his remark that "If you struck from Barack Obama's vocabulary the first-person singular pronoun, he would fall silent, which would be a mercy to us and a service to him, actually", and added to the list of counter-evidence the counts of  counts of first-person-singular pronouns from the presidential radio addresses on file at The American Presidency Project at UCSB:
| | | | |
| --- | --- | --- | --- |
| | Words | FPSPs | Percent FPSPs |
| Reagan | 283,215 | 3,241 | 1.14% |
| Bush1 | 11,296 | 206 | 1.82% |
| Clinton | 374,140 | 3,805 | 1.02% |
| Bush2 | 254,379 | 2,684 | 1.06% |
| Obama | 123,893 | 1,123 | 0.91% |
Chris Christie has also previously been accused of talking about himself too much, specifically with respect to his speech at the Republican National Convention in 2012.  Now, it was plausible to complain that he didn't mention the national Republican ticket until about the 16:30 mark of his 24-minute address. But as I noted in "Chris Christie's pronouns", 8/29/2012, Andrew Rosenthal's NYT editorial expressed this complaint in terms of first-person-singular-pronoun counts, despite the fact that Gov. Christie's FPSP percentages were lower than those of the other featured speakers at the same event:
| | |
| --- | --- |
| | All FPSP % |
| Chris Christie | 2.17% |
| Paul Ryan | 2.22% |
| Rick Santorum | 2.23% |
| Ann Romney | 2.71% |
| Mike Huckabee | 2.89% |
| Clint Eastwood | 4.8% |

And as you can see from the data presented above, Christie's recent redemption plea was not unusually self-referential either, compared to other American politicians' performances in similar circumstances.
Please keep in mind that in addition to being generally unwilling to support their prejudices with an actual comparisons of rates, our punditocracy has a poor understanding of what rates of first-person-singular-pronoun usage might actually mean. For a discussion, see "What is 'I' saying?", 8/9/2009.
My goal here is to discourage facile op-ed columns of the form "I find X annoying and will therefore accuse him/her of talking about himself/herself too much, dressing this up in unsupported claims about rates of pronoun usage".   Careful empirical work on pronoun usage might well tell us something about the character of public figures (or of their speechwriters). But careful empirical work is not something that we can expect from most popular columnists, especially when the subject is language.
Update — for some additional pundidiocy on this topic, see Dana Milbank, "New Jersey Narcissist", WaPo 1/10/2014; Noah Rothman, "Washington Post Opinion Writers Discover Narcissism… In Republicans", Mediaite 1/10/2014.
---