« previous post | next post »
I'm in Minneapolis for the LSA 2014 annual meeting, about which more later. For this morning, all I have time for is a note about the curious cover of the Mpls St Paul magazine that the hotel put out for me: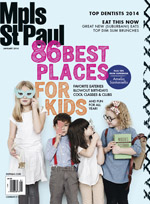 As far as I can tell from the contents of the article, the editors chose the number 86 just because they ran out of ideas or space at that point, and not as a covert reference to the slang noun and and verb, which the OED glosses as
eighty-six, n.: In restaurants and bars, an expression indicating that the supply of an item is exhausted, or that a customer is not to be served; also, a customer to be refused service.
v. trans., to eject or debar (a person) from premises; to reject or abandon.
The suggested etymology is "perhaps rhyming slang for nix n".
Wiktionary gives only the verb, with the glosses
v. To cancel an order for food.
v. To remove an item from the menu.
v. To throw out; discard.
v. To deny service.
The only form I was familiar with was the verb, in the meaning "deny service" or "eject from premises", as here. By coincidence, I noticed the same new-to-me usage, just the other day, in a clip from Key and Peele played on Fresh Air ("For Key And Peele, Biracial Roots Bestow Special Comedic 'Power'", 12/31/2013), in which Jordan Peele plays President Obama, and  Keegan-Michael Key plays his "anger translator", Luther:
Audio clip: Adobe Flash Player (version 9 or above) is required to play this audio clip. Download the latest version here. You also need to have JavaScript enabled in your browser.
Peele:
Now, before I begin,
I just want to say that I know a lot of people out there seem to think that I don't get angry.
That's just not true. I get angry a lot.
It's just that the way I express passion is different from most.
So just so there's no more confusion, we've hired Luther here to be my anger translator. Luther?
Key:
Hi.
Peele:
First off, concerning the recent developments in the Middle Eastern region,
I just want to reiterate our unflinching support for all people and their right to a democratic process.
Key:
Hey, all y'all dictators out there, keep messing around and see what happens, just see what happens, watch.
Peele:
Also, to the governments of Iran and North Korea, we once again urge you to discontinue your uranium enrichment programs.
Key:
Hey, Mahmoud, Kim Jong, I think I done told both y'all, 86 your shit, bitches, or I'm going to come over there and do it for y'all. Please test me and see what happens.
Apparently this use of 86 means "throw out" or "discard" — which is clearly a traditional sense, as in the OED's citation
1980   New Yorker 30 June 67   Most of the program was devoted to the lessons in campaign management that could be learned from Presidential races, real and fictional (A scene was shown from the movie 'The Candidate', in which the media adviser said to Robert Redford, 'O.K., now, for starters, we got to cut your hair and eighty-six the sideburns').
But it was new to me. And apparently the editorial staff of Mpls St Paul are even further behind (or ahead?) of the curve. Or (more likely) never even considered that "86" might mean anything other than "the number of local attractions for kids we managed to come up with before we ran out of time and space".
Update — In the comments, Barbara Phillips Long links to a couple of articles that discuss the use of apparently-random numbers in headlines, e.g. Katherine O. Seelye, "Lurid Numbers on Glossy Pages! (Magazines Exploit What Sells)", NYT 2/10/2006:
A trip to the newsstand these days can be a dizzying descent into a blizzard of numbers. The March issue of Elle Girl promises readers "375 excuses to shop." Harper's Bazaar offers "783 new ideas to flatter you." Marie Claire trumpets not only "71 easy hair and makeup how-tos" but a mind-blowing "1,157 hot looks (all shapes, all sizes, all prices)."
Magazines, particularly the "service" publications aimed at women, have long used numbers as a selling point while helping readers divine what's in, what's hot, what's cool, what's not. But today, these totals, scores and inventories seem both increasingly random and increasingly increasing, leaping exponentially beyond the sorry single digits of yesteryear to an incalculable proliferation of paths to a better you.
 Update #2 — Courtesy of Chris Weigel, here's an unbleeped video clip:
---