« previous post | next post »
The latest xkcd: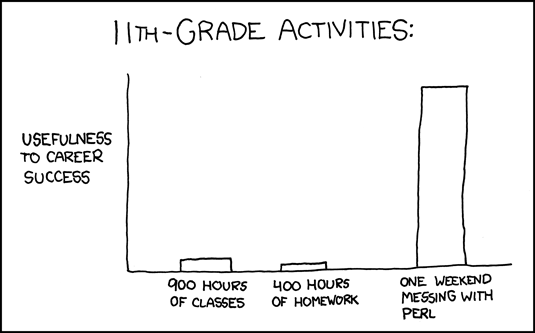 The mouseover title: "And the ten minutes striking up a conversation with that strange kid in homeroom sometimes matters more than every other part of high school combined."

Perl didn't exist forty years ago, but the time that I spent messing around with the PDP-9 in Ken Stevens' lab at MIT certainly influenced the rest of my life, even though it had nothing directly to do with any classes or grades. The informal "minimum number of instructions to calculate a square root" contest had an especially big impact, even though it was way less professionally relevant than the primitive audio waveform editor that I actually succeeded in writing.
If you've got a free weekend or two, you could do a lot worse than to spend some time messing around with Python and NLTK — there's even an online book to guide you.
[Update: I note in passing that web search for "mess(ing) around with" turns up at least three classes of continuations: sex partners ("her best friend", "married women", "a guy that has a girlfriend"); technologies ("metadata", "the ASUS Eee PC", "your X Server"); and agents of potentially violent retaliation ("Jim"). In contrast, plain around-free "mess(ing) with" seems to be much more strongly biased towards the risk-of-retaliation idea. Maybe Randall Munroe left out "around" due to label spacing issues, or maybe he just thinks of "mess with" in a more harmonious sense. Or maybe the career-success value of "messing with Perl" was in fact due to the propensity of Perl to mess right back at you. ]
---