« previous post | next post »
PC and Pixel for 12/11/2008 (link sent in by Michael Erlewine) :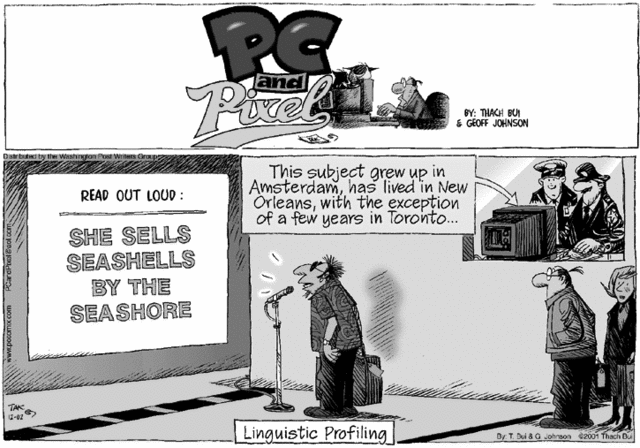 In fact, reasonably robust identification of the language being spoken is more like what the state of the art for this sort of technology can now aspire to.
For example, here are some recent results for eight systems tested on a two-way choice between Caribbean and non-Caribbean Spanish based on a three-second sample. The different bars represent performance for the different systems, with the performance of a human judge included for comparison.
Here is the performance of two systems on an open set, where the task was to detect Caribbean Spanish in a set of samples that included not only other sorts of Spanish, but also Arabic, Bengali, Farsi, German, Japanese, Korean, Russian, Tamil, Thai, Vietnamese, Cantonese, Mandarin (mainland and Taiwanese), Min, Wu, English (American and Indian), Hindi, Urdu, and five other languages:
In both graphs, the red portion of the bars indicates the proportion of misses (where the test segment was Caribbean Spanish but the system failed to detect it), and the blue portion of the graphs indicates the proportion of false alarms (where the system claimed to detect Caribbean Spanish, but the test segment was some other dialect of Spanish, in the closed-set trial, or some language altogether, in the open-set trial).
Here's the performance for a closed-set language-detection task, for a larger number of participating systems, averaged over the 14 languages in the set:
As you can see, the best of the systems are doing pretty well at recognizing languages, but not so well at distinguishing one dialect from another.
If you'd like more details, the full evaluation plan for this test (known as LRE07) is here, and the results are here. The evaluations were conducted by the Multimodal Information Group at the National Institute of Standards and Technology, and the data for the LRE evaluations was collected and distributed by the Linguistic Data Consortium (where Language Log is now hosted).
---