« previous post | next post »
In connection with the previous post, and in the spirit of the season, I can't resist adding this: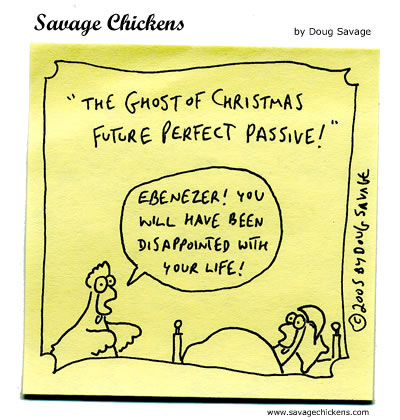 The source is the Savage Chickens cartoon for 12/21/2005.
As one of the commenters on the cartoon points out, it would help to make the sentence unambiguously passive if "by" were substituted for "with", since "He is disappointed with his life" might just involve the copular verb "is" followed by the adjective "disappointed".
The same commenter suggested that The Ghost of Future Perfect Progressive Passive might announce itself by saying "Ebenezer! When I come again, you will have been being disappointed for quite some time by all the wrong choices you have made in your life."
Indeed, as several people noted in commenting on "What's will?", phrases like "you will have been being disappointed" are present in English only in a somewhat ethereal form. Checking the first 10 pages of Google hits for "will have been being", I found only grammatical examples and (grammatical) jokes. A search in Literature Online finds no hits at all, suggesting that the four-word sequence "will have been being" has never been used in the 350,000 works of English-language poetry and prose indexed there. And similarly, a search in the Proquest Historical Newspaper archive comes up empty.
That's not to say that this four-word auxiliary sequence has never been used in earnest, but it wouldn't surprise me to learn that most English speakers have never encountered an example. If so, that means that the grammaticality of these phrases (and I'm personally convinced that they're in some sense part of the language) is implicit in the patterns that people do often encounter.
[In order to encourage the empirical impulse among our readers, the first person who finds and documents a genuine, real-world use of "will have been being" will receive a free lifetime subscription to Language Log. ]
[And again, just to keep things straight — "will have been disappointed", as used in this cartoon, certainly expresses a prediction about future time (a semantic notion), but that doesn't mean that it's in the future tense (a morpho-syntactic notion).]
---