« previous post | next post »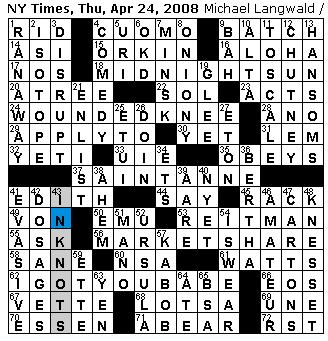 [Update 4/28/2008: Let me spoil the fun by pointing out that this post was supposed to be a joke. Apologies, for being excessively indirect again, to the half-a-dozen commenters who have earnestly informed me that English-language puzzles limit themselves to our standard 26 letters. I was just trying to underline, jocularly, Roger Shuy's jocular point that analogous limiting conventions in texting will probably not destroy … Oh, never mind.]
In a recent post, Roger Shuy warned us about the threat to civilization posed by the New York Times crossword puzzle:
Correct answers to the Times puzzles require no apostrophes to mark the important distinction between "its" from "it's" or even to indicate possessive nouns. No correctly hyphenated words are permitted. And even though you know better, have you ever been able to use a comma, colon, semicolon, quotation mark, virgule, or question mark in a New York Times crossword puzzle? No, you haven't! Not even periods after abbreviations. No spaces between words in phrases. No dashes in front of suffixes. How's that for creeping whateverism?
As Roger observed, it's striking that those who urge action against the barbarian hordes of txters are unconcerned about the fifth column of crossworders in our midst. But Joe Gordon is sounding the tocsin. A long-time Language Log correspondent, Joe has sent me a series of notes on this subject, focusing especially on the New York Times crossword for Thursday, April 24, in which the clue to 28 across was "Mayo can be found in it", and the required answer is A-N-O. As Joe explains:
This is wrong … N is not the same letter as the one that appears in the word Year translated into Spanish. It is a different letter. I swear. Look it up.
Given the error, the clue reads, translated, "Mayo can be found in it", answer, "Anus".
Of course, if this error were corrected, then 12 down would become "chutñey".
I feel compelled to point out that this particular case is unlikely to be due to mere carelessness and ignorance. In fact, almost exactly two years ago, another member of the Gordon family pointed Ben Zimmer to an earlier example of the same "mistake", in an earlier NYT crossword ("Full tilde", 4/25/2006). Could this reveal an insidious plot to corrode American morals and taste, orchestrated by that supervillain of orthographical leveling, Will "The Puzzlemaster" Shortz?
On a related note, Gabriel Bodard at Current Epigraphy linked to my post on txting under Trajan ("pont max tr pot lol", 4/24/2008), and asked ("Inscriptions, language, and txting", 4/25/2008):
Is there value in the comparison with other cultures of condensed writing (including but not restricted to text messaging and 1337-speak) as a tool in the teaching and the study of epigraphic and palaeographic abbreviation?
Why do ancient scribes abbreviate? Is there any evidence that abbreviation ever led to ambiguity and misunderstanding of important documents? Is epigraphic abbreviation a completely different phenomenon from digital shorthand, or is there something to be learned from comparisons of this kind—or contrasts?
[And Dan Milton has pointed me to a recent Morning News article, in which loss of the tilde certainly did lead to "ambiguity and misunderstanding of important documents", if only in the creating imagination of a defense lawyer: "In Praise of Loopholes: The Anus Motion", 4/28/2008.]
---