« previous post | next post »
The Typalyzer website gives an instant and fun psychological profile of any blog based on the language used. Asked about Language Log, it says we're "scientists". It's true! It's true!
Although we are "intellectually curious and daring", we "might be pshysically hesitant to try new things." I admit it. I'm so pshysically challenged that I can't even pronounce it.
Further, we "tend to be so abstract and theoretical in [our] communication [we] often have a problem communcating [our] visions to other people and need to learn patience and use conrete examples." Yes, also true. Communcating has never been our strong point. Note to self: more conrete.
But ok, spelling aside, this stuff isn't bad at all, until you get to the next part of the analysis. Which is the most misleading picture of a brain since Dan Hodgins showed us where to find the Crockus: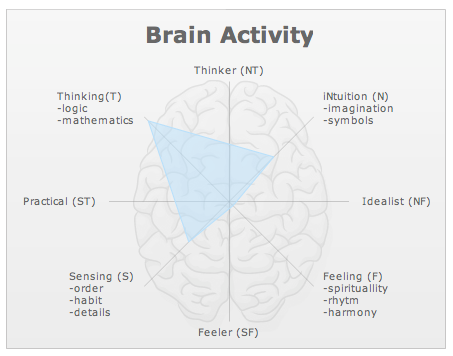 That's why my brain hurts.
[Below the fold, a note for the curious on how the Typalyzer website works.
The Typalyzer seems to use a standard machine classification technique. Presumably the creators have created a little database consisting of example websites with classifications that they think are appropriate, then trained the classifier with these examples. Now the classifier gives instant classifications of sites it's never seen before based, broadly, on how similar the new sites are to the old ones. It's likely that the classifier is primarily using what's called a "bag of words" technique. That is, similarity of one site to another is based on the relative frequencies of words used on the sites. Then based on the classification, the machine chooses which misleading picture to take from a vast database of misleading pictures. All well and good. If you've any faith at all in the psychological categories they use, then this is neat way to do cheap psychology.]
---