« previous post | next post »
The latest xkcd: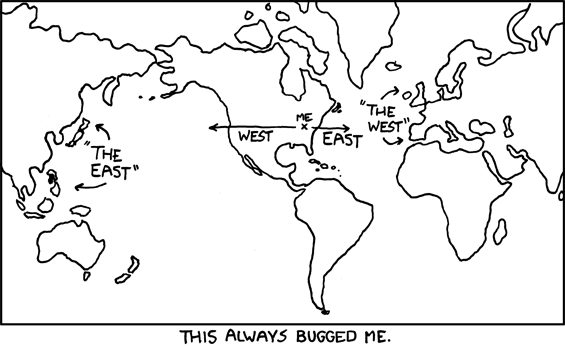 (Click on the image for a larger version.)

The cartoon's embedded title: "Also, is it just me, or do Japan and New Zealand look suspiciously similar? Has anyone seen them at a party together?"
If you like that, you might love a discussion that took place around the water cooler at Language Log Plaza a few years ago:
"A westward loop", 10/6/2004; "Un système où tout se tient, and east is west", 10/6/2004; "Loopy defenses of the shuttle bus sign", 10/7/2004; "The gopher's eye view", 10/10/2004; "Westward on the eastbound shuttle; or, what a long strange trip that would be", 10/11/2004; "Down the gopher poll", 10/12/2004.
---