« previous post | next post »
Below is a guest post by Mark Seidenberg on Malcolm Gladwell's recent book, David and Goliath, which promotes the idea that apparent disadvantages are often actually advantages, and in particular suggests that dyslexia might be Good For You.
---
This piece is commentary on a chapter about dyslexia in Malcolm Gladwell's latest book. I don't follow his work closely, and the book is being reviewed and critiqued everywhere, but I thought the chapter merited a response from somebody, like me, who studies dyslexia and works with local advocacy groups for dyslexics and their families. The chapter deserves s a line-by-line analysis; what I've written only mentions the main issues. The document incorporates several key points that were handed to me by Maryellen MacDonald, for which I thank her, a lot.
__________________________Mark Seidenberg
__________________________Language and Cognitive Neuroscience Lab
__________________________University of Wisconsin-Madison
Malcolm Gladwell, the immensely popular writer, has just released his latest best-selling book. Gladwell mainly writes about aspects of human behavior that are studied by researchers in psychology, neuroscience, sociology, and related fields. He has perfected a literary form that might be called the nonfiction short story (by analogy to Truman Capote's "nonfiction novel"). Each chapter (or New Yorker article) explores an interesting, usually counterintuitive, idea by means of an engaging narrative, woven out of several types of cloth: personal biographies, telling anecdotes, research studies, expert opinions. The stories are exceptionally well told; it is a remarkable feat to turn an issue like the impact of practice on expertise (Outliers) into a page-turner.
The gripe about Gladwell is his selective use of such information—not letting facts get in the way of a good story. A different story, certainly a more nuanced one, would result if other studies, other personal narratives, other experts had been considered. The average reader is not aware of what has been left out and thus can be easily mislead. His selective use of the research literature turns scientific findings into another form of anecdote. This is particularly bothersome to scientists whose own first commandment is something like: thou shalt address all relevant evidence, not merely the findings that support the most interesting, attention-getting hypothesis.
But so what? The man is writing popular books for a general audience, not reviews of the scientific literature. He introduces people to fascinating topics they might not otherwise have known about or considered interesting enough to merit attention. He offers novel, surprising perspectives on topics that everybody wonders about, like the bases of extraordinary success. Gladwell is like a lot of journalists and public intellectuals whose greater commitment is to what is interesting, not necessarily true. Gladwell isn't obligated to consider competing perspectives or contradictory findings. His only obligation is to engage his readers. It's hard to build a compelling narrative out of "on the one hand this, on the other hand that," even if that would be the most accurate characterization of what is known about a topic. Nothing is gained if people won't pick up the book. Such books are valuable because they're stimulating: readers are moved to think and talk about important questions, situations, and events. There are plenty of easily accessible sources for readers who want to know more. Besides, there is always some truth to what he is saying; the evidence may be circumstantial but he doesn't just make it up. And the books are enjoyable: vivid characters, surprising findings, and anecdotes to share around the water cooler. It's all benign.
Gladwell gets a lot of grief, but he does his job Damnwell. Reading is good. Knowledge is good. Enjoyment is good. Take the book for what it is and have fun. Or go read a novel.
But here's something to consider. What if in telling one of these stories, the author inadvertently made life much harder for a large group of people who are disadvantaged in some way? What if it resulted in fewer people being able to overcome that disadvantage? What if it added to the considerable burdens that such individuals and their families already experience?
Could the Gladwell treatment be harmful to children?
There. That was my attempt to execute the famous Gladwell pivot, whereby he sets up an issue one way and then flips it around. You might have missed it because I'm an amateur, but here is the point:
Chapter 3 of the new book is about developmental dyslexia. It's titled after David Boies, one of two dyslexic superachievers who are profiled. The chapter's setup is this: Dyslexia is a serious disability. Lots of people struggle with it. Having a brain that's wired to make it hard to read is a big liability.
The pivot is: [It being such a debilitating condition] "You wouldn't wish dyslexia on your child. Or would you?"
Gladwell then develops the Idea that dyslexia might be a "desirable difficulty", a condition that is usually a liability but can also be the engine for extraordinary personal success. He says that it's hard to believe that the condition could be considered desirable given how many people struggle with it. But Gladwell is impressed by fact that "an extraordinarily high percentage of entrepreneurs are dyslexic". And he is impressed by people like David Boies, the most successful, accomplished person at the top of a very high legal pyramid, who identifies as dyslexic. Boies is the dream-team litigator who worked on a slew of historic cases, including the IBM and Microsoft anti-trust cases, Gore vs. Bush, and the overturning of California Prop 8.
Gladwell's idea isn't just that such people manage to succeed despite their dyslexia. It's that having dyslexia, and dealing with its consequences, played a causal role in their success. If dyslexia can boost people to stratospheric levels of success in professions like law and finance, and it can stimulate the creative, out-of-the-box thinking that contributes to entrepreneurial success, dyslexia might actually be a kind of "desirable difficulty." Interesting!
Or disturbing. The answer to the question, "You wouldn't wish dyslexia on your child. Or would you?" is, "No, you would not." Gladwell seems oblivious to how deeply hurtful the "desirable difficulty" suggestion might be to people who have to deal with being dyslexic, and to the parents who struggle, against institutional resistance, to get their dyslexic children help. His light entertainment is likely to make it harder for many dyslexics to gain recognition of their condition from educators, or the early diagnosis and intervention that is effective for many. That would not be benign.
So here's an irony: what if Gladwell's chapter makes it harder for a dyslexic to achieve the levels of success he venerates?
Being dyslexic may or may not have contributed to the success of some very high achieving individuals. The truth of the matter is irrelevant for two reasons. First, it has no bearing on what to do about a dyslexic child. Withholding treatment would be unconscionable, and possibility that some dyslexics become superachievers doesn't change that. Second, he's created a meme whose existence doesn't depend on being true. The meme is spreading through the culture at this very moment (move aside, "Overly Attached Girlfriend"). Gladwell has a vastly larger audience and far more influence on what people think than any scientist who studies dyslexia or advocacy organizations like the International Dyslexia Association. And so the idea that dyslexia can be a "desirable difficulty" will take hold, as will cruder versions than Gladwell intended, such as dyslexics being advantaged compared to ordinary folk.
Of course I'm talking about future consequences here rather than known outcomes, and there's no Tardis time machine handy to let us see how much impact the book will have. It's an ongoing experiment, the data aren't in, and it may be possible to bias the outcome while the experiment is in progress. But given what we know about dyslexia and the very real difficulties parents currently experience in getting the deficit recognized, it's rational to be concerned that Gladwell's message of desirable difficulty will have undesirable consequences for the mass of individuals who are dyslexic.
Dyslexia places individuals at high risk for educational failure. It creates serious challenges to people fully participating in the workforce, managing their own health care, or advancing their children's education. Gladwell knows this; he just wants it also known that the condition apparently had remarkably positive effects for some people, and why. He's not claiming that it works for all dyslexics, obviously; the theme of the book is that underdogs win more often than you might think, not always. The potential harm arises from the fact that dyslexics and their parents already face enormous obstacles. The condition is not highly visible and often goes undiagnosed. About 30% of the US population reads at the basic or below basic levels as defined by standard metrics. Many of these individuals are dyslexics whose condition was not diagnosed or treated. Dyslexia is poorly understood by teachers because their training doesn't include exposure to modern research on developmental disorders, their behavioral characteristics, their neural and genetic bases, or effective interventions. Many educational theorists are skeptical that dyslexia exists. Pushed to acknowledge that it is a brain-based disorder with a genetic component, these educators respond that, if that is true, dyslexia is a medical disorder outside their purview. Whereas on the medical side, it is seen as an educational issue.
The net result is a lot of people who go undiagnosed and untreated, or whose condition is recognized very late when it is harder to address. People who study dyslexics and work with parents and support groups also have stories to tell. There is a parent I've worked with in an advocacy group for dyslexics and their families, a highly educated, upper middle class mother (a pediatrician) with a severely dyslexic child and an extended family history of dyslexia. At a meeting to discuss the child's difficulties in school, the teacher asks, "Do you have any books in the home? Did you read to your child when he was younger? Is reading important in your family?" The child's difficulties are seen as arising from poor parenting rather than a heritable disorder.
Dyslexics and their parents are frequently challenged about the reality of the condition. In some states, like mine, even a diagnosis based on a full clinical neuropsych workup will not be accepted at face value. The child might get an IEP (individualized educational program) which stipulates that the classroom teacher will provide instruction tailored to the child's needs. This is the same teacher who lacks any training about dyslexia or how to address it.
The other frequent response to parents is: He'll catch up. Children learn to read at different rates. No need to worry. Or do anything. (I used "he" here because the condition occurs more often in males.)
Now parents may be faced with yet another response: dyslexia isn't a developmental disability, it's desirable. It can give a child an enormous advantage. Do you know that there are dyslexic superlawyers and Wall Street billionaires? You wouldn't want to deprive your child of those possibilities, would you?
Is this Gladwell's exact message? No. Will it be taken that way? Yes. Does his book promote shallow thinking about dyslexia? Absolutely. Was Chapter 3 such a compelling, rock-solid story that it had to be told, whatever the consequences? I don't think so.
Which brings me to the actual substance of Gladwell's argument about dyslexia being a desirable difficulty for even a few people. I found his idea utterly unconvincing, the evidence for key points either shallow, non-existent, or open to obvious alternative explanations. Here is a small sample of some of the howlers that in aggregate made me question whether Gladwell was paying attention to anything except maintaining his perfect narrative structure.
1. The characterization of dyslexia. The chapter starts with a brief description of dyslexia, supplying enough semi-accurate detail to establish that it a serious developmental disorder.
The howler was his discussion of the neuroimaging data, which generally have shown a pattern of underactivation in areas relevant to reading (e.g., the left occipital area where spellings are stored) and overactivation elsewhere (e.g., parts of the right hemisphere; the left inferior gyrus, part of Broca's area). Gladwell's glib summary of these findings: for dyslexics, "the [fMRI] scan looks like an aerial photo of a city during a blackout." No, it doesn't. The scans actually look like this: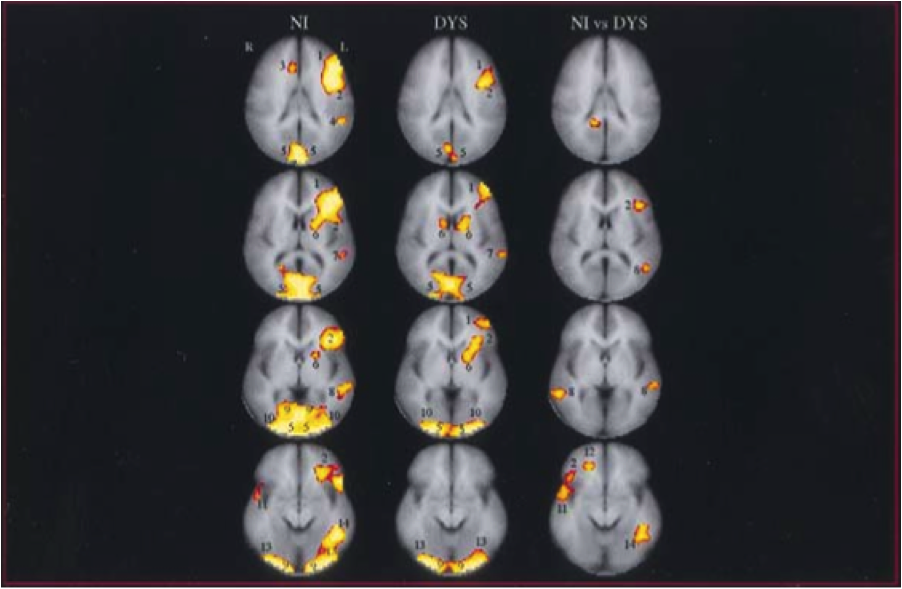 The figure (from Shaywitz et al., 2002, available here) shows fMRI results from nonimpaired (NI) and dyslexic subject groups, and contrast maps (in the third column) showing areas where activation was greater for the nonimpaired group compared to dyslexics.
As in this figure, dyslexics and nondsylexics tend to activate the same neural structures during reading, with differences in degree of activation associated with degree of reading impairment. Differences between dyslexics and nondyslexics are seen in specific, limited regions, not throughout the brain.
Sometimes a contrastive analysis will yield no net activation in an area. This might occur in comparing dyslexics' performance in a reading condition compared to a baseline condition (e.g. looking at meaningless squiggles). However, that result only indicates "no statistically reliable activation over and above that observed in the baseline condition," not that the area had its lights out.
Dyslexics also tend to show overactivation in the right hemisphere, which Gladwell describes as the "conceptual side" of the brain, adding yet another entry to a long list of specious characterizations of hemispheric functions.
Gladwell's goal is in this section is to establish that dyslexia is a serious condition, which doesn't require the full DSM-IV treatment. He directs readers to Maryanne Wolf's book on dyslexia for details. But the misstatements in what he does choose to cite raise questions about how much he understands about the condition, how closely he attends to the research, and his apparent willingness to exaggerate for rhetorical effect.
2. Desirable difficulty? The term was introduced by Robert Bjork, a UCLA psychologist. In his work the "difficulties" involve ways of structuring a student's experience (e.g., spaced practice on math problems) that may produce a longer learning curve but better mastery. The idea that dyslexia could be a "desirable difficulty" is apparently Gladwell's. The link he mentions is a study showing that making print harder to read (by using smaller letters in bad fonts at 60% grayscale) led to better learning by high school and college students compared to normal print. The print manipulation created a desirable difficulty, apparently forcing students to expend more effort, yielding better performance. Dyslexics also expend more effort reading texts because they are poor readers. Perhaps they too can attain the desirable benefits.
The comparison is risible. In one case skilled readers are able to expend additional effort in order to succeed in comprehending a degraded text. In the other case, dyslexics read normal texts laboriously because their abilities are so poor. The comparison is particularly inapt in light of research suggesting that dyslexia is caused by noisy (imprecise) neural processing. On this view the dyslexic brain processes stimuli as though they were degraded, to their misfortune, not benefit.
3. David Boies. The main biographical points here are that Boies became highly successful despite being dyslexic, because the condition forced him to develop work-arounds that turn out to be advantageous for a litigator. He read brief summaries of case studies rather than the entire casebook entries. He listened closely in class rather than taking notes, which helped him develop exceptional listening abilities and also gave him more time to think about what was being said. He worked at developing his memory skills. His spoken language is characterized as relatively sparse and employing limited vocabulary.
One question is whether David Boies is dyslexic by valid diagnostic criteria. People's self-reports are not a reliable or sufficient basis for determining their reading abilities. An author such as Oliver Sacks does not just rely on patients' characterizations of their conditions; indeed some of his most interesting patients are unaware of a dramatic impairment. I don't know if Mr. Boies is or was dyslexic, but the behaviors that are described are not specific to dyslexics or strong clinical indicators. It's said that he didn't learn to read until third grade, which is common. Many people who aren't dyslexic don't like to read (as children they are often called "reluctant readers"). You don't have to be dyslexic to prefer the Cliffs Notes/Sparknotes version to reading the whole text. Professors often struggle to get students to listen to what they are saying rather than merely take notes or copy slides.
Many people think they read abnormally slowly and with greater effort than normal. However, expectations about reading speeds and effort have been distorted by many years of fraudulent claims about speed reading techniques and the testimony of supposed super mega readers. As a consequence, people's assessments of their own reading abilities are not accurate.
The suggestion that Mr. Boies succeeded by capitalizing on his listening and memory skills suggests a different causal argument and another narrative arc: People who have extraordinary memory and listening skills may be less dependent on acquiring information via text, requiring them to read less. Reading less works against gaining high levels of reading skill, which requires extended practice. Such persons might end up being relatively poor readers, though not because of a constitutional deficit.
The tendency to mistake normal behaviors for a reading deficiency is illustrated by another anecdote about Mr. Boies, who reports that his spelling was so poor that spell-checkers often could not come up with the correction. Has this ever happened to you? (In spell-checking this document, mine caught the typo "methology," but did not list the obvious intended target, methodology.) This behavior is characteristic of spell-checkers, not diagnostic of a spelling impairment.
Finally, about Mr. Boies' spoken language. First, if it is impaired, Mr. Gladwell contradicts himself by emphasizing elsewhere that dyslexia only affects reading. Second, it's hard to detect any spoken language issues from YouTube videos of Mr. Boies speaking in various settings. Diagnosis cannot be accomplished by remote viewing. But perhaps Mr. Boies prefers to use a limited vocabulary in speaking to journalists.
4. Dyslexic entrepreneurs. In support of the idea that dyslexia might be a "desirable difficulty" Gladwell notes that "an extraordinarily high percentage of entrepreneurs are dyslexic". He cites a study published by Julie Logan, City University of London, in the journal Dyslexia in 2009. Let's dispense with this quickly. The study used an unnormed checklist for which I could find no evidence as to whether it differentiates dyslexics from nondyslexics. The checklist has 20 questions related to reading, spelling, memory, organizational skills, doing arithmetic in your head, and so on. For reasons that are not fully explained, the researcher chose to a focus on a subset of questions (difficulty with spelling, taking down and passing messages, and a couple of others). The questionnaire was sent to 2000 potential participants, "entrepreneurs" and corporate managers. The low 7% return rate yielded data from 102 entrepreneurs and 37 managers. The main data concern the "incidence of dyslexia," even though the author had previously noted that the checklist can't be used to diagnose dyslexia, only indicating "possible" dyslexia. Whereas only 3 of 37 corporate managers exhibited 4 or more dyslexic "traits", 36 of the 102 entrepreneurs did so. There were some other methodological problems and minor findings, which I'll skip.
The howler for me was Gladwell's leap from these results to the statement that "an extraordinarily high percentage of entrepreneurs are dyslexic." Mr. Gladwell: show us the data.
5. The personality angle. If you are dyslexic, you might develop personality traits that are beneficial in big business. Gladwell talks about the "Big Five" personality traits, which are openness, conscientiousness, extraversion, agreeableness, and neuroticism. Dyslexia might make people disagreeable because they face so many daily frustrations and challenges. Being disagreeable might be helpful in some high-powered professions. Ergo, it is another desirable side effect of being dyslexic.
At this point I'm thinking: why stop with disagreeableness? What about the claim, popularized in another best seller, that corporate executives score high on tests of sociopathy? Let's not deprive little sociopaths of their desirable difficulty either.
The howler, though, is that Gladwell's discussion is entirely speculative, informed only by some personal testimony from some dyslexics who are, apparently, disagreeable. No empirical evidence.
This section provides the segue into the final act, a personal narrative from a Wall Street executive. This one is worth reading but not for the intended reason.
Relevant biographical details: the gentleman self-reports as being a dyslexic, describes a pattern of poor school performance, dislike of reading, life going nowhere. At some point he decides it would be a good idea to get a job on Wall Street. Long story short, he shares a cab with a banking executive who's charged with starting a new options trading unit, bluffs the guy into giving him a job, lying that he knows a lot about options. He reports that he then picked up a copy of the Bible of options trading, McMillan's Options as a Strategic Investment, which he proceeded to read, describing in detail the great effort it required. The cab ride was on a Friday, he was hired on Monday, and the options desk was running a week later. The book was read ""in that period of time"". The man so successful that he eventually became the CEO of Goldman Sachs. Dyslexia wins again.
The man seems disagreeable, to be sure, although perhaps more on the sociopathic side given the brazen way he lied his way into a job (and his firm's deep, ethically indefensible, and obscenely lucrative participation in the subprime mortgage debacle).
But what about that bit about reading the Bible of the options trade in a few days? The man is dyslexic. He says it takes him about 6 hours to read 22 pages and that he won't be reading Gladwell's book because of the time and effort involved. The current edition of the McMillan Bible is 1072 pages. At 3.67 pages an hour, it would take approximately 292 hours to read the book. Say the guy picked up the book on Saturday and read straight through until the Monday the options unit opened. That's 216 hours. To have completed the book reading at this rate the man would have had to read continuously about 32 hours a day.
Maybe he read an earlier edition of the book that was only 800 pages long: 218 hours. Maybe he didn't have to read the whole book. Maybe he skipped around. Maybe he skimmed. Maybe he's a genius. Maybe he's not dyslexic. Maybe he's lying about completing the book in 9 days, just as he lied in his job interview. We don't know. But something is not right.
The personal narratives in this chapter leave the following impression. Two rich and powerful Master of the Universe types relate self-invented, self-serving life stories to a close but credulous listener, a great writer who can embellish them even further in a book that will be read by millions. The writer either doesn't have the curiosity to verify whether any of the key assertions are true or doesn't want to ruin a great story.
It seems obvious that some professions tend to attract some types of people, and that different cognitive capacities and personality traits can be beneficial in different contexts. You could look it up. Some professions are surely better suited to people with impairments than others. For many years deaf people were overrepresented in the typesetting industry, for example. Some people's impairments motivate them to excel and to do so by developing other skills. We admire people who succeed despite apparent handicaps.
Gladwell's novel contribution was to use superachievers to connect dyslexia with "desirable difficulty." With Boies and the Goldman Sachs guy, the role of their putative dyslexia in their professional success is unknown: the experiment can't be run again with the relevant control conditions. Gladwell is still dealing with outliers, the subject of his last book. Outlier data can be highly informative but not the basis for generalizing, in this case to the mass of individuals who have to live with dyslexia and find ways to cope with it.
My great concern is that the desirable difficulty concept will combine in malevolent ways with the brush-offs that dyslexics already encounter, particularly "They grow out of it." Both concepts encourage parents and educators to wait and see. That is dangerous advice, because with dyslexia, as with many other developmental disorders for which treatment is available, early identification and intervention offer the best hope of success. Though not at the level of David Boies, to be sure.
Other insightful commentaries on Gladwell's new book, and the dyslexia chapter in particular, have begun to appear:
A critic who finds the latest book simplistic: David Runciman, "David and Goliath: Underdogs, Misfits and the Art of Battling Giants by Malcolm Gladwell", The Guardian 10/2/2013.
Gladwell's response: "Malcolm Gladwell: 'If my books appear oversimplified, then you shouldn't read them'", The Guardian 9/29/2013.
Psychologist Chris Chabris' Wall Street Journal review: "'David and Goliath' by Malcolm Gladwell", 9/28/2013; elaborated here: "The Trouble With Malcolm Gladwell: I thought he was sincerely misunderstanding the science, but he knows exactly what he is doing", Slate 10/8/2013.
The astute and statistically adept Andrew Gellman weighs in: "Gladwell and Chabris, David and Goliath, and science writing as stone soup", 10/11/2013.
Gladwell responded to Chabris ("Christopher Chabris Should Calm Down: His criticisms of my book David and Goliath are unreasonable", Slate 10/10/2013), in a piece that I would summarize as "Don't take what I write quite so seriously".
To which I say: Mr. Gladwell, you need to take what you write more seriously.
---
Above is a guest post by Mark Seidenberg.
---