« previous post | next post »
If you were a foreigner walking down the street in a Chinese city and you passed the restaurant below, you would do a double-take, because the familiar KFC has morphed into KFG, and Colonel Sanders doesn't look quite right. But if you were a Chinese walking down the street and passed by the same restaurant, you would do a triple-take, because the familiar 肯德基 (KEN3 ["consent; agree; be willing"]DE2 ["virtue"]JI1["foundation; base"]), which is simply a phonetic transcription of "Kentucky," has become 啃他雞 (KEN3 ["nibble; gnaw"] TA1 ["he, him, his"] JI1 ["chicken"]), with a blatant double entendre on the last syllable (referring to the male of the species).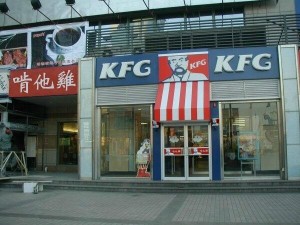 (Click the image to enlarge.)
This obvious infringement of a famous brand is merely one instance of a very widespread phenomenon in China, numerous examples of which are documented here.
Such linguistic machinations and design manipulations are altogether different from the Chinglish gaffes that we have studied from time to time on LL. Whereas the latter are inadvertent, this type of trademark piracy is entirely intentional. Sometimes the piracy is done crudely, sometimes cleverly. Often the results are hilarious, and it is surprising how frequently the fake brand names are vulgar, such as when "White Cat [Detergent]" (BAI2MAO1 白猫) is transformed into "F*ck Cat [Detergent]" (RI4MAO1 日猫). The use of RI4 日 ("sun") to express a slang term that I have heard on countless occasions in Sichuan is a good example of how seemingly innocent characters can be utilized for the filthiest swear words. Before long, I shall write about the rather amazing applications of NIU2 牛. For the present moment, I'll simply close by mentioning that the proliferation of knockoffs and ripoffs in China is commonly attributed to SHAN1ZHAI4 山寨 ("mountain stronghold / fortress") entrepreneurs, SHAN1ZHAI4 referring to the lairs of bandits who are outside the law.
Thanks to David Hu for introducing me to chinaSMACK.
---