« previous post | next post »
It's not in the OED yet, but it's in Wikipedia, and in Ross Douthat's most recent blog post, "A Teachable Moment", NYT 10/16/2013: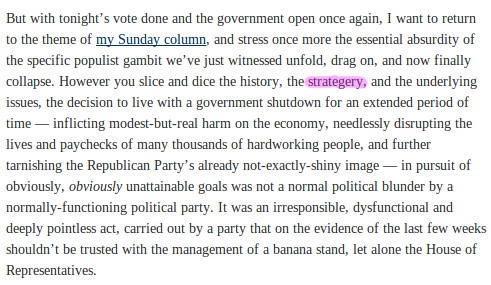 According to the Wikipedia article,
The word "strategery" (/strəˈtiːdʒəri/ strə-tee-jər-ee) was coined for a Saturday Night Live sketch, written by James Downey, airing October 7, 2000, which satirized the performances of George W. Bush and Al Gore, two candidates for President of the United States, during the first presidential debate for election year 2000. Comedian Will Ferrell played Bush and used the word "strategery" (a mock-Bushism playing on the word "strategy"), when asked by a mock debate moderator to summarize "the best argument for his campaign", thus satirizing Bush's reputation for mispronouncing words. The episode was later released as part of a video tape titled Presidential Bash 2000.
After the 2000 presidential election, people inside the Bush White House reportedly began using the term as a joke, and it later grew to become a term of art among them meaning oversight of any activity by Bush's political consultants. Bush's strategists also came to be known within the White House as "The Department of Strategery" or the "Strategery Group."
Apparently strategery has been generalized to mean "political planning on the part of Republican politicians on the national level". Or maybe it was just a typo.
---