« previous post | next post »
John McCain's choice of Sarah Palin as his running mate has not been without controversy, but I think that we can all agree that one way in which it has been a good thing is that it has increased the visibility of the important topic of moose, which in burger form is reportedly her favorite meal. For those of you who are alcestically challenged, this is a bull moose:

And this is a cow:
I'd better clarify that. The photograph above is of a cow
moose
. The photograph below is of a
cow
. Every year any number of
drunken morons
hunters mysteriously confuse one with the other.
You can distinguish a moose from other cervids very easily by the antlers: only the antlers of moose are palmate (broad and spread out, like the palm of the hand).
Here in Carrier country moose are an important source of both food and hides, so it isn't surprising that there is a fairly refined vocabulary for them. In general, moose are called either dʌni or xʌda. The bull moose is dʒejo, the cow either dʌniʔat "moose wife" or xʌdats'e "female moose". The calf is called tsije, which is probably a loan from Sekani meaning "little yellow thing", reflecting the fact that moose calves tend to have a jaundiced appearance. In the photo below, you can see the calf's yellowish coloration.

When the calves have been weaned, they are called tʃ'abedʌnis̪tʃut. A dry cow is called dets'it, while a newly sexually mature cow that has not yet had a calf is called a tʃandʒu.
The terms for the parts of a moose are the same as the body part terms for other animals, with the exception of the dewlap or "goatee", which is called dʌnitʃʌl. Another term for the dewlap is dʌtʃ'ʌkʷ jenʌxwʌle, literally "the thing that porcupines play with", reflecting the fact that moose and porcupines are considered to be friends.
I don't have a picture of that, but moose actually do occasionally play with other smaller animals.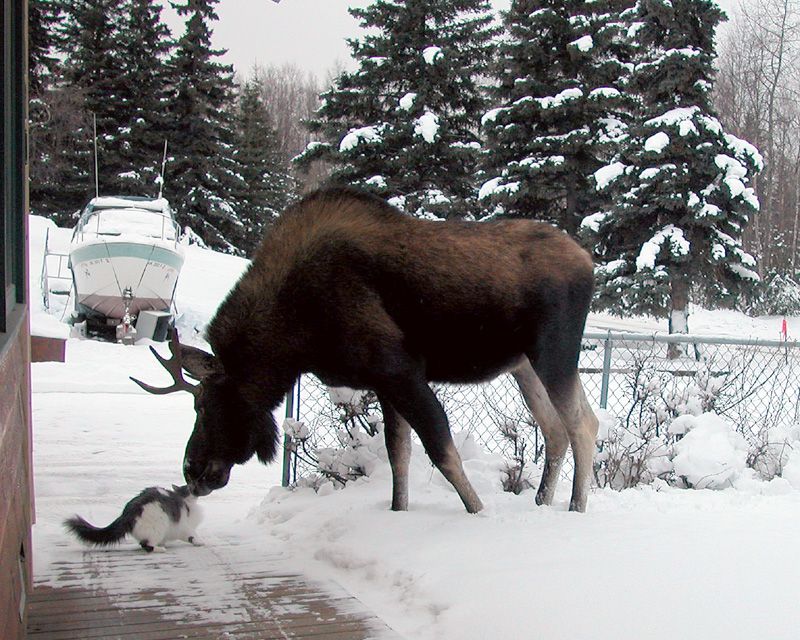 English and French have less elaborate terminology for moose, but interestingly, in both languages, the term used in North America is different from the term used in Europe. The term
moose
used in North American English is a loan from Eastern Abenaki
moz
, cognate to the Plains Cree word more familiar here in Western Canada,
mōswa
. In British English, moose are called
elk
, a word that goes back to Proto-Indo-European. The animal called
elk
in North American English is a different species,
Cervus canadensis
.
Notice the more robust body, thicker, sturdier, legs, slenderer snout, and non-palmate antlers.
The Canadian French term for moose is orignal, which comes from Basque oreina "deer" via orignac, the form that the Basque word took on in the Basque-Micmac pidgin used by the Micmac and visiting Basque fishermen and whalers. The European French term, élan,is a loan from Middle High German elend, which is ultimately related to the English word elk.
The scientific name for moose, Alces alces, contains the Latin term for moose, which is a loan from some Western Germanic language. Moose are not found in Italy, so the Romans only encountered them when their conquests led them well to the North.
Why do North American English and French use different words for moose than their European counterparts? It probably reflects the fact that the early settlers were unfamiliar with moose. In Europe today moose are found in Scandinavia, the Baltic, Russia, and Siberia, In earlier times they were found in Scotland but have been extinct for several thousand years.

---
Warning: the following portion of the post contains photographs that may disturb squeamish readers.
---
What Sarah Palin is known for, other than her liking for mooseburgers, is her reported ability to field dress a moose. Here's what the result of field dressing looks like. We've kept the head because the nose will later be cut off and boiled to be eaten. I don't know if the Palins eat moose nose.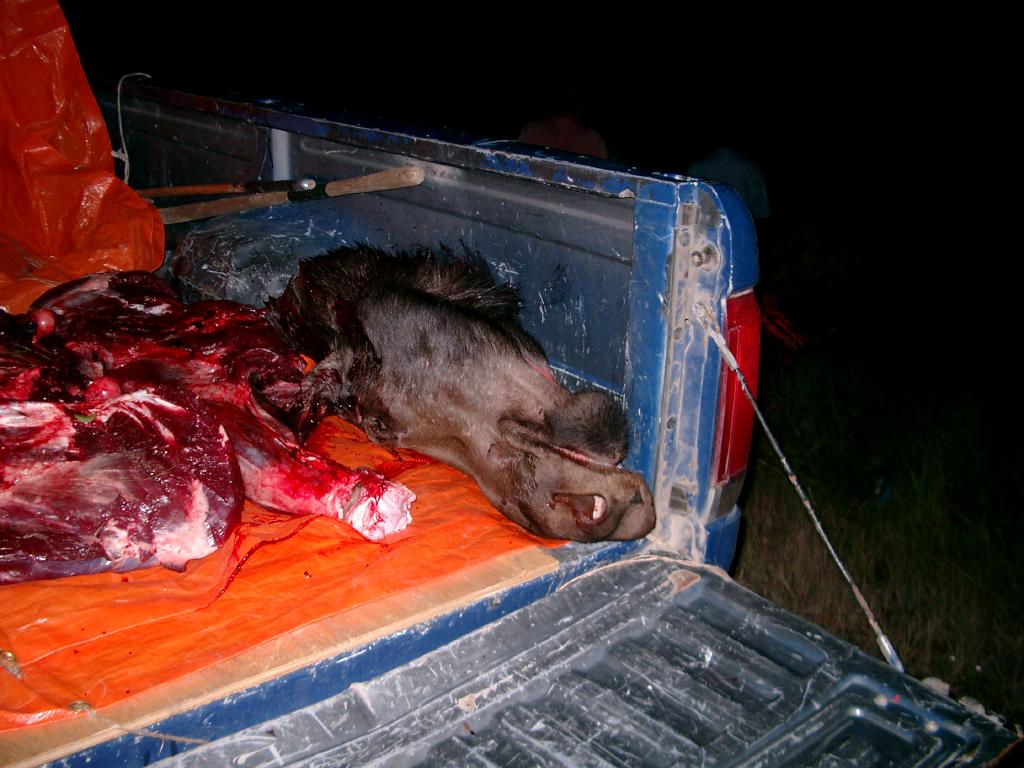 Here's what a partially dressed moose looks like. It has been opened up and the guts removed. The big shiny thing at lower left is the moose's stomach, full of partially digested food. The legs have not yet been removed, and the meat has not yet been cut off.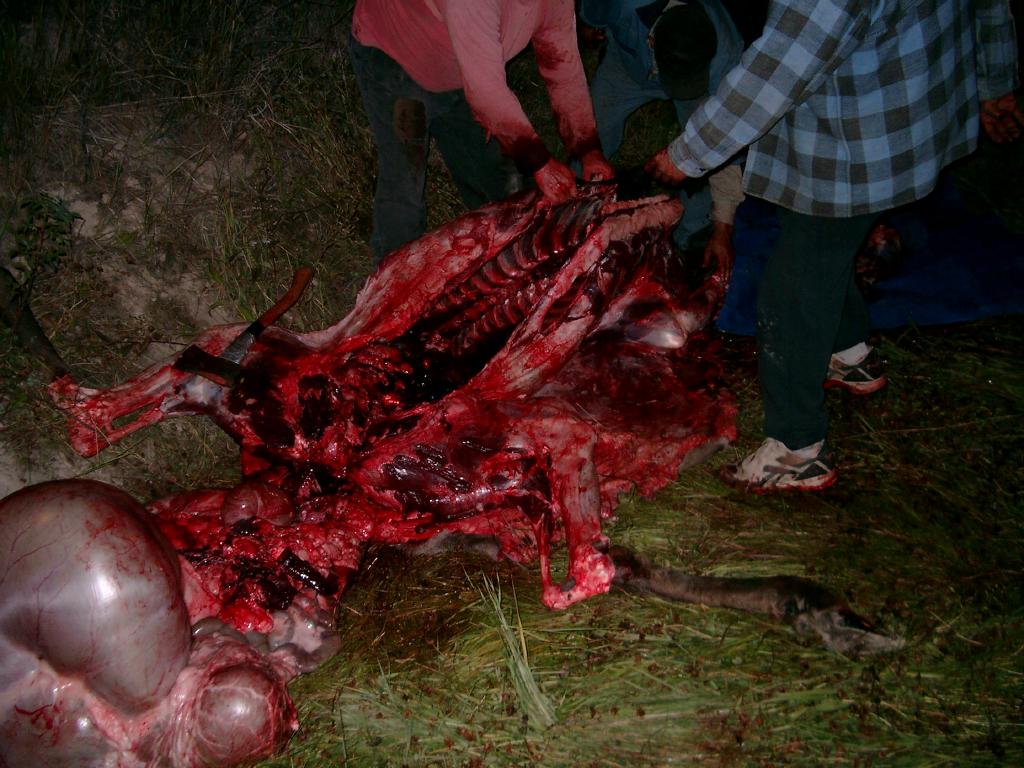 Incidentally, the proper way to remove a moose's tongue, which many regard as a delicacy, is by cutting a slit underneath and pulling it out from below. That gives you a better grip and lets you get at the root of the tongue with your knife. Here Sam has cut the slit.
And here he is pulling out the tongue.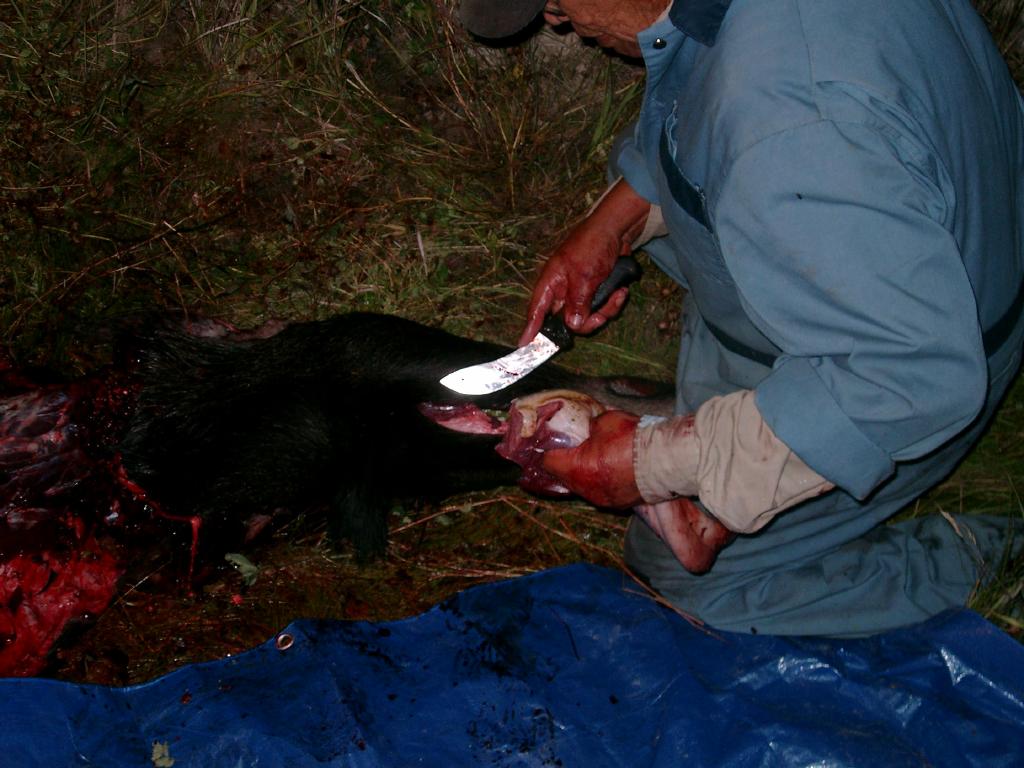 I don't know why no journalist, or Joe Biden during the debate, has asked Sarah Palin about her moose butchering technique. I would think that discerning voters would want to know.
---