« previous post | next post »
From "Got English English and "Scientific" English one meh?", mrbrown.com 9/18/2013: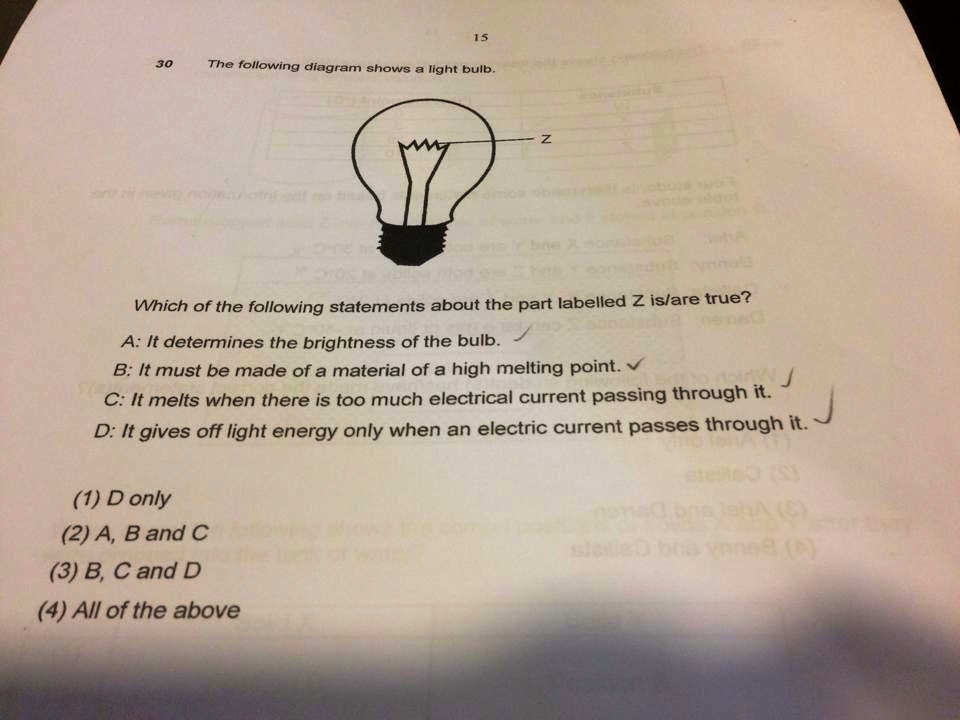 "This P6 science question is taken from a paper that is set by a local brand name primary school. The majority of the students who took this test gave the answer as (4). The science teacher insisted that the answer is (2). The reason given was that sentence D should be interpreted to mean that only light energy is given off when an electric current passes through it."
Primary-school science teachers in Singapore are not the only people who sometimes insist strongly on idiosyncratic interpretations of sentences involving potentially-ambiguous semantic scope.  James Kilpatrick, for example, once insisted in the most emphatic terms that "if mass transit is not an option for 'all' drivers, it cannot be an option for even one driver".
In the title of the blog post ("Got English English and "Scientific" English one meh?"), the interpretation of the last two words is apparently as described in the Wikipedia article on Singlish:
One: The word one is used to emphasize the predicate of the sentence by implying that it is unique and characteristic. It is analogous to the use of particles like 嘅 ge or 架 ga in Cantonese, 啲 e in Hokkien,-wa in spoken Japanese, or 的 de in some varieties of Mandarin. One used in this way does not correspond to any use of the word "one" in British, American English, Australian English, etc.: It can be compared to the British usage of 'eh'. It might also be analysed as a relative pronoun, though it occurs at the end of the relative clause instead of the beginning (as in Standard English)
* Wah lau! So stupid one! – Oh my gosh! He's so stupid!
* I do everything by habit one. – I always do everything by habit.
* He never go school one. – He doesn't go to school (unlike other people).
For speakers of Mandarin, 的de can also be used in place of one.
I'm puzzled by the notion that Singlish one can both "be compared to the British usage of 'eh'" and also "be analysed as a relative pronoun", but let's accept the general direction here and not get bogged down in the details.
Meh:  Meh (/mɛ́/), from Cantonese (咩    , meh), is used to form questions expressing surprise or scepticism:
* They never study meh? – Didn't they study? (I thought they did.)
* You don't like that one meh? – You don't like that? (I thought you did.)
* Really meh? – Is that really so? (I honestly thought otherwise/I don't believe you.)
Apparently the grammatical order is "one meh", which makes sense if one is an intensifier and meh is an attitudinal particle:
"Men need to cut arm-pit hair one meh?" [link]
"Big sweep can give rebates one meh?" [link]
"Singapore got 10k notes one meh ???" [link]
"Singaporeans go buffet got eat such things one meh?" [link]
There is also a Singlish existential tinge to the use of "got" in the blog title, I think.
For a classic work on the semantics of only, see Mats Rooth, "A theory of focus interpretation", 1992.
[Tip of the hat to Guillaume Duport]
---