« previous post | next post »
Will Pavia at the Times, discussing the recent Loebner Prize event ("Machine takes on man at mass Turing Test", 10/13/2008), explains how he figured out which of his two interlocutors was human:
The other correspondent was undoubtedly a robot. I asked it for its opinion on Sarah Palin, and it replied: 'Sorry, don't know her.' No sentient being could possibly answer in this way.
That's harsh. A more difficult test of politico-linguistic currency would be commenting on John Cole's recent coinage "Peak Wingnut" (Balloon Juice, 10/13/2008):
As I look around the blogosphere, and view memeorandum, it occurred to me that we may have hit and passed Peak Wingnut. Don't get me wrong, this election is still not over and by no means in the bag, but as I read things, the hey day of modern wingnuttia may have passed.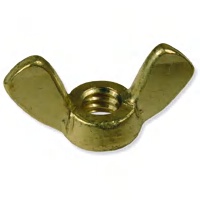 In its basic meaning, wing nut is a nut with a pair of wings that can be turned with the fingers, without requiring any tools. The earliest citation in the OED is from 1910:
1910 Chambers's Jrnl. May 349/1 The wing-nut on its shaft is released, the detachable rim-wheel placed on the shaft, and the nut replaced.
But at some point in the past ten years (?), wingnut became a deprecatory term for people with strong views on the right end of the political spectrum, as a shortened form of "right-wing nut".[I invite commenters to try to find the first use of wingnut for "right-winger" — since the term is not yet in the (online) OED, but will no doubt eventually be included, your work may be (anonymously) immortalized.]
Like (plain) "winger", wingnut might in principle also have been derived by ellipsis of "left-", but I've never seen either form used that way. Instead, there are a variety of corresponding terms for the left side of the political spectrum, such as moonbat, that similarly could perfectly well describe conservative extremists, but similarly aren't used that way.
As for the "peak" part of "Peak Wingnut", this is by analogy to "peak oil, which as wikipedia explains "is the point in time when the maximum rate of global petroleum extraction is reached, after which the rate of production enters terminal decline." (This is especially associated with the theories of M. King Hubbert.) Thus John Cole's idea was that the level of extreme right-wing sentiment in on-line discourse has reached a maximum, and is poised to enter a terminal decline.
The use of peak in "peak oil" seems to build on previous combinations such as "peak hours", "peak year", "peak viewing period", and so on:
1903 Electr. World & Engin. 9 May 789/1 The direct-current ends of these rotary converters are often worked in multiple with an old generating station..during the peak-hours. 1919 Engineer 1 Aug. 107/1 'Peak-hour' traffic. 1924 Westm. Gaz. 8 Aug. 3/4 A drop of nearly £40,000,000 in pensions expenditure since the 'peak' year of 1920-21 is mentioned. 1946 Vogue June 2/2 The Sunday evening peak-listening series, 'The Challenge of our Time'. 1960 M. O'CONOR et al. Children & Television Programmes iii. 8 Pressures of different kinds and degrees exist to compel the television organizations to seek very large audiences for at least some of the programmes placed within the peak viewing period.
In all these versions of "peak X", X is a time period or time point of some sort; but then the time-word can be elided in combinations like "peak-listening series" (= "prime time series"). Thus "peak oil" is presumably short for "peak oil (production moment)" or something of the sort. Hubbert's theory has also been applied in areas that create terms such as "peak copper", at least according to Wikipedia.
Perhaps "peak wingnut" also has some resonance with the early-1960s concept of peak experience, defined by the OED as "a momentary awareness of joy or fulfilment, akin to ecstasy and of a higher and different quality from ordinary experience", with these citations:
1959 E. G. SCHACHTEL Metamorphosis viii. 177 His [sc. A. H. Maslow's] '*peak experience' is characterized by what I call allocentric perception. 1962 A. H. MASLOW Toward Psychol. of Being III. vi. 69 An attempt to generalize in a single description some of these basic cognitive happenings… These and other moments of highest happiness and fulfilment I shall call the peak-experiences.
Unfortunately for the lexicographical future of "peak wingnut", John soon took it back:
Never mind, via the comments, I see I spoke too soon. […] Ignore all my questions from above- wingnut is a renewable resource. Peak Wingnut was the shortest lived "theory" ever.
Meanwhile, the idea of "peak moonbat" hasn't even made it to the short-lived hypothesis stage. Back in the early Iron Age days of 2005, Tim Blair did write ("A tentacle of moonbats", 4/17/2005) that "It might be fun to screen this outside the Opera House during peak moonbat moments". But so far, that's the only instance of the sequence "peak moonbat" that Google's index comes up with. And John is surely correct that political sentiments and reactions to them are infinitely renewable resources, at least pending extinction of the species, so that Hubbert theory simply doesn't apply.
Still, it does seem to me that it's true to some extent that the tide of blogospheric wingnuttery has somewhat receded, though I confess that I don't have any quantitative evidence to offer. Perhaps someone with a good historical corpus of blogs and an interest in sentiment analysis can do better?
---