« previous post | next post »
Jesse Sheidlower, who as editor-at-large of the Oxford dictionary has a special right to an opinion about such things, emails:
Please, please, someone write about this. I especially love the mouseover text.
"This" is a recent xkcd strip: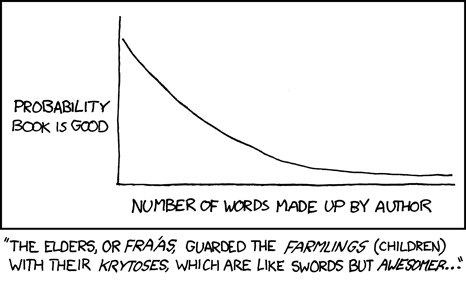 The mouseover text is "Except for anything by Lewis Carroll or Tolkien, you get five made-up words per story. I'm looking at you, Anathem."
Well, I though about posting this when it first appeared on xkcd, but decided that I had nothing to add. But now I can add that Jesse likes it too. And that if you missed Jesse at the Yale University Library event on Oct. 1, there's plenty of time to plan for the event on Nov. 18 at the Philadelphia Free Library, celebrating the 80th Anniversary of the OED.
Oh, I can also add that a search of Google Books suggests that "krytoses" is still available for someone to use as one of their five.
And also, Randall didn't put the "free five" into the graph. Unless he means that after five, the (exponential?) decay in probability of goodness passes below some threshold, not that you get five made-up words before the probability of goodness is affected.
---