« previous post | next post »
In a comment on my post about relative word frequencies in the vice-presidential debate, Roo suggested that there's "a difference in mindset/strategy between conservative and liberal politicians", where conservatives tend to use "America" while liberals use "United States". While this was true in that debate, I'm not sure whether it's true in general. As a start towards addressing the question, I took a quick look at the frequency of words based on the morpheme America (e.g. America, American, Americans) in the repository of inaugural addresses at the American Presidency Project.
The results show an overall rising trend, but no clear conservative/liberal division (at least none that's clear to me):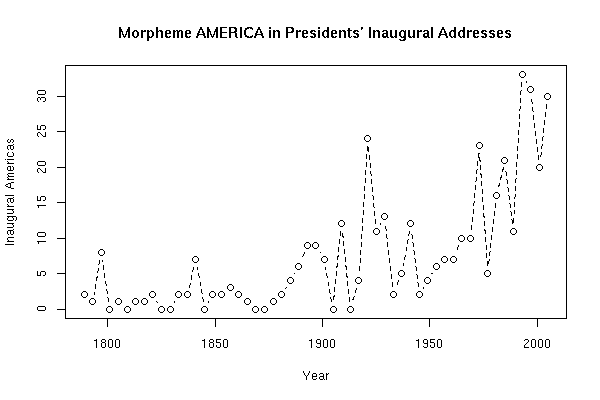 (Click on the image for a larger version.)
The peak in 1797 is John Adams; the peak in 1841 is William Henry Harrison; the peak in 1921 is Warren G. Harding; the peak in 1973 is Richard Nixon; the all-time maximum in 1993 is William Jefferson Clinton. Presidents whose count was zero: Thomas Jefferson, James Madison, John Quincy Adams, Andrew Jackson, James Polk, Ulysses S. Grant, Theodore Roosevelt, Woodrow Wilson.
The increase is partly (but I think not entirely) accounted for by a trend towards longer inaugurals.
Here are the counts I got:
Bush 2005 30
Bush 2001 20
Clinton 1997 31
Clinton 1993 33
Bush 1989 11
Reagan 1985 21
Reagan 1981 16
Carter 1977 5
Nixon 1973 23
Nixon 1969 10
Johnson 1965 10
Kennedy 1961 7
Eisenhower 1957 7
Eisenhower 1953 6
Truman 1949 4
Roosevelt 1945 2
Roosevelt 1941 12
Roosevelt 1937 5
Roosevelt 1933 2
Hoover 1929 13
Coolidge 1925 11
Harding 1921 24
Wilson 1917 4
Wilson 1913 0
Taft 1909 12
Roosevelt 1905 0
McKinley 1901 7
McKinley 1897 9
Cleveland 1893 9
Harrison 1889 6
Cleveland 1885 4
Garfield 1881 2
Hayes 1877 1
Grant 1873 0
Grant 1869 0
Lincoln 1865 1
Lincoln 1861 2
Buchanan 1857 3
Pierce 1853 2
Taylor 1849 2
Polk 1845 0
Harrison 1841 7
Van Buren 1837 2
Jackson 1833 2
Jackson 1829 0
Adams 1825 0
Monroe 1821 2
Monroe 1817 1
Madison 1813 1
Madison 1809 0
Jefferson 1805 1
Jefferson 1801 0
Adams 1797 8
Washington 1793 1
Washington 1789 2
---