« previous post | next post »
OK, I'm going to give it a shot — I'm going to make a comment about language use by some politicians while giving Language Log readers what they come here for: "discussion of language by real live linguists".
After the vice-presidential debate last night, I was pleased not to have heard Gov. Sarah Palin repeat Sen. John McCain's claim in the first presidential debate that Sen. Barack Obama has "the most liberal voting record" in the Senate. Speaking as a "real live linguist", this kind of claim is to my mind a little more insidious than your typical lie or stretching of the truth in a political campaign. Here's why I think so.
First, here's a syntactic tree representation of the most liberal voting record: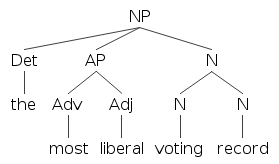 When most modifies an adjective (like liberal) in a noun phrase like this one, what it entails (that is, what logically follows from it) is that there is some scale defined by the adjective (liberal) out there in the world that can be measured in some way. Furthermore, especially in a context like a political campaign, there is a strong implication that all relevant instances of the particular noun in question (the voting record of each member of the Senate, a compound noun as indicated in the tree) have been measured and compared (by some non-partisan group, one presumes), and that it has been determined that one particular instance of this noun (Obama's voting record) is on one end of this scale compared to all the other instances.
As we all know, though, liberal means very different things to different people, so it would be nice to know what definition of liberal — and by extension, what definition of the scale — was employed in this measurement and comparison. It would also be good to know the possible partisan leanings of the group that did the measurement and comparison. A few Google searches reveal a scary (though in retrospect, not surprising) answer to this question: the claim appears to have first been voiced in a Jan. 31, 2007 Examiner.com article by Bill Sammon ("Obama: Perception vs. reality"), where it says:
Obama has a 95 percent liberal rating from Americans for Democratic Reform, a liberal advocacy group that ranks all members of Congress. Yet he is often portrayed as a centrist. "His record is liberal, and his rhetoric is moderate," explained Larry Sabato, director of the University of Virginia's Center for Politics.
Now, Larry Sabato is indeed the director (and founder, in 1998) of the Center for Politics, and may have indeed said what is quoted here in one of his many media appearances. The front page of Sabato's website has laudatory blurbs from the Wall Street Journal ("probably the most quoted college professor in the land") and Fox News Channel ("America's favorite political scientist"), which are both widely considered to be relatively conservative media outlets (now under the same roof), but Sabato also makes appearances on CBS, ABC, CNN, NBC, and so on.
But what about "Americans for Democratic Reform"? Try Google, and the top hit will be the article above, followed by many other references to the it. Several other hits include (references to) a piece stating that "Ethiopian dissidents are lobbying Americans for democratic reform" — not the same thing, obviously — and several WTF reactions, much like mine here, surmising that "Americans for Democratic Reform" either doesn't exist or, slightly more charitably, isn't willing to advertise itself (or its board, or its members, or where its funds come from) or to disclose the methods it used for arriving at its conclusions. (See now this Media Matters analysis, in response to a widely-publicized repetition of the relevant claim by Pat Buchanan and published over a year after the Examiner.com article.)
So are McCain and others lying when they refer to Obama's voting record? Not necessarily. They could very well simply be using this [ the [ most Adj ] N ] construction in the very informal way it is often used in ordinary conversations, as in That was [ the [ most incredible ] experience ] I've ever had or That was [ the [ most interesting ] book ] I've read in years — it's hyperbole, a deliberate exaggeration, directed specifically at a receptive audience. So the claim doesn't have to be literally true; the speaker just needs to believe that it's close enough to the truth for the purposes of the conversation. In short, McCain may well just be saying something like: "I believe Obama is too liberal for people who, like me, self-identify as conservatives".
Or, of course, McCain and others may not be lying simply because they haven't done the tiny bit of research that it apparently takes to find out that there's been no relevant measure of "liberalness of Senate voting records" performed. (Deliberately not doing the research is a good way to repeat a potential lie without technically lying yourself.) Or he may just be expressing his own personal opinion based on his experience with and recollection of Obama's voting record and that of others in the Senate, in which case I would say that the phrase [ the [ most liberal ] voting record ] is inappropriately misleading.
(Incidentally: I was surprised to find that Palin had not used the word "maverick" ten or more times in last night's debate — maybe if "maverick" and "mavericks" were lumped together, though…)
---