« previous post | next post »
In response to Eric Bakovic's recent Language Log post asserting that he doesn't live on Main Street, Victor Mair sent this recent New Yorker cartoon: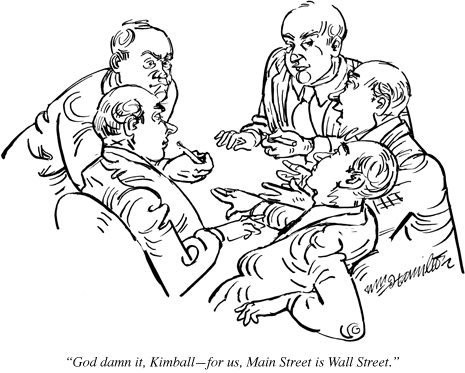 The OED traces Wall Street as a term "denoting the American financial world or money-market" back to 1841:
1841 Week in Wall St. p. ix, In the expressive language of Wall-street, he has himself been 'flunked'.
1871 L. M. ALCOTT Little Men xiv. 244 The firm [was] broken up… The barn, which was the boys' Wall Street, knew him no more.
Since the 1841 citation was in a publication identified as "Week in Wall St.", presumably the metonymic identification actually goes back somewhat further.
The term Main Street for "The principal street of a town" goes back to the 17th century (well, 1598, so marginally the 16th). But the only figurative extensive given in the OED is glossed as "The mediocrity, parochialism, or materialism regarded as typical of small-town life (esp. after Sinclair Lewis's novel Main Street, 1920)".
An example from 1855 seems, ironically, more in tune with the current meaning of Wall Street than with the current meaning of Main Street:
1855 N.Y. Tribune 31 Dec. 4/4 It has risen to its present position of bloated arrogance and swaggering insolence by the liberal and unstinting patronage it has received from the full purses and free hands of Eastern men in Main street and elsewhere.
The earliest Lewisian citation in the OED is from 1931:
1931 Times Lit. Suppl. 9 Apr. 282/3 He dislikes uniformity, mass-control, Main-street and Rotarian ideals.
And the earliest OED citation for a Main Street/Wall Street contrast is from 1992, and treats Wall Street as a reference to "big business" rather than the financial industry as such:
1992 Mother Jones Sept.-Oct. 9/1 The Republican party..stretches from Main Street to Wall Street, encompassing complacent, small-town Babbits and corporate CEOs.
Though the usage (by all parties) in the current crisis continues to identify Wall Street with the financial system, Main Street seems to have mutated to cover pretty much everybody else — or at least all participants in business and financial activity who are not employed at a high level in the financial industry — without any implications of mediocrity, parochialism, materialism, or complacency.
I believe that this mutation of Main Street, and of the Main Street/Wall Street opposition, goes back several decades. For example, a NYT editorial from 1/11/1981, "Manic Magic on Wall Street":
We do not mock the man or his followers. We only wish they'd put their occult energies to more constructive purpose.  Imagine if, instead of shouting "sell everything," the economic seers were to promise national salvation by urging business to sell short and every worker to work cheap, for 10 percent less.   That would cure inflation overnight and leave us all demonstrably richer.  Could it be that this remedy hasn't been tried because Main Street, unlike Wall Street, is too square to invest in magic?
But I'll leave it to our commenters to track this phenomenon to its historical roots (and to unpack the logic — and the sense of the first person plural — that connects "every worker to work … for 10 percent less" with "leave us all demonstrably richer").
---