« previous post | next post »
Andy Averill sent in the following picture of a Chinese person with the English word "value" tattooed on her right shoulder: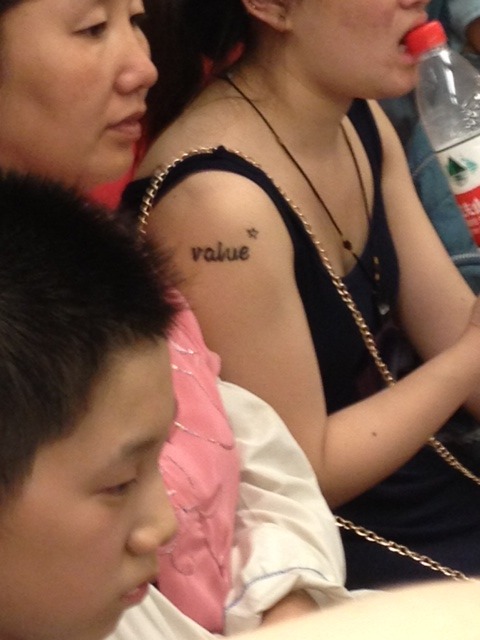 We sometimes get the impression that it's only Westerners who are getting Chinese tattoos, but I wouldn't be at all surprised if there were just as many, if not more, Chinese getting tattoos in English and other Western languages as there are Westerners getting Chinese tattoos.
I suspect, however, that most Chinese who get tattoos in Western languages know the meaning of their tattoos, indeed, can probably read them off correctly by themselves. In contrast, many Westerners who get Chinese tattoos can't read a single Chinese character, and most of them have only the foggiest notion of what their tattoos say. We've seen proof of that over and over again, e.g., here and here (with references to earlier posts and other resources for the study of Chinese tattoos on the bodies of non-Chinese people).
On imgur, where the photograph above originally appeared, it was labeled "a random English word as a tattoo". I'd wager that it wasn't "random" at all, but that the wearer of the tattoo picked it in full awareness of its meaning. I would also speculate that maybe, just maybe, the star that follows the word and is slightly above it may be functioning as an asterisk, and that the woman may sport another star elsewhere on her body where there is an annotation explaining the precise significance of the word "value" for her. But perhaps my scholarly instincts are getting the best of me.
Anyway, it's nice to see a neat, clear, well-formed, sensible English word on the shoulder of a Chinese person, and I'd be happy to see other example of such tattoos.
---