« previous post | next post »
Despite the FUWA ("good-luck dolls," "friendlies") mascot-goddesses in the "niches" below the sign, the translation is most inauspicious.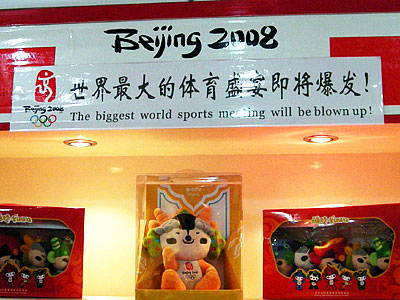 SHI4JIE4
ZUI4DA4 DE
TI3YU4
SHENG4YAN4
JI2JIANG1
BAO4FA1!
world
largest
sports
grand banquet
is about to;
will soon;
is on the point of
explode;
erupt;
break out
In this case, it seems to me that the author of the Chinese text is just as culpable for the unfortunate wording as the translator, since — under the circumstances — it would have been wise to avoid BAO4FA1 for the opening of the Olympics. And referring to the Olympics as a "grand banquet" (the glare of the photograph makes it a bit hard to tell for sure, but I am virtually certain that's what's there) is rather strange, although for those with a food fixation it might be conceivable. In this case, the translator wisely took the liberty of improving the Chinese by sensibly rendering it as "meeting." Undoubtedly stymied by the grossly inappropriate BAO4FA1, the translator haplessly converted the adverb JI2JIANG1 as a future passive.
In short, in the study of Chinglish gaffes, we must not automatically jump to the conclusion that they are always due to faulty translation. All too often the original Chinese text itself is poorly composed.
[A tip of the hat to Kenneth Yeh for sending me the above photograph. It was taken by Kukuriku in Zhoushan 舟山, Zhejiang Province 浙江 and posted June 25, 2008 by Oliver Lutz Radtke on "The Chinglish Files by olr".]
---