« previous post | next post »
Yesterday evening in a restaurant, our attentive server frequently asked us things like "Are we ready to order" and "How are we doing?". This waiter-we is pretty common, so I didn't notice it, though one of the other diners did. But when another server brought us a complimentary bit of sushi with the explanation "Here's some unagi for us", that was striking enough to prompt a bit of discussion. Among the three of us at the table, I thought that the we uses were normal but the "for us" was unexpected; another one of us saw all examples of waiter-we as weird and annoying; and the third, a native speaker of Russian, said that in Russian it's called (in translation) the "mom we".
The OED covers this usage under sense I.1.f. for we:
Used confidentially or humorously to mean the person or persons addressed, with whose interests the speaker thus identifies himself or herself (esp. by a doctor in friendly or cheering address to a patient); also used mockingly or reproachfully by a parent, intimate friend, etc.
The earliest OED citation is from 1702:
1702 J. Vanburgh, False Friend   Well, old Acquaintance, we are going to be Married then?
And there's Charles Dickens:
1836  C. Dickens, Sketches by Boz 'Well, my dear ma'am, and how are we?' inquired [Doctor] Wosky in a soothing tone.
The OED offers six other quotations, none of which are from restaurant servers or involve the objective case.
Wiktionary's entry for we includes sense 6.:
(personal, often considered patronising) A second- or third-person pronoun for a person in the speaker's care.
    How are we feeling this morning?
One additional quotation is offered:
2008 May 13, Tom Armstrong, Marvin (comic):
Are we ready to go to bed, sweetie?
(The "person in the speaker's care" seems almost exactly right — if extended to "person or persons in the speaker's care", it nicely covers the restaurant-server case. But I'm puzzled by the "third-person pronoun" part…)
Merriam-Webster's entry for we covers this under sense 3: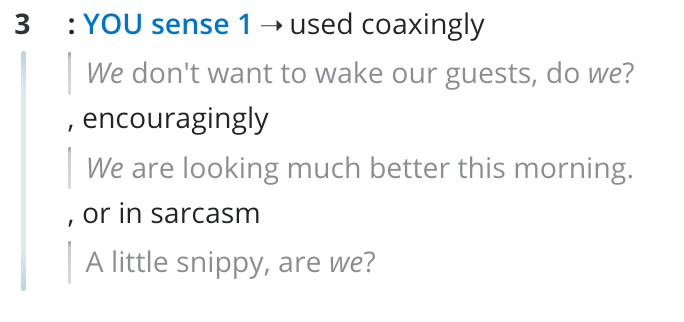 The adverbs "coaxingly", "encouragingly", and "in sarcasm", though valid, seem too specific. None of them really covers the restaurant-server case.
I'll spare you all the other dictionaries — the lexicographers clearly have this covered, modulo quibbling about applicability to waiters.
But we're left with at least three questions:
What should we call this usage? In the post's title, I used "hyper-inclusive we". Can we do better? Has someone already done better? [See below: "speaker-exclusive we", now added to the title, is a much better term…]
Is this just a fact about first-person-plural pronouns in English, or is it more general? Would a Chinese doctor or server ask "我们怎么样?" In French, could it be "Comment allons nous?" What about German, or Spanish, or Russian?
How much cross-cultural variation is there in which speakers get to assume this role? My intuition is that the person behind the counter in an American diner or a dive bar is more likely to say "How ya doin?" than "How are we doing?"
I might well be wrong on that last point, at least about the second-person vs. first-plural choice — this would be a fun focus for the kind of "rapid and anonymous survey" that Bill Labov invented in 1962 to study "The Social Stratification of (r) in New York City Department Stores":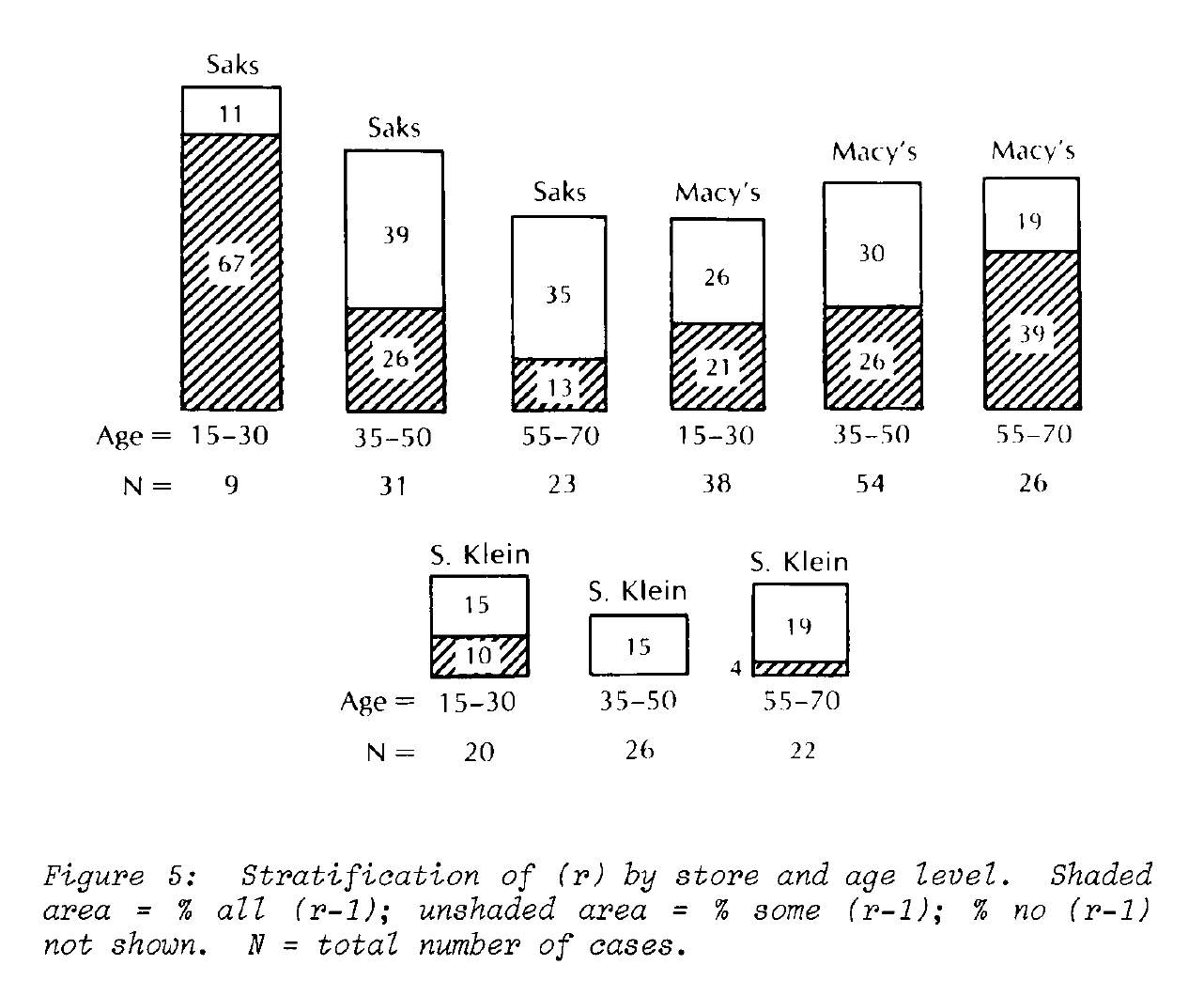 Instant Update — Checking Google Scholar uncovers a substantial and interesting literature, and some better names (like "speaker-exclusive we"). There's a survey in Francesca Santulli, "We Shall Fight: Speaker-Exclusive We as a Grammatical Metaphor", 2020:
Beyond the frequently investigated opposition between (addressee-) inclusive vs exclusive forms, this paper explores non-prototypical uses of the first person plural pronoun, focusing on the conflicts that arise when it is used in contexts that semantically exclude the speaker. Speaker-exclusive forms can occur in different situations, ranging from interpersonal exchanges to public discourse. The paper investigates their different semantic implications, highlighting their common traits as well as their crucial peculiarities. Both the review of the literature and the analysis of actual examples bring forth the different values and functions of various speaker-exclusive occurrences of the first person plural. […]
Another context in which hearer-oriented we occurs is the waiter-client interaction, as in:
(11) What are we having today?
De Cock (2016: 369) reports this possibility in Spanish, a language in which the first person plural can be used by a waiter with both habitual and new clients, without triggering impolite reading by the addressee. The situation seems different in Italian: Bazzanella (2002: 248) suggests that the use of the first person plural with new clients is usually perceived as impolite. The condescending-we seems justified in this context only if it occurs in a situation of acquaintance, where it contributes to creating a more personal relationship. The waiter-we does occur in English, though it may be perceived as unusual, or even incorrect. On the Merriam-Webster website, there is a section where users can indicate the reason why they have looked up a certain lemma in the dictionary. Among the comments concerning we, the following is worth mentioning:
(12) to find out if the restaurant servers are correct whey [sic!] say "what are WE having today". (Note 8)
This comment confirms the existence of this use in English, and also reveals that the addressee perceives something unusual, possibly incorrect (i.e. impolite) in the waiter's request.
See also Barbara De Cock, "Why we can be you: The use of 1st person plural forms with hearer reference in English and Spanish" (2011). And Pekka Posio, "Who are 'we' in spoken Peninsular Spanish and European Portuguese? Expression and reference of first person plural subject pronouns" (2012):
The present study examines the use of first person plural subject pronouns (PS nosotros and EP nós) in corpora of spoken language and connects it with the different referential properties of first person plural. It is shown that in PS the expression of the subject pronoun nosotros is rare – it occurs only in 4.5% of all clauses with first person plural subjects – and the reference of the pronoun is always hearer-exclusive in the data under survey. In EP, the expression of the first person plural subject pronoun nós is more frequent, occurring in 32.2% of the clauses with first person plural subjects. In EP, the use of the pronoun is not restricted to the hearer-exclusive reading but is also found in contexts where the reference is construed as hearer-inclusive or impersonal.
Posio's paper also discusses the Portuguese use of a gente "people" with first-person plural reference, reminding us that in French we'd need to look at on as well as nous.
---