« previous post | next post »
Patricia Greenfield, "The Changing Psychology of Culture From 1800 Through 2000", Psychological Science 2013 (pdf):
The Google Books Ngram Viewer allows researchers to quantify culture across centuries by searching millions of books. This tool was used to test theory-based predictions about implications of an urbanizing population for the psychology of culture. Adaptation to rural environments prioritizes social obligation and duty, giving to other people, social belonging, religion in everyday life, authority relations, and physical activity. Adaptation to urban environments requires more individualistic and materialistic values; such adaptation prioritizes choice, personal possessions, and child-centered socialization in order to foster the development of psychological mindedness and the unique self. The Google Ngram Viewer generated relative frequencies of words indexing these values from the years 1800 to 2000 in American English books. As urban populations increased and rural populations declined, word frequencies moved in the predicted directions. Books published in the United Kingdom replicated this pattern. The analysis established long-term relationships between ecological change and cultural change, as predicted by the theory of social change and human development (Greenfield, 2009).
This  may remind you of Jean Twenge's work on alleged recent increases in narcissism (see "What does this graph mean?",  7/15/2012), but Prof. Greenfield's paper looks at a broader historical scope (1800-2000 rather than 1960 to 2008), and  also explores the predictions of  a theory about the effects of urbanization, rather than just a conviction that Kids Today are too self-involved:
The Google Books Ngram Viewer is a new tool for the quantitative analysis of long-term culture change. The hypotheses were generated from my theory of social change and human development (Greenfield, 2009). A central theoretical claim is that different value systems, behaviors, and human psychologies are adapted to different types of ecology. The ecological level of the theory is based on the ideal types of gemeinschaft (community) and gesellschaft (society) developed by the German sociologist Tönnies in the 1800s (1887/1957). A key characteristic of gemeinschaft environments is that they are rural; other interrelated characteristics are subsistence economies, simple technology, and low levels of wealth (cf. Inglehart & Baker, 2000). Education takes place at home around practical skills. A key characteristic of gesellschaft environments is that they are urban; other interrelated characteristics are commercial economies, complex technology, and high levels of wealth. Education centers on school and the development of the mind. These characteristics of the ideal types anchor quantitative dimensions in the theory of social change and human development.
On the other hand, Prof. Twenge's foray into Culturomics was based on a statistical analysis of the frequency over time of 20 "communal" words versus 20 "individualistic" words, where the communal/indiviudalistic value of the words were based on an extensive rating experiment. In contrast, the word-related evidence in Greenfield's article is limited to graphs of three specific word-pairs ("obliged" vs. "choose", "give" vs. "get" and "act" vs. "feel", along with one slightly larger comparison ("obedience, authority, belong, pray" vs. "individual, self, unique, child").
Greenfield's first piece of evidence is a graph showing the frequency of  "obliged" vs. "choose" as "indexing the values" of "social obligation" vs. "individual choice", as produced by the Google Books ngram viewer with a three-year smoothing window: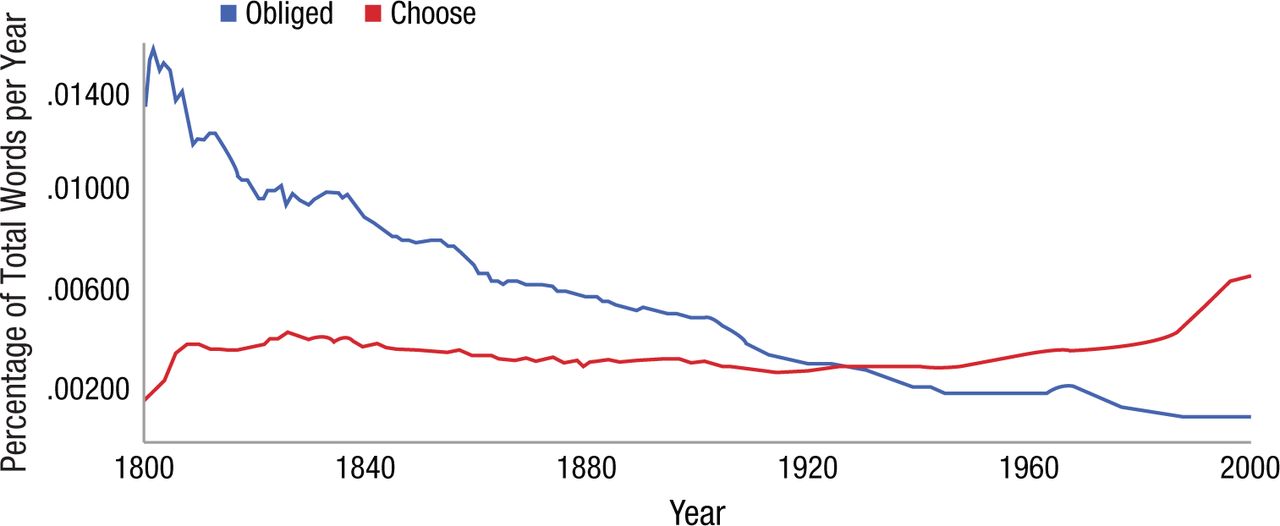 Another way to plot the same sort of thing, which doesn't require finding word-pairs that happen to be similar in overall frequency, and arguably does a better job of showing the overall trend, is to show the loess fit to the same data points, scaled so as to show percentage changes since the start of the time-period under investigation. Here's my version: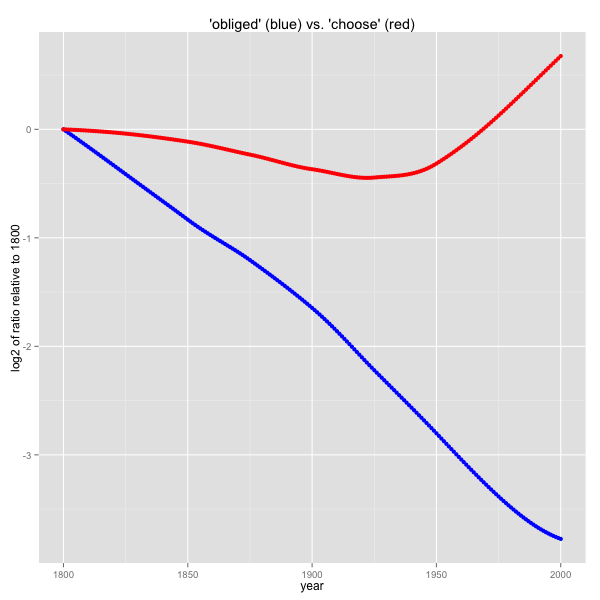 [Wonkish aside: In order to plot increasing and decreasing trends in a symmetrical way, I've used R's loess() function to get the local trend lines, and plotted log2() of the ratio of all (fitted) points to the initial value of the fitted data, so that a value of 1 translates to doubling of the (fitted) frequency, while a value of -1 translates to halving the frequency.. If you want to look at it a different way, here's the raw (unsmoothed) ngram data for obliged and for choose — and some R code that will generate the above graph is here.]
But there's room to doubt how well these particular words are actually "anchored" by the "ideal types" that Greenfield is interested in. Is the word "obliged" really a good index for gemeinschaft-type "social obligation and duty"?  In a random samples from 1840 and 1850 in COHA, I find that about a quarter of the uses of "obliged" refer to obligation by physical circumstances rather than obligation by social norms or social connections, e.g.
… the gale increased to such a degree that the boats were in imminent danger of foundering. The officers were obliged to order their supplies of water to be thrown overboard, in order to lighten the burden.
… the severity of the weather obliged him to return before he had reached Icy Cape.
… so weak he was obliged to be carried on board in a litter …
… they proved so dirty she was obliged to throw them away.
…  now the hot weather was coming, it seemed almost insupportable, as we were obliged to have a fire in the close room, in order to cook our provisions …
The cars were just on the point of leaving, and they were obliged to run in order to catch their chance.
… often checked by precipices, and obliged to seek fords at the heads of tributary streams …
And another substantial percentage involves the obligations of urban "commercial economies", "personal possessions", or "child-centered education", rather than "social belonging" or rural "authority relations":
the ruin of those who were obliged to receive the notes at their nominal value was insured
It might, however, be more agreeable to pay a vo!untary tax for luxuries which they were not obliged to use, than to pay a forced and inevitable one on real estate
those who were obliged to accept payment on a previous bargain in a word, all creditors were ruined, because they were obliged to accept a value purely nominal.
Were the manufacturer obliged to leave his labor, to sell a yard of calico, the price of calico would be trebled.
exchanged their receipts for bank notes, which obliged the bank to raise the issue as high as a billion
Similarly, the word "choose" is not always a reliable index of "the development of psychological mindedness and the unique self":
… the party held its state convention to choose delegates to the national convention in Atlantic City
He didn't choose mediocrity; it was conferred on him at birth.
And she urged them to choose that sister after her death, and to promise to preserve that unity forever …
In most Tabaxi tribes, only village elders and those the elders choose as apprentices may use magic.
And that may be a dilemma for the police, who have to choose between alerting the public and apprehending the perpetrator …
It's possible that this is just noise, so that underneath it all, "obliged" and "choose" are good proxies for the cultural qualities that Greenfield wants to trace. But I wonder — suppose we had taken "requirement" vs. "chosen" instead? We would find that "chosen" has fallen as much as "choose" has risen; and "requirement" has risen much more than "obliged" has fallen (raw data here and here):
Greenfield's next piece of evidence is a graph of the history of  "give" and "get":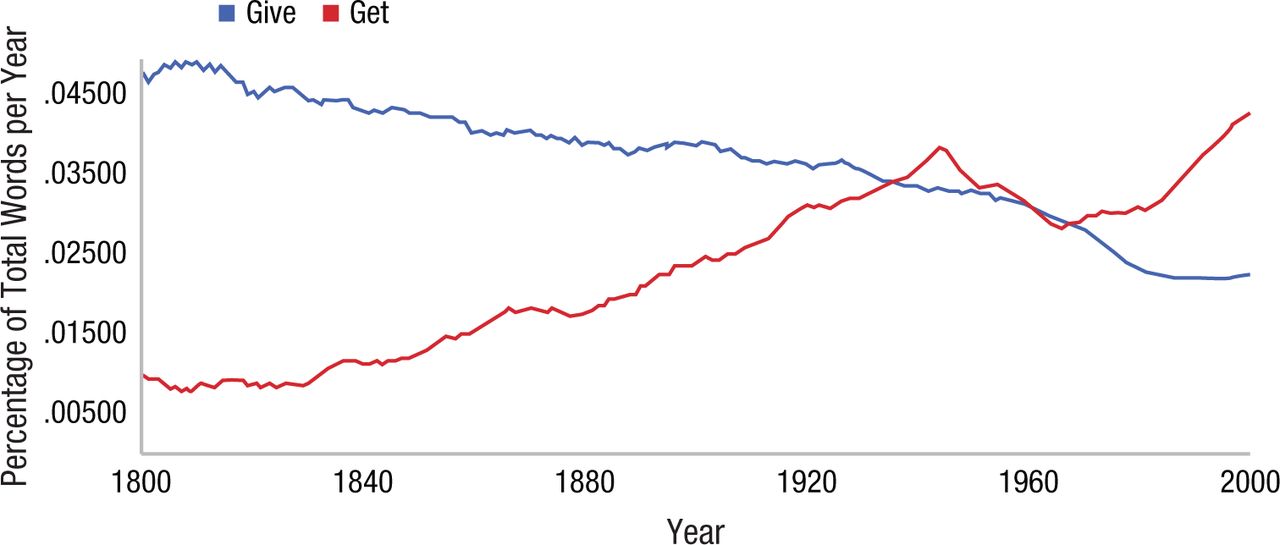 Here's my version: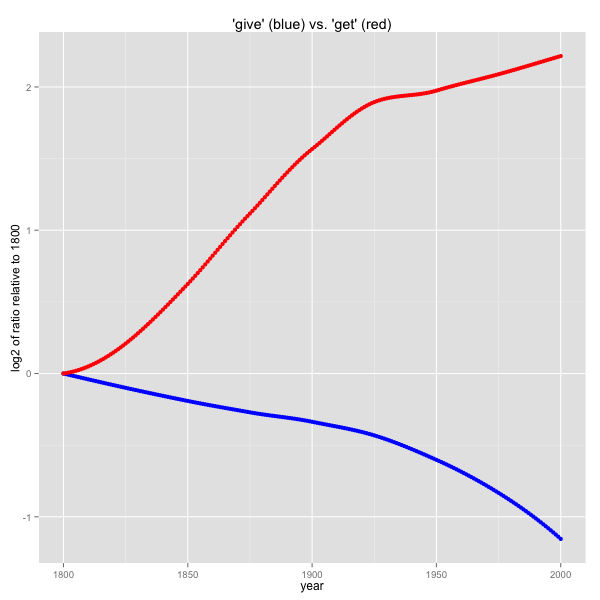 This comparison is pure PR genius — I'll comment in a later post on where media outlets like  CBS This Morning took it — but it has the same problems as the last one, only worse. The words "give" and "get" are even more problematic as proxies for the qualities that Greenfield is interested in, and "get" is an especially bad choice, since it's increasingly used to express change-of-state or simple passive voice ("get acquainted", "get involved", "get married", "get sick", "get rid of", "get out",   …), rather than the acquisition of material possessions.
And again, other give-ish words like "donate" and "contribution" have increased more strongly than "give" has declined, while get-ish words like "possess" and "acquire" have gone down almost as much as "get" has gone up:
We could similarly match Greenfield's "act" vs. "feel" with "activity" vs. "passion":
And we could counter her  "obedience, authority, belong, pray" vs. "individual, self, unique, child" with "conform, boss, membership, invoke" vs. "singular, my, alone, youth".
I'm not arguing that her theory is wrong, or that the Google ngrams datasets don't contain supporting evidence. But it's going to take a much more careful and systematic analysis of the lexico-historical data to convince me.
---