« previous post | next post »
Human secondary sexual characteristics include a  large difference in the pitch* of the voice, caused by a large difference in the average size of the larynx. This larynx-size difference is about five to seven times larger, in proportional terms, than the average difference between the sexes in height or other linear dimensions (about 50-60% compared to about 8-9%). It translates to a difference of about 70% in median pitch values, on average, between adult females and adult males. This difference is about 4.5 times the within-group standard deviation in such median values, which is a large enough effect that median pitch alone (for comparable speech samples) can be used to classify the sex of human adults quite accurately.
On the other hand, normal individuals can and do vary the pitch of their voice by a factor of two or more, depending on things like degree of vocal effort or physiological arousal, prosodic variation, or desire to imitate someone with a naturally higher or lower voice.
This sets the stage for an interesting and fraught interaction between the biology of sex and the cultural construction of gender, which is the background for Lake Bell's claim that there's a "vocal trend" of "sexy baby vocal virus talking".
Human males and females differ little in stature before puberty, but post-pubescent males are about 8-9% taller. According to a database maintained by NIST, the male children in their sample averaged about 3% taller at age 2, and less than 1% taller at age 10, whereas males average about 9% taller at age 18. According to a 1977 publication from the National Center for Health Statistics, at age 2 the 50th percentiles for males and females are identical; at age 10, girls are .6% taller (in the 50th percentile), and at age 18, males are about 8% taller. Data that I've seen from other countries sometimes involves smaller differences, in the range of 5% or so.
With respect to the length of the vocal folds (the tissue in the larynx that is responsible for producing  voiced speech), this overall difference between the sexes is magnified by approximately a factor of seven: the vocal folds of post-pubescent males average about 50-60% longer than those of females of the same age (length of the overall glottis or length of the anterior glottis in the figure and table below).
| | |
| --- | --- |
| AC | anterior commissure |
| VP | tip of vocal process |
| AnAC | angle of bilateral vocal folds at AC |
| GWP | glottic width at vocal process level |
| LEG | length of entire glottis |
| LAG | length of anterior glottis |
| LPG | length of posterior glottis |
| LMF | length of membranous vocal fold |
| | | | |
| --- | --- | --- | --- |
| | Male | Female | Ratio M/F |
| AnAC in degrees | 16 | 25 | |
| LMF in mm | 15.4 | 9.8 | 1.57 |
| GWP in mm | 4.3 | 4.2 | 1.02 |
| LAG in mm | 15.1 | 9.5 | 1.59 |
| LPG in mm | 9.5 | 6.8 | 1.40 |
| LEG in mm | 24.5 | 16.3 | 1.50 |
(Data and picture from Hirano, M, K Sato and K Yukizane; "Male-female difference in anterior commisure angle", in S. Kiritani, H. Hirose and H. Fujisaki, Eds., Speech Production and Language, Mouton de Gruyter, 1997. The study involved excised larynges from 10 males and 10 females, average age 58 for the males and 66 for the females. It would be nice to have larger and more varied samples, but I don't know of any better sources.)
As a result of these hormone-induced laryngeal changes, adult human males have significantly lower voices than females do, out of proportion to their rather small different in average height. Though the pitch of anyone's speech depends very much on circumstances, under comparable conditions, (adult) human females voices are likely to show pitches roughly 70-75% higher those of male voices. This difference reflects not only the difference in vocal cord length, but also a difference in vocal cord mass — and perhaps some socially-conditioned factors as well. A graph showing data from various studies is reproduced below (taken from Kent 1994):
For this morning's Breakfast Experiment™, I turned to the TIMIT dataset, which includes sentences read by 192 female and 438 male speakers. There were two "calibration sentences" read by all the speakers, and I wrote a simple script to calculate the median pitch of these two sentences for each speaker.
The average of these median values for the 192 female speakers was 195 Hz, and the average for the 438 male speakers was 114 Hz. The distributions looked like this: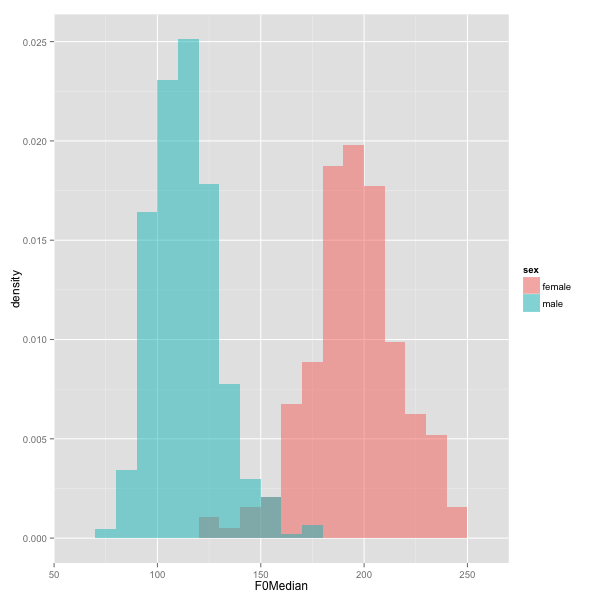 In this sample, the effect size (difference in means divided by the pooled standard deviation) is d = 4.51, which is so large that we can separate the males from the females with high accuracy (though of course not perfectly) just by this single number. (And it's likely that a few of the extreme values in each group were affected by pitch-tracking errors, which I did not check for…)
Of course, individual speakers can and do vary their pitches, often over quite a wide range.
In this passage from a 2003 interview with Ann Richards, her median pitch is 175 Hz, putting her towards the low end of the female distribution shown above:
But in this clip from her keynote address at the 1988 Democratic Convention, the median pitch is 296 Hz, more than 9 semitones higher, way above the top of the sample shown in the graph:
This is not because she's trying to sound more girlish in the convention speech — it's the normal effect of the greater vocal effort and whatever else is involved in "projecting" for an audience, even helped by a microphone and sound system.
We can see an even greater change in some cases. Thus in this extract from a studio interview with Dr. Martin Luther King, his median pitch is 92 Hz, towards the bottom of the male range in the sample graphed above:
But in the clip from his famous "Dream" speech, the median pitch is 256 Hz, well over an octave higher, even higher than the top of the female range in the TIMIT graph:
Again, this is emphatically not because MLK was trying to perform his speech in the voice of a little girl, but rather because he was projecting in a style of preaching that was originally developed to reach crowds in the days before amplification.
Of course imitating a younger or smaller person — or an older or larger person — is one of many other reasons that someone might vary the pitch of their voice. And thereby hangs a tale: one of the more persuasive just-so stories of human behavioral evolution.
Voice pitch is not the only speech-related secondary sexual characteristic of Homo sapiens. Because the larynx also drops lower in the neck in post-pubescent males, the overall adult male vocal tract length is about 15% longer on average than its female counterpart. This means that resonance frequences (including the formant frequencies that determine vowel quality) are also about 15% lower in adult males as compared to females. This is about 175% of the difference expected on the basis of the average overall size differences (8-9%). This difference also means that adult males are even more subject to the risk of choking on aspirated food that is a price the human species pays for adapting its vocal organs to speech.
None of the other species of apes shows a similar sexual dimorphism of the vocal organs, neither in larynx size nor in larynx position. (Of course, overall size differences between the sexes tend to be larger in other apes than in humans.) It's plausible that this unique vocal dimorphism is connected to the fact that humans are the only apes that give vocal displays a central role in their social interactions.
In other words, over some historical period of hominin evolution, it was advantageous for males to give the vocal impression of being bigger than their actual size; and this advantage was big enough to drive genetic change, overcoming the disadvantage of greater propensity for choking to death on aspirated food, or getting lung infections from aspirated vomit.
This raises the possibility that the biological dimorphism in vocal-tract anatomy might continue to be emphasized or exaggerated, by individual choice or by broader social habits. And there's plenty of evidence that this can be true. The graph below indicates that Japanese male and female speakers may be more polarized in pitch than Americans are (background and discussion here):
The "motherese" type of baby talk normally involves elevated pitch, among its other features.
And so when Lake Bell claims that "the vocal trend that I call sexy baby vocal virus talking" also involves "pitch, so really high up",  that's certainly plausible, since there's also a kind of "baby talk" used to project pubescent sexuality.
But I'm still skeptical that this trend exists. I live and work among college students,  and I hear them talking to one another hundreds of times a day. If there's a recent epidemic of young American women using artificially high pitch, it must be happening in other times and places, because I'm not hearing it.
And in connection with the context of Ms. Bell's movie, which is the voice-over industry, the shoe is pretty clearly on the other foot. The reason that Don LaFontaine was known in the voice-over business as "Thunder Throat" was that he naturally had an unusually low voice — and presumably he and others learned to emphasize this characteristic in order to sound authoritative.
Some anecdotal evidence for such artificial pitch-range lowering can be heard in this passage from an interview with LaFontaine:
And also in this reaction by the program's studio host:
So whatever might have been happening recently with a "sexy baby vocal virus", there's a "sexy daddy vocal virus" that's been trending for the past million years or so (assuming that hominin vocal evolution began with Homo erectus). And that older trend is what's really relevant to sex discrimination in the voice-over industry.
---
*Phoneticians, psychologists and others generally use "F0" or "fundamental frequency" to refer to objective physical measurements of local periodicity, and reserve "pitch" for the corresponding subjective psychological impression. I've used "pitch" promiscuously  throughout this post, following the pattern of ordinary language.
---