« previous post | next post »
Email from Florent Moncomble [links added]:
A few months ago, the distinguished member of the Académie française Alain Finkielkraut was featured in a video where he deplored the loss of "a word which used to exist in the [French] language and disappeared from it", ie. "compersion". Apparently, little does he know that "compersion" was actually coined in the 1970s by the Kerista Community of San Francisco, in the context of polyamory, to describe the joy felt in knowing that your better half finds pleasure and happiness with other sexual partners! So that, far from being the old French word that he thinks it is, it is actually an English borrowing from the late 20th century… in other terms, the very nemesis of the Académie — not to mention the moral overtones of the term, quite the antithesis of the conservatism of that institution…
Laelia Veron, a colleague from the Université d'Orléans, Christophe Benzitoun from the Université de Lorraine and I worked together on debunking Finkielkraut's claim for an academically informed yet humorous biweekly spot that Laelia has on French public radio France Inter.
Here's Finkielkraut's  Le Figaro  interview: Aliénor Vinçotte et Dorian Grelier, "Alain Finkielkraut: «La langue française s'affaisse et la nation aussi»" ("The French language  is collapsing, and the nation as well"), Le Figaro 1/11/2023. I don't think I can embed the video, but here's a still from it, to give you some visual context: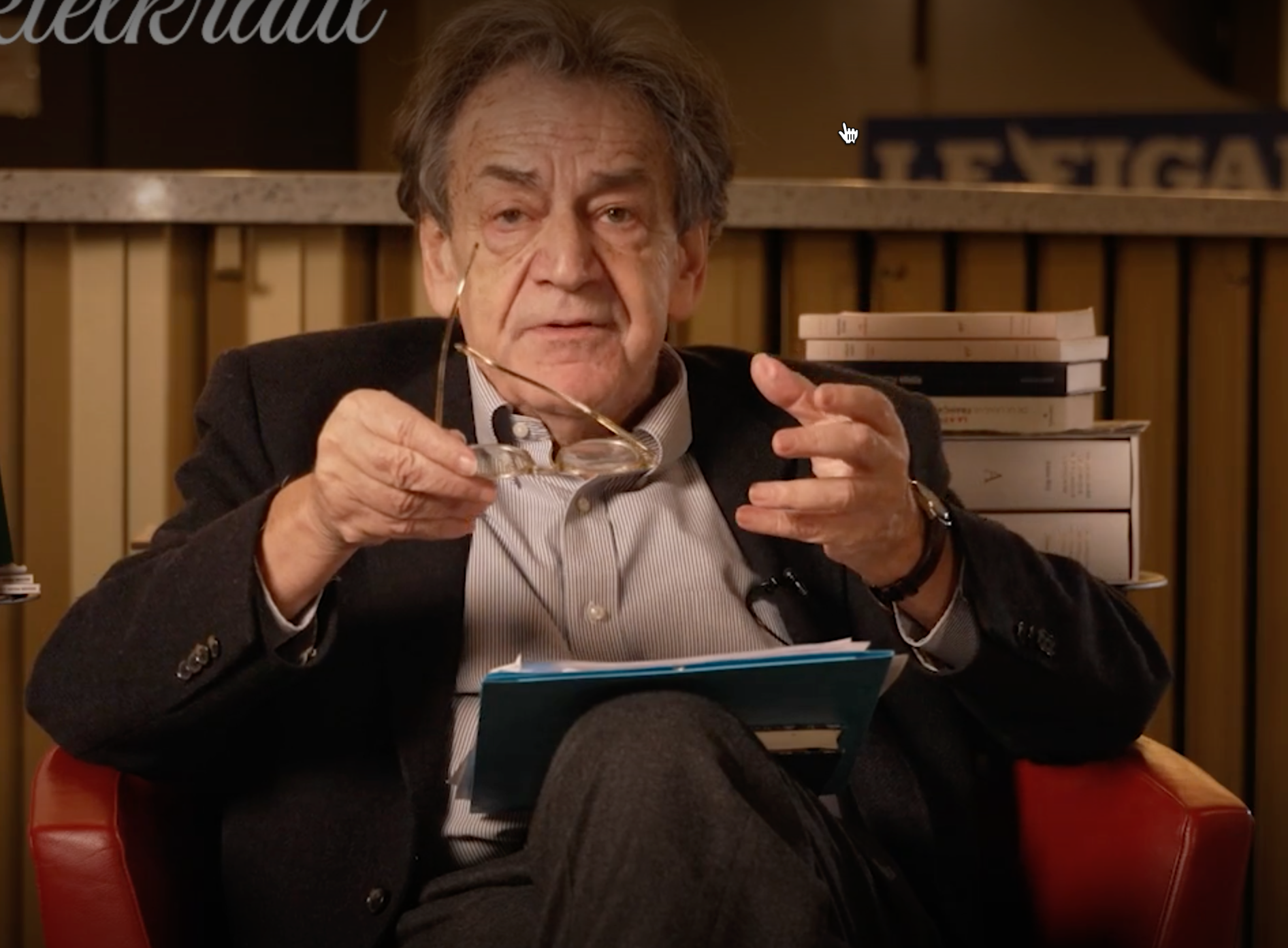 And here's audio from the section on compersion, starting around 3:16:
Il y a un mot
qui existait autrefois dans la langue, et qui en a disparu.
Vous le trouvez
dans le livre de Gilles Kepel Enfant de Bohême.
C'est le mot "compersion".
La compersion
c'est le sentiment eprouvé
lorsqu'on se réjouit
du bonheur d'autrui.
Et ce n'est peut-être pas tout à fait
par hazard
que soit ce mot
est disparu
de notre vocabulaire.
There's a word
that once existed in the language, and has disappeared from it.
You find it
in Gilles Kepel's book Enfant de Bohême.
It's the word "compersion".
Compersion
is the emotion experienced
when you get pleasure
from the happiness of others.
And it is perhaps not entirely
by chance
that this word
has disappeared
from our vocabulary.
[Apologies for errors in transcription or translation]…
Finkielkraut goes on at considerable length about why the loss of this word reflects the collapse of the French nation into "une société de la rivalité perpetuelle"  ("a society of perpetual competition") that has lost "la compassion Rousseauiste" ("Rousseauian compassion").
Societal collapse aside, it seems that compersion was indeed invented long after Rousseau's passing, and in America — see Marie Thouin, "When You Feel Jealous, Think About Cultivating 'Compersion'", Greater Good Magazine 9/19/2022:
The term "compersion" was coined in the early 1990s by the Kerista community, a San Francisco-based polyamorous group that has since disbanded. Although nonmonogamists were the first to add this term to the English language, the concept itself wasn't new.
The American origin of this word is relevant because Finkielkraut starts the interview by complaining about the  pollution of the French language by English borrowings:
LE FIGARO. – Quel est le mot qui, selon vous, devrait être supprimé du dictionnaire?
Alain FINKIELKRAUT. – Je vais en choisir deux: «liker» et «challenge». Pourquoi? Parce que «aimer» existe dans la langue française. Et «défi» aussi. Donc, ce sont des mots inutiles. Et cette invasion du globish me rappelle une merveilleuse remarque d'André Gide: «Un peuple qui tient à sa langue est un peuple qui tient bon.» La langue française s'affaisse et je pense que cela signifie aussi un avachissement de la nation française. Alors il faudra être capable de se reprendre et d'en finir, et d'écarter au moins «liker», «challenge», et pourquoi pas «streaming», «coaching», etc.
LE FIGARO. – What is the word that, according to you, should be eliminated from the dictionary?
Alain FINKIELKRAUT.- I'm going to choose two: "liker" and "challenge". Why? Because "aimer" exists in the French language. And "défi" also. Therefore those are useless words. And this invasion of globish reminds me of a marvelous remark by André Gide: "A people who hold on to their language are a people who hold on".  The French language is collapsing and I think that this also means weakening of the French nation So we need to back up and stop it, and remove at least "liker", "challenge", and why not "streaming", "coaching", etc.
The book that Finkielkraut cites, Gilles Kepel's Enfant de Bohême, was published 10/6/2022 — perhaps a reader with access to this book can tell us how Kepel uses the word "compersion"…
And it's indeed ironic for a luminary of l'Académie Française to argue, by implication, that the remedy for the French nation's collapse is polyamory.
Here's the France Inter discussion:
Update — In the comments, Grant Barrett gives us the paragraphs in which Kepel uses compersion (here and here). In those contexts, the sense seems entirely consistent with the original Kerista usage — which makes it all the more interesting that Finkielkraut associates the word with emotions leading to social cooperation rather than competition.
As for J.W. Brewer's (correct) observation that "the hoariest Anglophone-world pejorative stereotypes about the French intelligentsia involve their alleged propensity for sexual immorality", Finkielkraut doesn't refer at all to romantic relationships, sexual jealousy, or anything in that direction. Instead, he depicts compersion, seen simply as pleasure in the happiness of others, as essential to the cooperative maintenance of Rousseau's social contract.
---