« previous post | next post »
The medical news site MedPage Today has recently added a daily game page, "Wordectomy", in which a medically-relevant Wikipedia article is presented with all letters blanked out except for punctuation and (some) function words, e.g.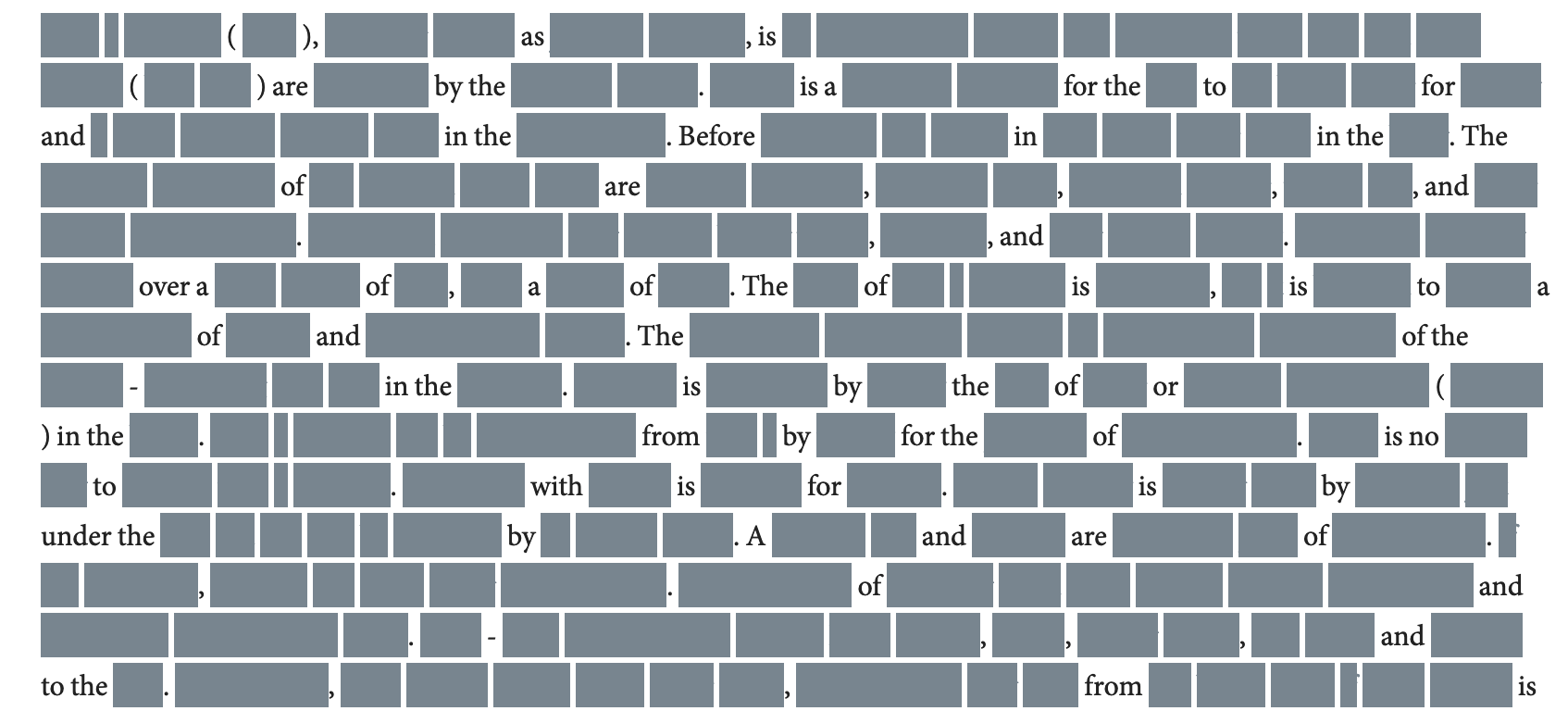 The instructions:
Welcome to Wordectomy — a word game from MedPage Today where you try to determine what medical condition is being described based on the text of a Wikipedia entry.
Most of the words have been removed. It's up to you to guess what the other words are and ultimately decipher the subject.
Here's how:
Type a word (yes, any word!). At the start, the game is largely based on trial and error.
That word will populate throughout the article.
As you guess more words correctly, the clearer the medical condition becomes.
Use your scalpel-sharp clinical knowledge to guess the condition in as few words as possible.
Hints:
Articles and prepositions are already included.
Embrace the power of word association.
It gets easier as you go along – don't give up right away!
Note: Wordectomy uses material from Wikipedia. Once you get the correct condition, we suggest looking at dependable medical sources to learn more.
The game is fairly easy if you
start with some of the common function words that they blank out (today's puzzle has 25 instances of "an", 20 instances of "that", 17 instances of "this", etc.)
then go to a list of likely medically-relevant words (today's puzzle has 42 instances of "syndrome", 23 instances of "weakness", 15 instances of "nerve", 10 instances of "muscle", etc.)
and finally cheat by searching Wikipedia for some of the words and/or word strings that you've found.
Creating similar partly-blanked versions of texts is easy, but coding the browser-based interactive game is a bit harder — it would be fun to have versions that could be used for topics in linguistics, machine learning, psychology, philosophy, area studies, and so on. If the topic area is unknown, it would be harder, since the list of likely words would have much higher entropy.
And you could take all the fun out of it (at least from my point of view) by arranging to search the source(s) for the partly-specified character strings…
Update — As a result of checking the OED's entry for -ectomy, I learned that "appendectomy" is an Americanism (at least the OED labels it as Surgery U.S.), for which the UK equivalent is apparently "appendicectomy", a form that I don't recall ever having seen before (though the OED labels it as plain default Surgery).
Wikipedia confirms the geo-cultural difference:
An appendectomy (American English), also known as an appendicectomy (British English), is a surgical operation in which the vermiform appendix (a portion of the intestine) is removed.
A quick PubMed search turns up 17,005 hits for "appendectomy", versus 2,417 for "appendicectomy".
Update 1a — Google ngrams graph in "American English":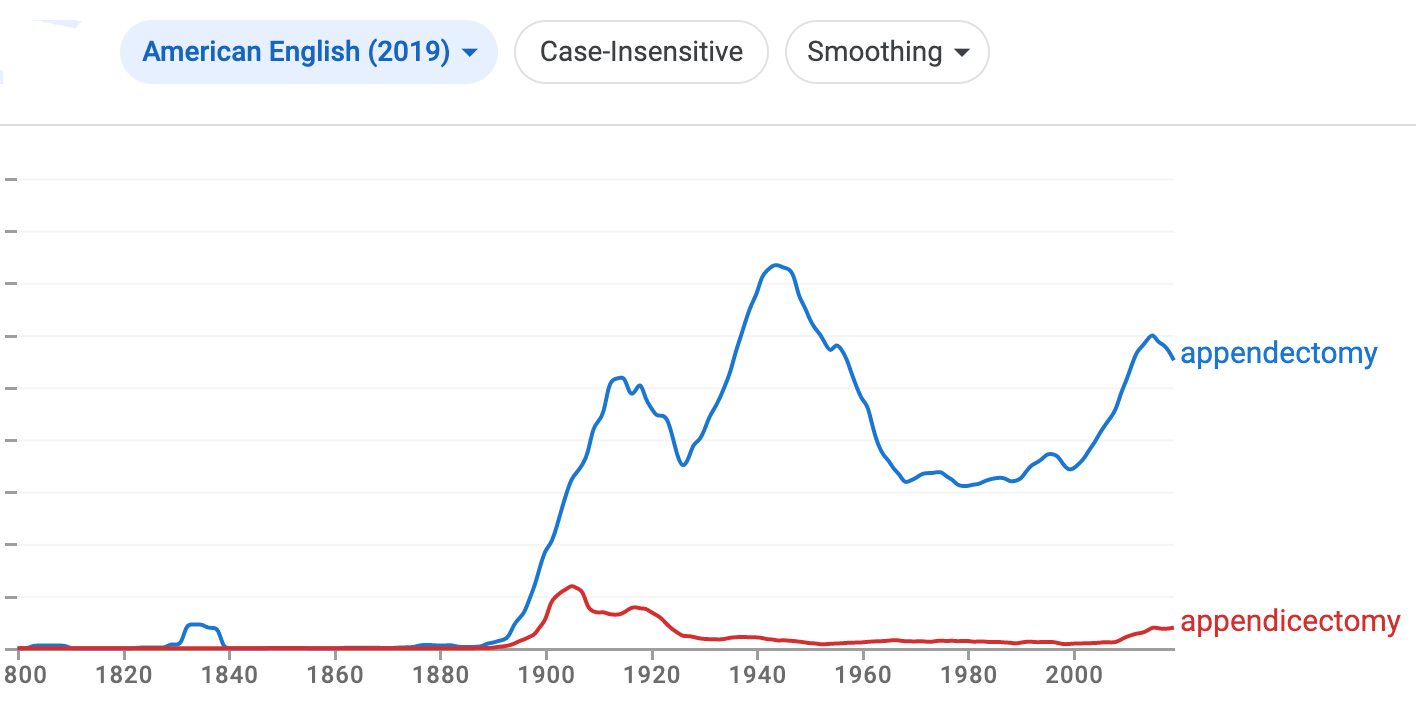 …and in "British English":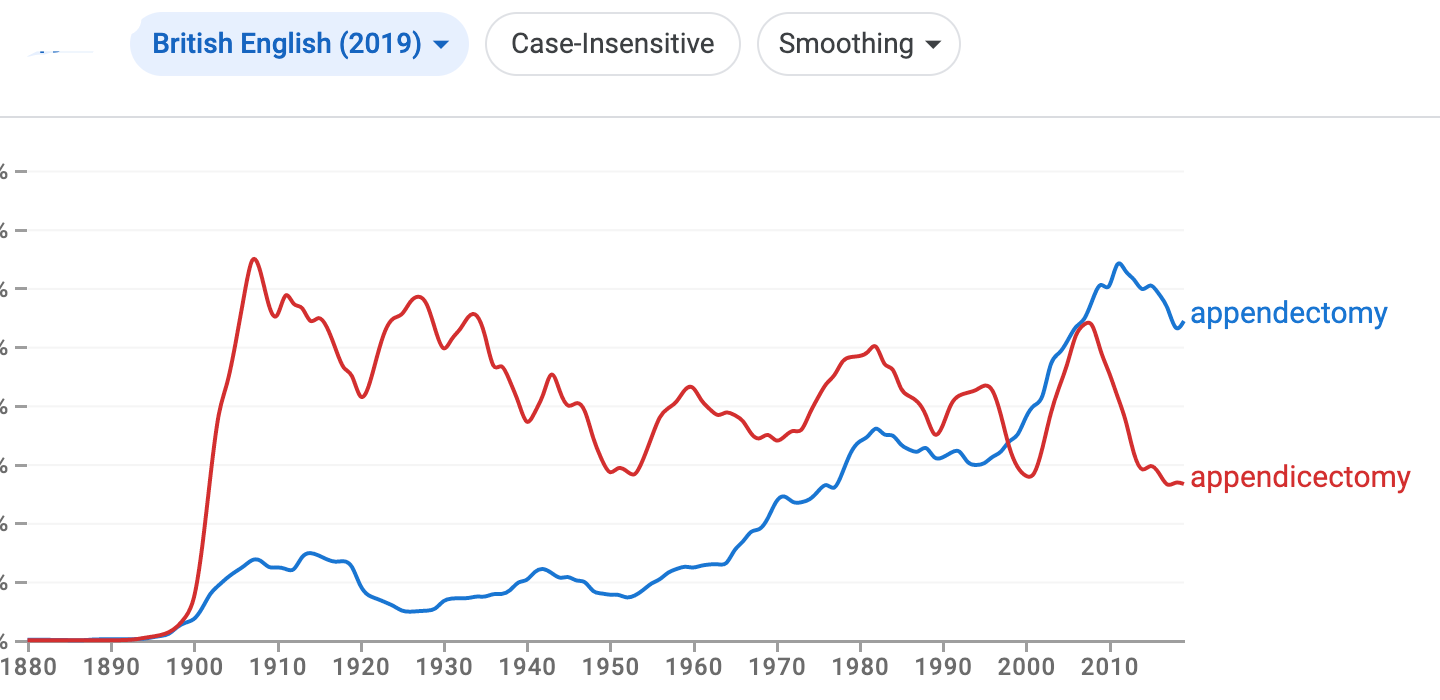 Update #2 — Pete in the comments points us to Redactle, "the any-subject version of this game". But that's not really what I was asking for, which was more along the lines of an open-source version that could be used by other organizations, sites, and publications.
---