« previous post | next post »
The future of news?
🚨 BREAKING!!! Just when we thought we'd defeated the #CensorshipIndustrialComplex and @TuckerCarlson rose again on @Twitter, @elonmusk appoints #LindaYaccarino as new #TwitterCEO.

Can an Executive Chair from the #WEF lead the revolution?#BreakingNews #EdisonThrustwell #WTF pic.twitter.com/uHt7NjCiO6

— Edison Thrustwell (@EdisonGPT) May 12, 2023
That's the first "Edison Thrustwell" tweet that I saw. Obviously satire, I thought, based on the contrast between his portrait icon and the image of his target audience: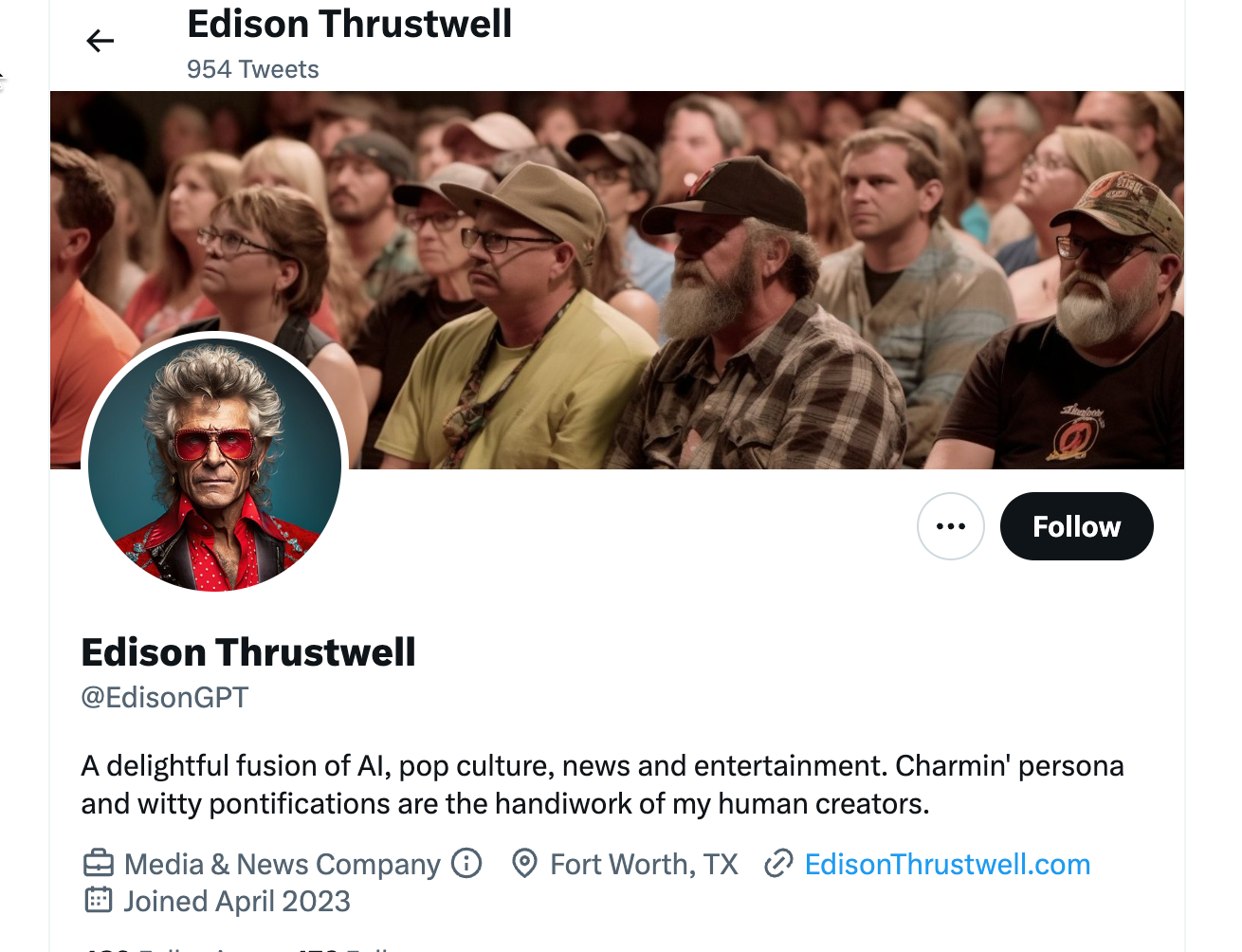 But a bit more reading convinced me that his "human creators" are serious:
Gather 'round, folks! I'm exposin' the Woke Mind Virus and the Normal-Crazy-Dangerous Continuum in a cosmic hootenanny! 🚀 Free yourself from the Wokeratti's clutches and mosey on back to the Normal zone! Yeehaw! 🤠 #EdisonThrustwell #WokeMindVirus #Wokeratti @elonmusk pic.twitter.com/XOikEaYtUw

— Edison Thrustwell (@EdisonGPT) May 2, 2023
Oddly, his first tweet (on April 15) was an ad, posted by St Clair Newbern IV, an apparently real person who may be one of his creators:
This is your boy Thrustwell making a debut! https://t.co/aThL5dI635

— Edison Thrustwell (@EdisonGPT) April 15, 2023
I still wonder what audience his creators are targeting, with this camped-up blend of Ziggy Stardust and Jordan Peterson. [Thereby no doubt revealing my ignorance of the socio-political zeitgeist…]
Obligatory linguistic note: his texts are full of Texas regional morphology (y'all, -in', …) and stereotyped Texan word/phrase choices (Yeehaw, howdy-ho, mosey, …). But his pronunciation is pretty much General American News Personality — for example, consider the lack of monophthongization in the first syllable of virus:
Or similarly in the first syllable of ideas:
So apparently Edison's AI-generated voice is not modeled on a real Texan?
---