« previous post | next post »
A recent PartiallyClips strip illustrates a technique that we might call "associative dialogue":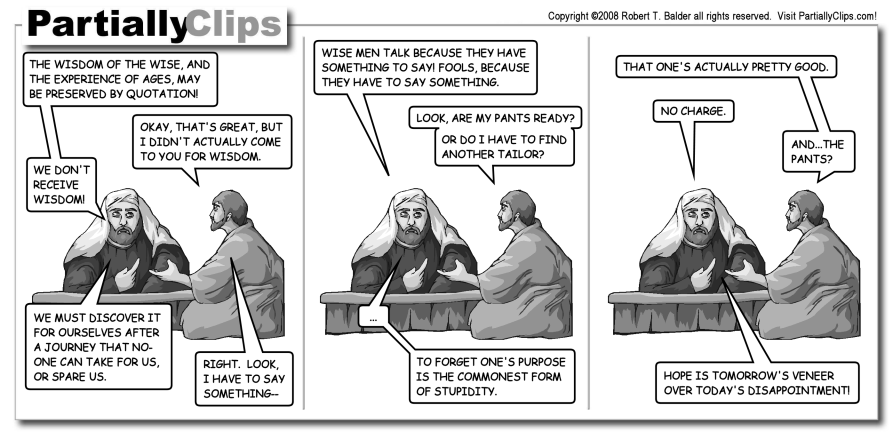 (Click on the image for a larger version.)
The tailor's algorithm, obviously, is to use the customer's questions as queries into a database of quotations.
This technique has been used to great advantage by generations of chatbots. The one whose design I know most about is the "extended chat" mode of Cobot, described in C. Isbell, M. Kearns, D. Kormann, S. Singh, P. Stone, "Cobot in LambdaMOO: A Social Statistics Agent", AAAI 2000:
Any utterance directed towards Cobot that is not recognized as a request for social statistics becomes a candidate for the following process. Words in the incoming utterance are matched to words appearing in sentences in the documents, assigning to each sentence a weight based on the number of matching words. […] Cobot randomly chooses a sentence to utter according to the distribution defined by the weights.
As the authors explain,
The effectiveness of this approach depends on the choice of documents. We first fielded the well-known Unabomber Manifesto by Theodore Kacynski, a lengthy, didactic essay on the evils wrought on society by science, and the industrial revolution The resulting response was immediate and dramatic […]. The new functionality resulted in endless conversation […] and allowed users to attribute to him all manner of intelligence and attitudes.
They may have gone too far when they programmed Cobot to choose his contributions alternately from the Unabomber Manifesto and the script for Planet of the Apes:
cobot: There is good reason to believe that many primitive societies subjected people to less pressure than the European society did, but European society proved far more efficient that any primitive society.
cyberat: That's what they want you to think!
cobot: Tell me who and what you really are and where you come from, and no veterinarian will touch you.
cyberat: Veterinarians!!!
cobot: The Roman system of urban sanitation was forgotten, so that until rather recent times did the sanitation of European cities that of Ancient Rome. [sic]
Fawn_Guest: cobot's conversation topics just get weirder and weirder.
cobot: In spite of every sign I'm an intelligent being meaning no harm, you continue to hate and fear me.
The version of this algorithm that politicians are trained to use is better. Trivially, they have an implicit understand of IDF weighting; and more seriously, they also have a highly non-uniform prior distribution over their talking points. It remains true, needless to say, that "The effectiveness of this approach depends on the choice of documents".
Of course, politicians are not the only participants in this enterprise who sometimes try to reduce dialogue to the reproduction of a predetermined script.
[P.S. Yes, the artwork is the same in all three panels. And in fact it's not even original. That's the basic premise of the strip, and it adds a little something extra in this case.]
---