« previous post | next post »
A recent XKCD: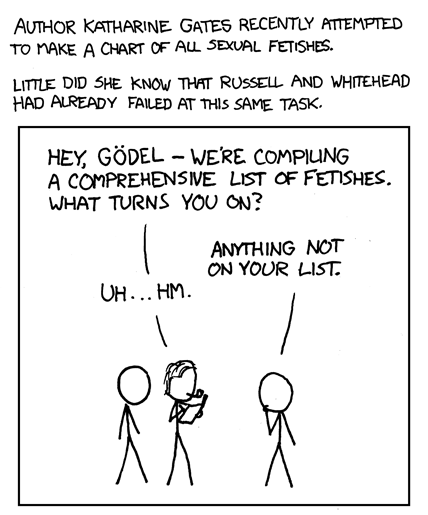 The "Russell and Whitehead" reference is to Russell's paradox, which raised a problem for naive set theory by bringing up the set of all sets that don't include themselves. The "Katherine Gates" reference is to the book Deviant Desires: Incredibly Strange Sex, 2000.
The image's title attribute has the value "They eventually resolved this self-reference, but Cantor's 'everything-in-the-fetish-book-twice' parties finally sunk the idea." This seems to be a evocation of another problem of self-reference, one leading to infinite recursion with an exponential explosion of fetishes at every step, rather than an endorsement of the maxim that "Once is cool, twice is queer".
Anyhow, now that I have your attention, I want to get back to the questions of linguistic grammaticality, acceptability, and probability that were briefly discussed in the comments on Geoff Pullum's post "When a word is redundant enough to be omitted", 8/25/2008. In particular, there was a back-and-forth involving Geoff, Shimon Edelman, and Mark Seidenberg, which is reprinted here for ease of access. As in the case of sexual fetishes, the treatment of concepts like "sentence of English" can be investigated from an individual point of view ("Mmm, passives!"), or from a sort of census-taker's perspective ("Do we have that one already? Yes? Well, increment the count, then."), or from the perspective of an experimental psychologist ("While wearing an eye-tracking device, 34 male and 35 female undergraduates were shown … "). You might also have a theory, or at least a model, that tries to explain (and perhaps even predict) the results of individual reactions, census-taking, or psychological experimentation.
Actually, I don't have time this morning to go any futher with this, so you can regard this as a promise to post some additional remarks over the next few weeks. I have a couple of surprises in mind.
Meanwhile, I invite you to think of all this in the context of a larger trend, recently discussed by Chris Anderson, "The End of Theory: The Data Deluge Makes the Scientific Method Obsolete", Wired, 6/23/2008.
"All models are wrong, but some are useful."
So proclaimed statistician George Box 30 years ago, and he was right. […]
Speaking at the O'Reilly Emerging Technology Conference this past March, Peter Norvig, Google's research director, offered an update to George Box's maxim: "All models are wrong, and increasingly you can succeed without them."
In a (no doubt doomed) attempt to avoid misunderstanding, let me offer the opinion that Peter is more right about certain kinds of engineering (and therefore about psychology) than he is about science; and that in any case, the consequences are not so much to supersede the scientific method as to change the way it's applied.
---