« previous post | next post »
Francis Miller sent in this photograph of a lollapalooza of a Chinglish banner (click to embiggen):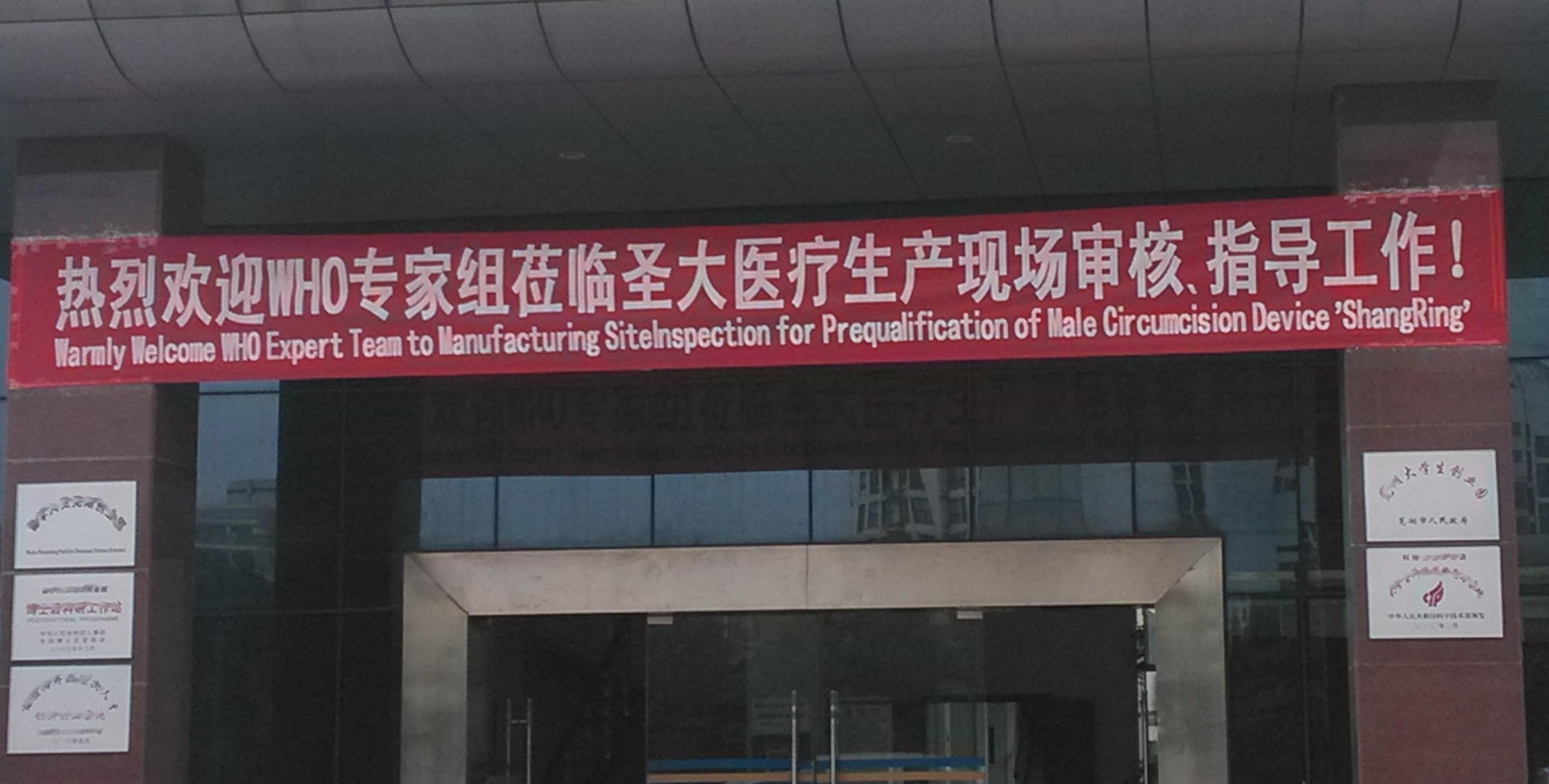 When I first glanced at the English translation, I thought that I might be hallucinating from the heat in Philadelphia and from overwork:
Warmly Welcome WHO Expert Team to Manufacturing SiteInspection for Prequalification of Male Circumcision Device 'ShangRing'
Most troubling was "ShangRing". Was that meant to mean "On / Up (shàng 上) Ring"? (Cf. at the end of this recent Language Log post.) But, even if that's what was intended, it wouldn't make any sense in the context of the whole banner.
To steady myself, I tried as calmly as I could to look at the Chinese, but the delirium only intensified:
Rèliè huānyíng WHO zhuānjiā zǔ lìlín shèng dà yīliáo shēngchǎn xiànchǎng shěnhé, zhǐdǎo gōngzuò
热烈欢迎WHO专家组莅临圣大医疗生产现场审核,指导工作
"Warmly welcome the team of experts from WHO who are in attendance at the production site of St. Great (or University?) Medical to inspect and direct the work."
That was slightly reassuring, since I now knew roughly what the banner was about, but was troubled by "St. Great" (or whatever) and the fact that I still had no clue what "ShangRing" was all about, much less what "Prequalification of Male Circumcision Device" pertained to, since neither of those elements were present in the Chinese.
I took a walk around the block, breathed in deeply, and started googling. Before long, I came to the realization that there is indeed a device for performing male circumcisions that is called the "Shang Ring" after its inventor, Jianzhong Shang. Apparently this device has shown great promise for HIV prevention, especially in African countries, and even Bill Gates has apparently expressed enthusiasm for the Shang Ring (link, link, link, link).
All right, on to the next problem. What is this shèng dà 圣大 ("St. Great") that seems to modify yīliáo 医疗 ("medical")? Google Translate and Baidu online translation service both say that it is equal to "Santa", but I rather doubt that, so I start looking around again, and before long I find that it is part of the name of the company that produces the Shang Ring:
Wúhú shèng dà yīliáo qìxiè jìshù yǒuxiàn gōngsī
芜湖圣大医疗器械技术有限公司
Wuhu SNNDA Medical Treatment Appliance Technology Co., Ltd.
This company is located in the Hi-tech. & Pioneering Service Center at North Yinhu Road, Wuhu Economic & Technological Development Zone, Wuhu 241001, China. Wuhu is located in Anhui Province. So shèng dà 圣大 = SNNDA, which must stand for something important to the company.
You learn something new every day in Chinglish Studies. In this instance, the lesson I came away with was that, even when the Chinglish translation is trying to be helpful by telling you more (by way of explanation or amplification) than is in the Chinese, it may actually lead you astray in other ways.
Oh, in case you were wondering, the word for circumcision in Chinese is huánqiēshù 环切术 ("circular cutting operation") or gēlǐ 割礼 (lit., "cutting ceremony").
---