« previous post | next post »
The New York Times has a piece by Ellen Barry entitled Barriers that are steep and linguistic about linguistic aspects of the situation in Georgia, which quotes both me and Johanna Nichols, who unlike me is an authentic expert on the languages of the Caucasus. As newspaper articles go this is actually pretty good, but I thought it might be useful to fill in some of the details.

It may help to look at this map of the ethnic groups of the Caucasus.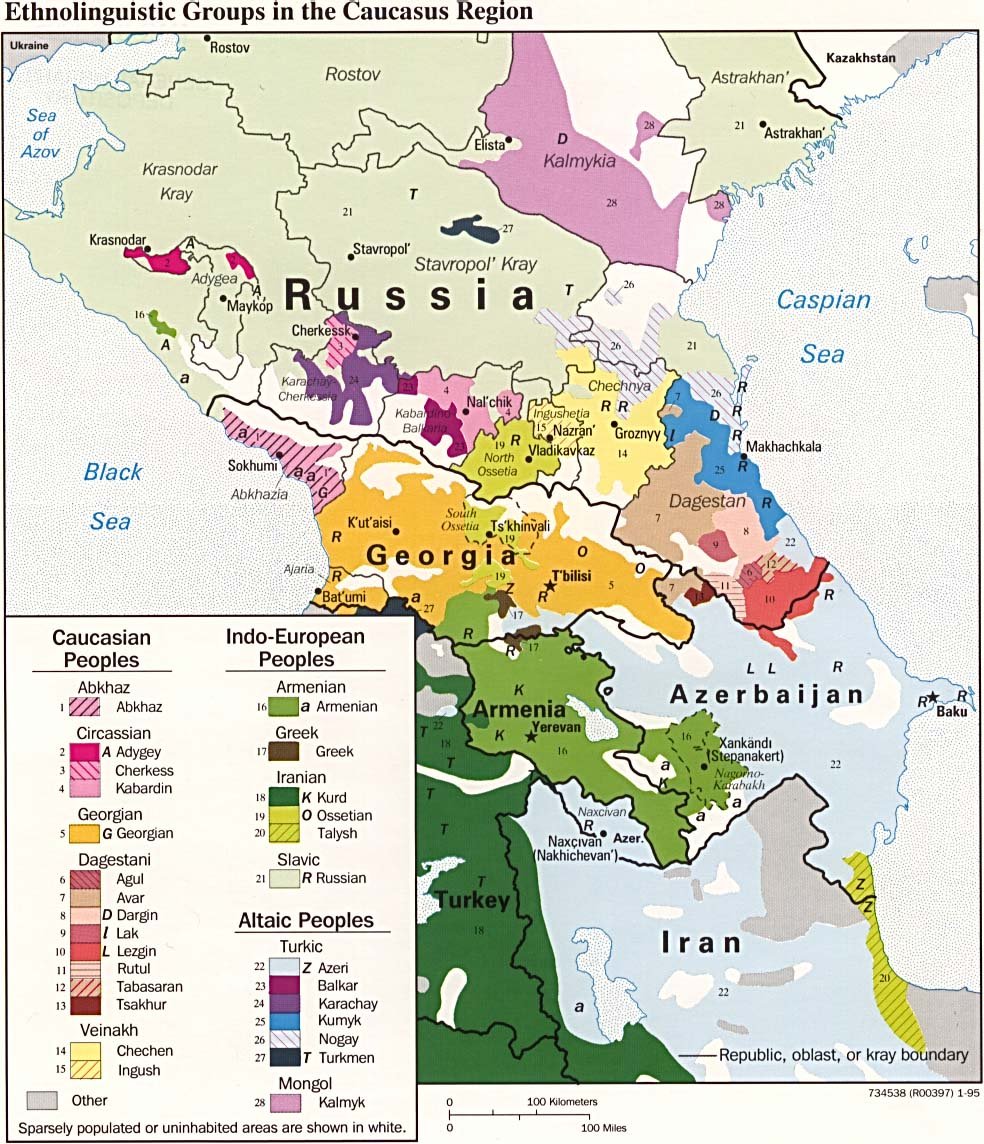 The languages unique to the Caucasus fall into three universally recognized language families. Georgian, along with Mingrelian, Svan, and Laz, belongs to the Kartvelian family, also known as South Caucasian. The other languages are divided into the Northeast Caucasian family and the Northwest Caucasian family. Northeast Caucasian includes Chechen, the language of the region that has been at war in recent years with Russia. Northwest Caucasian includes Abkhaz, the language of one of the disputed regions of Georgia, and Kabardian, famous in some circles for its putative lack of vowels.
As far as the consensus of historical linguists is concerned, this is as far as it goes. There are, however, hypotheses, that lead much farther afield. To begin with, some scholars believe that Northeast Caucasian and Northwest Caucasian are related and form a family known as North Caucasian, or simply Caucasian. This in turn, they argue, is related in the West to Basque, and in the East to Yeniseian, Sino-Tibetan, and Na-Dene. The connection between Yeniseian and Na-Dene has recently gained acceptance among even hardliners like myself due to the work of Edward Vajda, but the rest of this chain of relationships is considered by most historical linguists to be undemonstrated, though viewed with greater favor in Russia.
On this "Vasco-Dene" hypothesis, Georgian is not considered related to any American Indian languages or to Basque. It is Kartvelian, not North Caucasian. However, to complicate matters further, Georgian has been proposed by other scholars to be related to Basque. This should surprise no one since Basque has been proposed to be related to practically everything. Anyone interested in the history of Basque, its various proposed relationships, and why these proposals are dubious, should consult The History of Basque by the late Larry Trask, which is the definitive work on the sujbect.
What about Ossetian? Ossetian is an Indo-European language, distantly related to English. It is a member of the Iranian sub-branch of the Indo-Iranian branch and so, as the article says, a relative of Farsi. Ossetian belongs, however, to a different branch of Iranian than Farsi, namely to the Northeastern branch, whose only other surviving member is Yaghnobi, spoken in Tajikistan. Farsi belongs to the Western branch of Iranian. The Ossetians are pretty clearly the descendants of the Alans, who in turn were, in all probability, descendants of the Scythians. (Our knowledge of Scythian is very limited. Herodotus, for example, wrote at some length about the Scythians but bothered to record only four words of their language.)
---