« previous post | next post »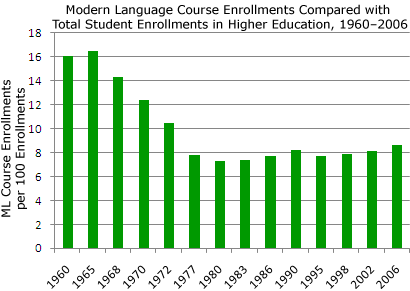 There's a fact-and-graph-packed post over at Pinyin News on "US post-secondary enrollments in foreign languages and the position of Mandarin". The post's "basic points up front":
Spanish has more enrollments than all other foreign languages put together.

By far the biggest enrollment boom since 1990 has not been for Mandarin but for American Sign Language.

The boom in enrollments in Arabic also surpasses that for Mandarin.

Mandarin is indeed growing in popularity — but in recent years only at the undergraduate level.

Japanese continues to be more popular than Mandarin, though by an ever-smaller margin.

Mandarin is the seventh most studied foreign language in U.S. post-secondary schools, behind Spanish (which leads Mandarin by a ratio of 16:1), French, German, American Sign Language, Italian, and Japanese.

Relatively speaking, enrollments in foreign languages are much lower than they were 30 years ago.
Read the whole thing! You may also be interested in this older post, "Results of US AP exams: first year for Mandarin, Japanese", 2/14/2008.
---