« previous post | next post »
Carl Masthay sent in this transcription of tattoos on the arms of a guy he met in a bar last Saturday: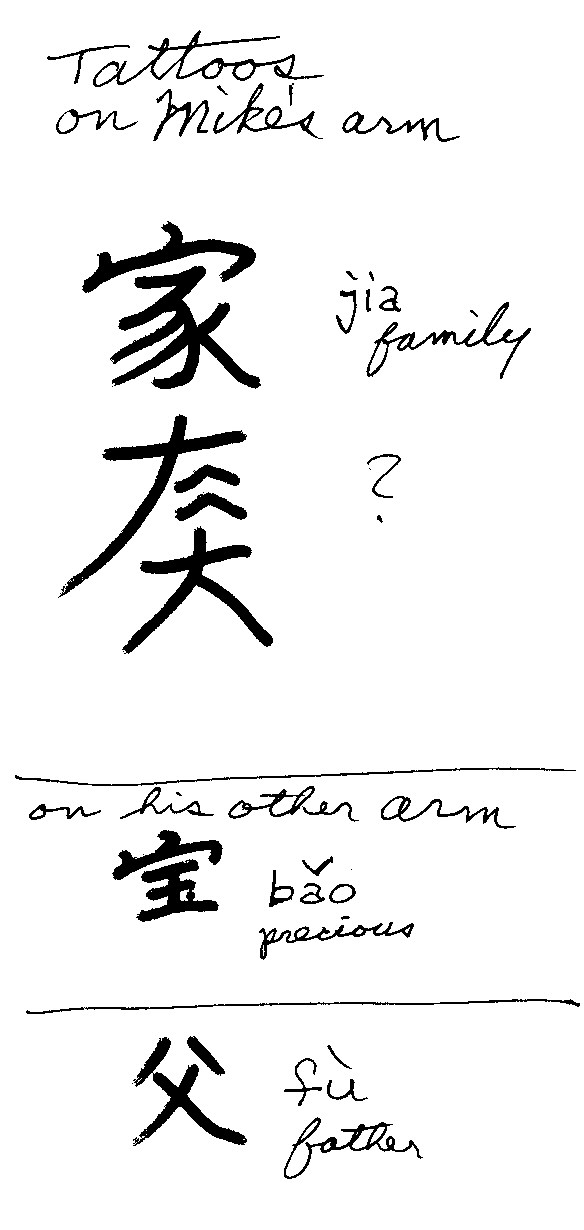 I wrote to some friends asking what they thought the mystery character was. Suggestions received included the tíng 庭 of jiātíng 家庭 (sometimes written as 家廷) ("family; household") and the huo 伙 of jiāhuo 家伙 (sometimes written as 傢伙) ("guy; fellow; chap"). Surprisingly, David Moser and Tom Bishop, separated from each other by half the globe, wrote back to me immediately upon reading my message and within a minute of each other, hazarding that they thought it was the zú 族 of jiāzú 家族 ("clan; household; family"), and I would tend to agree with them.
See the variant forms of the character at the bottom of this page. Unfortunately, none of them match the mystery character very well.
Tom Bishop found slightly similar forms here, though, especially this one:

Many more variants of zú 族 may be found here and here.
All of this brings us squarely into the realm of what are known in Chinese as yìtǐzì 異體字 ("variant characters"). As you can see, the variations are often starkly different from each other and can be extremely numerous, especially for very common and powerful characters. When we get into regional varieties and the intentionally arcane writing of secret societies, cults, the underworld, and other closed groups, the precise identification of certain variants may be next to impossible for outsiders to determine.
We have recently discussed "Weird languages" and stylistic modifications of Chinese characters. In my next post, I'll look into some truly weird characters.
[Thanks to Randy Alexander]
---