« previous post | next post »
Lawrence Downes, "How to turn Sean Hannity into food for worms", WaPo 8/6/2020:
I didn't set out to compost Sean Hannity. It was something I settled on after considering several other options and rejecting them one by one. The first was leaving him in the basement indefinitely. That worked for a while. I could almost forget about him there, but then I would go down with a basket of laundry and see him and think, I have to do something.
I should explain: I don't mean the man himself, but Hannity the book. It's called "Let Freedom Ring: Winning the War of Liberty Over Liberalism."
The article's subhead gives the game away: "Rancid words can make excellent radishes. Just shred and compost." Also the image: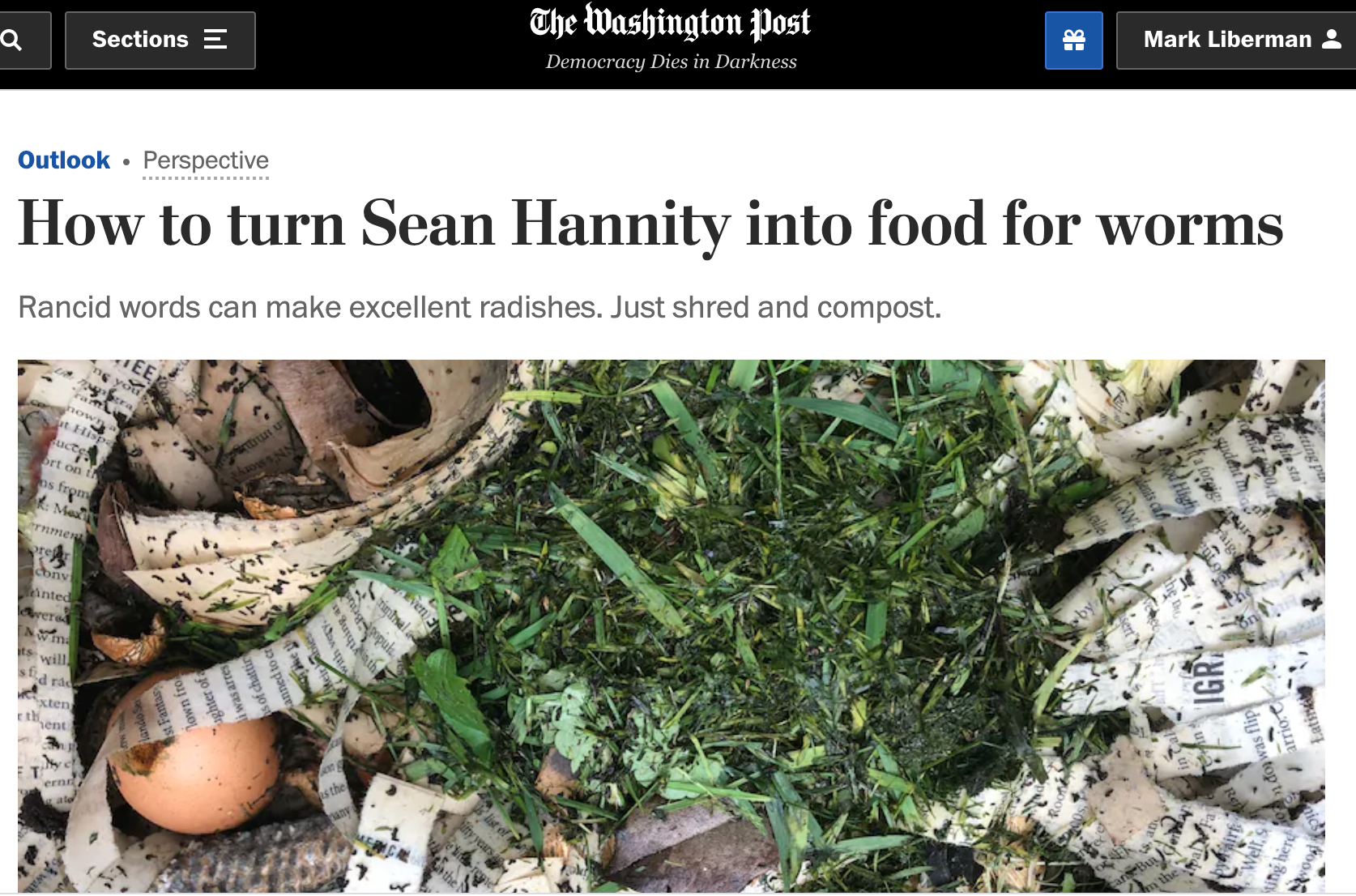 The OED glosses metonymy as
(A figure of speech characterized by) the action of substituting for a word or phrase denoting an object, action, institution, etc., a word or phrase denoting a property or something associated with it, e.g. as when referring to the monarchy as 'the crown' or the theatre as 'the stage'; an instance of this. (b) In extended use: a thing used or regarded as a substitute for or symbol of something else. Also (esp. in Linguistics and Literary Theory): the process of semantic association involved in producing and understanding a metonymy.
More succinctly, Wikipedia says that metonymy is "a figure of speech in which a thing or concept is referred to by the name of something closely associated with that thing or concept." So in this case, "Sean Hannity" is used to refer to his books as physical objects, just as "The White House" can be used to refer to the current U.S. executive branch, and "The Washington Post" can be used to refer to (an instance of) the printed newspaper.
Apparently it's safe and effective to compost newspapers as well as books, whether or not you approve of the editorial content.
Of course, composting is a sort of slow microbially-aided burn, though clearly some people who would be reluctant to burn books or newspapers are happy to compost them.
---