« previous post | next post »
From a friend who is travelling in Japan: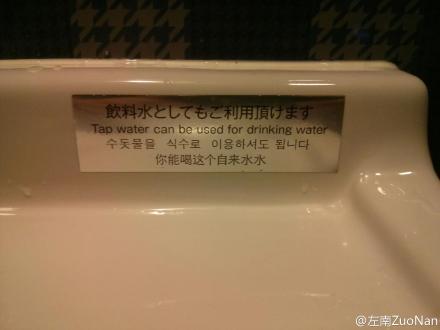 JAPANESE
inryousui to shite mo goriyou itadakemasu 飲料水としてもご利用頂けま す
("Can also be used as drinking water")
ENGLISH:
Tap water can be used for drinking water
KOREAN:
Sudonmureul siksuro iyonghasyeodo doemnida // Sudosmul-eul sigsulo iyonghasyeodo doebnida*
수돗물을 식수로 이용하셔도 됩니다
("It is all right even if you use tap water for drinking" –> "It is all right to use tap water for drinking // You may use tap water for drinking." –> "Please feel free to use tap water for drinking")
CHINESE
Nǐ néng hē zhège zìláishuǐ shuǐ 你能喝这个自来水水
("You can drink this tap water water")
Think about it: you can drink the water of this tap water.
*A note on Korean Romanization from an anonymous colleague:
As for the romanization, it depends on who you're trying to talk to. Both spellings you have are versions of RR ("Revised Romanization"), the dogmatically official system of the Republic of Korea. But before going into detail about the difference between the two, I can't resist venting a bit.
I personally have a dislike for RR, because its creation was a nationalistic strong-arming of non-Korean opinions. Most Westerners hated it from the beginning; many still do. But another, more specific reason for my distaste is that the transcriptions of two of the vowels are an embarrassment. What I mean specifically is that the representation of the vowel ㅓas [eo] comes from the spelling "Seoul", which was contrived by French missionaries, who used [se] to represent the syllable 서 and [oul] to represent 울. Thus, [seo] for 서 is a mistaken segmentation made presumably by someone who didn't know French or the history of the spelling and probably thought [Seoul] was an English-based spelling. Then, to add to the misery, someone decided to create the transcription [eu] for the vowel ㅡ by analogy with the first mistake, [eo]. I'm told that around 1999 the gathered worthies who made the romanization decisions in 2000 knew about these problems (a friend of mine who was part of the discussions told me he objected strongly), but the group went ahead anyway, almost, it seems, to spite Western objections. They saw themselves disrespected by Westerners who had laughed and joked about the crazy spellings of an earlier version of RR that had been posted on signs around Seoul. (The most famous of those unfortunate spellings was "Dog Rib Gate"–sometimes rendered "Dog Lib Gate"–for 독립문 "Independence Gate" [Chinese 独立門]. There were so many jokes about that, you can't believe!)
Of course, Koreans had a point about Westerners being imperious and obnoxious and culturally biased, and, to a certain extent, even racist. But this romanization was not the way to assert Korean pride and independence, at least in my opinion. In some cases, the pushing of RR became militant over the next decade. Government publications still will not accept any other spelling systems, nor will degree-granting institutions when considering applications. I have friends who, on their own websites, had used the older and much more dignified (not to say staid) McCune-Reischauer system (still used by LC and, heretofore, by most Western publications), and yet they were harassed and battered by Korean hackers and emailers insisting that those spelling "mistakes" be corrected. Similarly, corrections and battles continue on Wikipedia to this day. So unpleasant.
Okay, having gotten that off my chest, let me get to the matter you actually asked about, your two versions of RR. The official document promulgating the "Revised Romanization" specified that there could be two versions of the new system, and that's what you have. The first was for more general, non-technical uses, such as the spellings of names and organizations in Western writings. The spellings in this more general system took into account the sound changes that notoriously take place morphophonemically in Korean (assimilation of the nasality in your last word, for example, or Dongnimmun instead of Dogribmun for 독립문 'Independence Gate'). The second was said to be a more "precise" transcription of Hangul to be used by professional linguists (so, Dogribmun), transcribing each Hangul letter by matching it in a one-to-one way with a Roman letter or digraph. (As a professional linguist myself, though, I can tell you this more "professional" system is not really practical for most linguistic purposes, especially ones tracking historical changes. For that purpose I use the expanded version of Yale Romanization Martin devised in his matchless Reference Grammar of Korean.)
You might also be aware that the North Koreans don't use RR anyway; they still use their own romanization system based on MR. That means that if and when the two Koreas ever get together, they'll have to work out those differences–as well as what they want to call the country!
And one more thing: One very important factor that led to the creation of RR was the creation of Pinyin. The fact that the Chinese had what Koreans perceived as total independence in that creation process caused Koreans to regard Pinyin as a model for asserting national self-respect.
[h.t. to Jing Wen; thanks to Bill Hannas, Minkyung Ji, Bob Ramsey, Haewon Cho, Daniel Sou, and Nathan Hopson]
Update, 6/16/13: J. Marshall Unger of Ohio State University sends the following:
Defects in the Ministry of Culture Romanization for Korean
Yale romanization is better designed.

YR uses <.> and <q> to indicate reinforced obstruents not notated in hankul in a principled manner.
The YR distinction <u> ≠ <wu>  can be extended to handle Middle Korean /o/ (so-called alay a)≠ /wo/ consistently. (In fact, there is morphophonemic evidence that the /w/ in these MK vowels was originally segmental.)
YR has long been the de facto standard among linguists.
YR is more in harmony with the principles that are said to make the Korean alphabet a model of linguistic accuracy and efficiency.

Representing aspirated obstruents with p, t, ch, k but unaspirated obstruents as b, d, j, g or p, t, ch, k depending on position, is misleading.

The phonetics of Korean are different from those of Chinese.

The voice-onset lag for aspirates is much longer.
Plain Korean obstruents, unlike those of Chinese, are phonetically about as aspirated as automatically aspirated English initial voiceless obstruents.

Phonemically, aspiration in Korean is segmental, as shown by regular rules of metathesis (/h.k/ > [kh] etc.). 
The differences in initial and non-initial obstruent representation perpetuate a feature of McCune-Reischauer romanization that many felt was objectionable.
The new notation leads to a radical change in the initial consonant of many words, thus complicating sorting, indexing, and other practical applications.

The choice of the digraphs <eo> and <eu> is inapproriate.

The motivations for these choices are mistaken.

Use of <eo> is based on a misegmentation of the old French romanization, in which <Seoul> has <e> for /e/ and <ou> for /wu/. 
The use of <eu> for /u/ is strictly by analogy.

Phonemically, consonantal /w/ combines with /u/ to produce /wu/, a fact captured by the YR notation <u> ≠ <wu> and sacrificed in the new romanization.
Although McCune-Reischauer <ŏ> and <ŭ> are avoided, no system notates phonemically long vowels in the standard language, when necessary, except with macrons, so diacritics have not been entirely eliminated.

Political considerations ought not contaminate policy decisions concerning orthography.

The representation of aspirates is modeled on the Pinyin romanization of Chinese.
Instead of creating an international standard, the MOC romanization has merely introduced a new system that muddies the waters.
The rejection of YR is motivated in part by its similarity to North Korean romanization.
It is also rejected in part because of "not invented here" nationalism.
---