« previous post | next post »
— Literary Hub (@lithub) April 7, 2020

My decision after the break —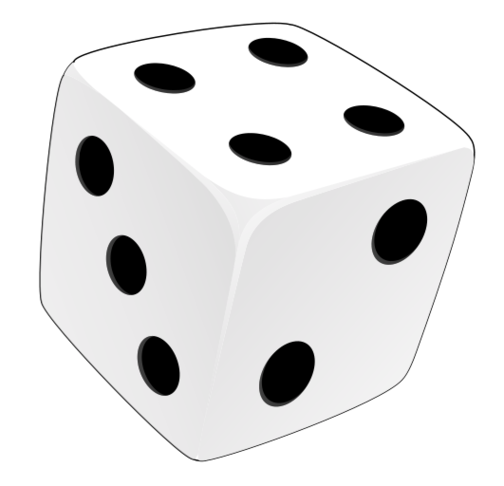 ---
14 Comments
C said,

That's a dodgy die: the 4 and 3 should be on opposite faces!

mg said,

I want one with Mary Robinette Kowal, John Scalzi, Jim C. Hines, Kristin Cashore, Connie Willis, and Brandon Sanderson.

John Swindle said,

@mg: They're not dead.

Andrew Usher said,

C:
How many people notice? We know that opposite sides sum to 7, and I add that that completely describes a die up to handedness (hold the corner containing 1,2, and 3 up to you – if the increasing numbers go clockwise, call it right-handed.)

k_over_hbarc at yahoo.com

Gregory Kusnick said,

John Swindle: Officially, Hubbard's not dead either, merely disembodied.

Peter Taylor said,

Is there a deep underlying logic to the selection or the clustering? E.g. GGM by himself would make sense in context (both Love in a Time of Cholera and One Hundred Years of Solitude are apt in their own way for quarantine), but I can't continue that into a pattern for house #5.

Robot Therapist said,

2

The party is in House #1.

David L said,

But the drunken brawling is in #6 (not sure how Zora Neale would deal with that…)

bratschegirl said,

2, no question. Confinement with Jane Austen would be my idea of heaven.

mg said,

@John – fine, then
Octavia Butler
Harper Lee
Jade Snow Wong
Luisa May Alcott
George Eliot

Barbara Phillips Long said,

Each house is a Bleak House without Charles Dickens.

Toma said,

I just want to be wherever Flannery O'Connor is. She wouldn't be allowed to bring her peacocks inside the house, right?

Daniel Barkalow said,

There's got to be one with Mario Puzo, W. P. Kinsella, Robertson Davies, and Doris Lessing. (Maybe also William S. Burroughs, Gabriel Garcia Marquez, and Pierre Berton, if they're not stuck elsewhere.) And if I'm not going to be dead either, bell hooks and Ondaatje could show up with me.