« previous post | next post »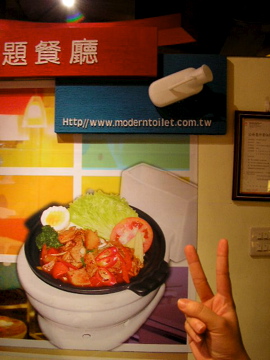 Considering all of the unsavory, scatalogical Chinglish vocabulary that we have been examining lately, I find it particularly amusing that a very successful chain of restaurants in Taiwan has chosen to call itself Modern Toilet. Here is a novel theme restaurant if ever there was one.
The originator of the chain apparently got his inspiration from reading Japanese manga, and the Chinese name of Modern Toilet, BIAN4SUO3 便所, is actually a borrowing from Japanese BENJO 便所. That literally means "convenience place," hearkening back to our earlier discussions of the greater and lesser varieties of BIAN4 便.
Consequently, if one wishes to understand fully all of the appurtenances and symbolism of Modern Toilet, it would be best for one first to make a careful study of Japanese toilets. Here are a couple of sites that will help you familiarize yourself with the fixtures and dishware should you ever find yourself in a Modern Toilet restaurant are here and here: the Wikipedia article, and a set of instructions for traditional squat toilets that should be especially useful for female readers.
Before proceeding further, you should take a virtual tour of some of the Modern Toilet restaurants. Feast your eyes…
For those of you who have not travelled much in East Asia (including those who have been to East Asia but haven't ventured outside of Western-style hotels), that fixture they serve their sundaes in is a miniature squat toilet.
Never mind what the ice cream is shaped to resemble.
I haven't yet had the opportunity to eat in a Modern Toilet myself, but a trip to their home page affords a good introduction. Note that there are four versions — Simplified Chinese, Traditional Chinese, Japanese, and English.
Perhaps the most remarkable thing about Modern Toilet, in the context of our ongoing discussions concerning Chinglish, is that the English translation of the menu is virtually error free! (I noted only a couple of minor flaws.)
It is evident that the owners invested a lot time and also probably money in getting their English translations right. It is virtually certain that they asked (or hired) a native speaker of English to look over their menu before going public with it. Despite the dubious decor, this is one classy restaurant!
I suspect that the biggest problem in going to Modern Toilet would be figuring out how to sustain a coprological conversation while maintaining one's appetite. It might be better just to eat in silence and not think too much about the ambiance.
---