« previous post | next post »
Compiling references to the Ocracoke "brogue", I wondered about the origins of the word. The Wikipedia entry confirms the possibilities that I recall:
Multiple etymologies have been proposed: it may derive from the Irish bróg ("shoe"), the type of shoe traditionally worn by the people of Ireland and the Scottish Highlands, and hence possibly originally meant "the speech of those who call a shoe a 'brogue'". It is also possible that the term comes from the Irish word barróg, meaning "a hold (on the tongue)", thus "accent" or "speech impediment". A famous false etymology states that the word stems from the supposed perception that the Irish spoke English so peculiarly that it was as if they did so "with a shoe in their mouths".
The OED (entry from 1888) has the shoe story:
Derivation unknown: from the frequent mention of 'Irish brogue', it has been conjectured that this may be the same word as the brogue n.2, as if 'the speech of those who wear brogues', or 'who call their shoes brogues'; but of this there is no evidence.
Wikipedia cites McCrum, Robert et al. (1986),The Story of English, for the assertion that brogue in this sense was first recorded in 1689. This antedates the OED's citation:
1705 London Gaz. No. 4123/4 Charles Morgan..having much of the Irish Brogue in his Speech.
I don't have a copy of the McCrum book, and a quick Hathi Trust search didn't turn up the 1689 source, but it did find one from 1692 —
The STATE of the Protestants of IRELAND Under the Late King James's Government: IN WHICH Their Carriage towards him is justified, and the absolute Necessity of their endeavouring to be freed from his Government, and of submitting to Their present Majesties is demonstrated.
This volume is said to be "The Third Edition, with Additions", so maybe the first edition was in 1689. Anyhow, on p. 68 we find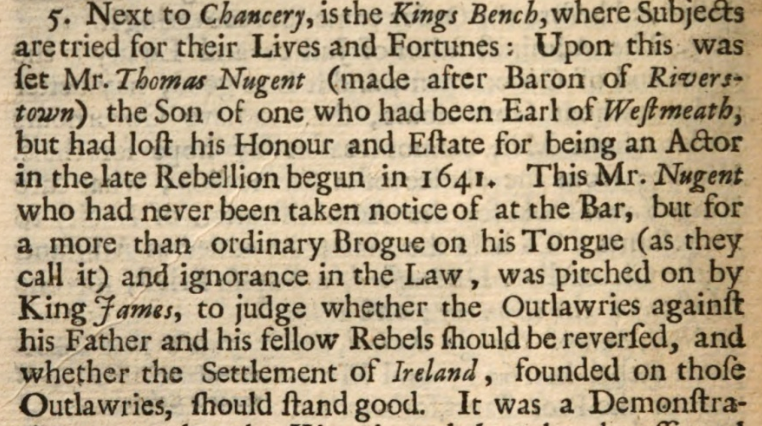 Next to Chancery, is the Kings Bench, where Subjects are tried for their Lives and Fortunes: Upon this was set Mr. Thomas Nugent (made after Baron of Riverstown) the Son of one who had been Earl of Westmeath, but had lost his Honour and Estate for being an Actor in the late Rebellion begun in 1641. This Mr. Nugent who had never been taken notice of at the Bar, but for a more than ordinary Brogue on his Tongue (as they call it) and ignorance in the Law, was pitched on by King James, to judge whether the Outlawries against his Father and his fellow Rebels should be reversed, and whether the Settlement of Ireland, founded on those Outlawries, should stand good.
The parenthetical "(as they call it)" suggests that brogue was a novel usage at the time of writing, at least in England.
---