« previous post | next post »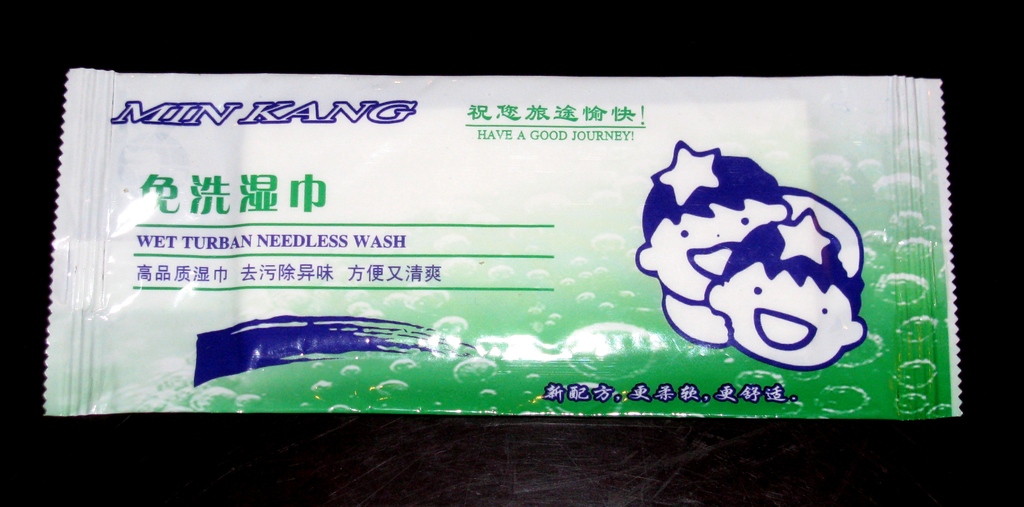 James Fallows took this picture on a China Air flight from Chengdu to Beijing, and posted about it on his Olympics blog at The Atlantic (click on the image for a larger version).
Fallows' comment:
I don't think "funny" translations are all that funny, my theory being, I am allowed to make fun of someone's translation of Chinese into English only when I'm ready to have a Chinese person make fun of my translation of English into Chinese. And I will never be ready to do that.
On the other hand: If I were going to translate something into Chinese, for a wide audience of Chinese people to read, I might possibly consider having a native Chinese speaker take a look at it before I gave the final OK. Which is why I continue to marvel at specimens like this: the always-welcome "moist towelette" from yesterday's Air China flight from Chengdu to Beijing …
The Hanzi characters, with the English glosses from CEDict, are:
免 mian3 exempt/remove/avoid/excuse
洗 xi3 wash/bathe
湿 shi1 moist/wet
巾 jin1 towel/kerchief/turban
Even without access to someone who knows English, a few minutes with a decent bilingual dictionary should be enough to make it clear that "turban" is not the right translation in this case for 巾. Figuring out what to do with 免洗 is slightly trickier, since English seems to lack the concept that moist towelettes are a convenient way to avoid washing, as opposed to a convenient way to wash. But a quick web search should convince anyone that "needless wash" is not the answer here.
Of course, what almost certainly happened was that someone just fed 免洗湿巾 into a bad MT system, and put the result into production without checking, as Victor Mair explained last year ("The etiology and elaboration of a flagrant mistranslation", 12/9/2007). (And before we get too snooty about the poor quality of Kingsoft, note that Google Translate now renders 免洗湿巾 as "Disposable Shijin", and 湿巾 as "Shi Jin", though 湿 comes out as "wetlands" and 巾 as "towel".)
I haven't been able to find any details about the "Min Kang" company/brand, but I think it's fair to assume that they could afford a few bucks to get the English version of their packaging checked by someone who knows the language. But they didn't bother, which is curiously typical of the attitude of Chinese companies towards this sort of thing.
A slightly different version of this package from the same company ("Hygiene wet turban needless wash") was posted on Flickr last year: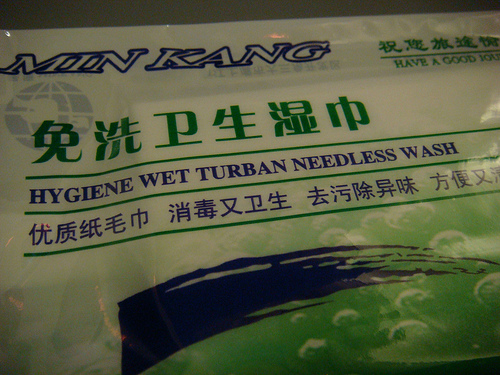 And there are quite a few other web references to this particular bit of packaging as well.
[Fun fact: there's a "Moist Towelette Online Museum", with a small number of multilingual examples, including one in Gaelic. Apologies to susceptible readers.]
---