« previous post | next post »
A post by Joe Fruehwald ("To take "Zombie Nouns" seriously, you must've had your brains eaten", Val Systems 11/27/2012) motivated me to take a second look at Helen Sword's ideas about style, which I discussed earlier in "The Redemption of Zombie Nouns", 7/26/2012. In particular, I decided to take her "Writer's Diet Test" out for a spin.
For test material, I choose a few selections from E.B. White, co-author of The Elements of Style. Although we've occasionally expressed skeptical and even negative opinions about The Elements of Style, I have nothing but admiration for E.B. White as a writer. And so I was distressed to learn that Ms. Sword consistently judges his writing to be "Flabby". [Update — In fairness I should note that she gives her own writing the same evaluation…]
I started with a passage from The Wild Flag, previously quoted in "The blowing of each other up", 2/18/2005: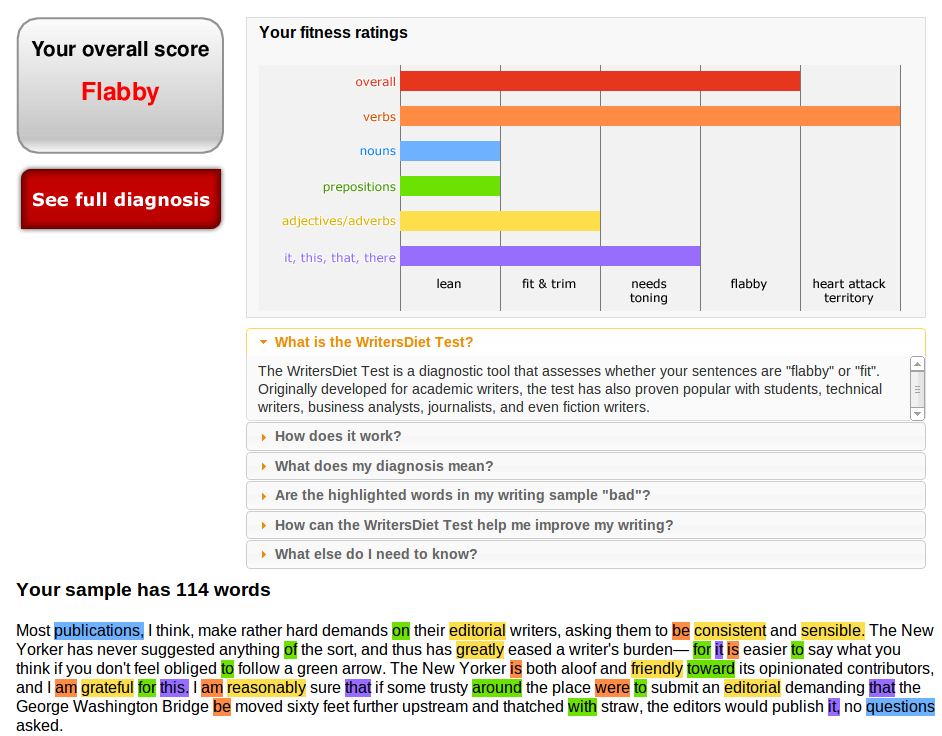 So I tried a passage from a letter to J.G. Case, White's editor at Macmillan for The Elements of Style, dated 17 December 1958, previously quoted in "No smooth ride is as valuable as a rough ride",  2/19/2005: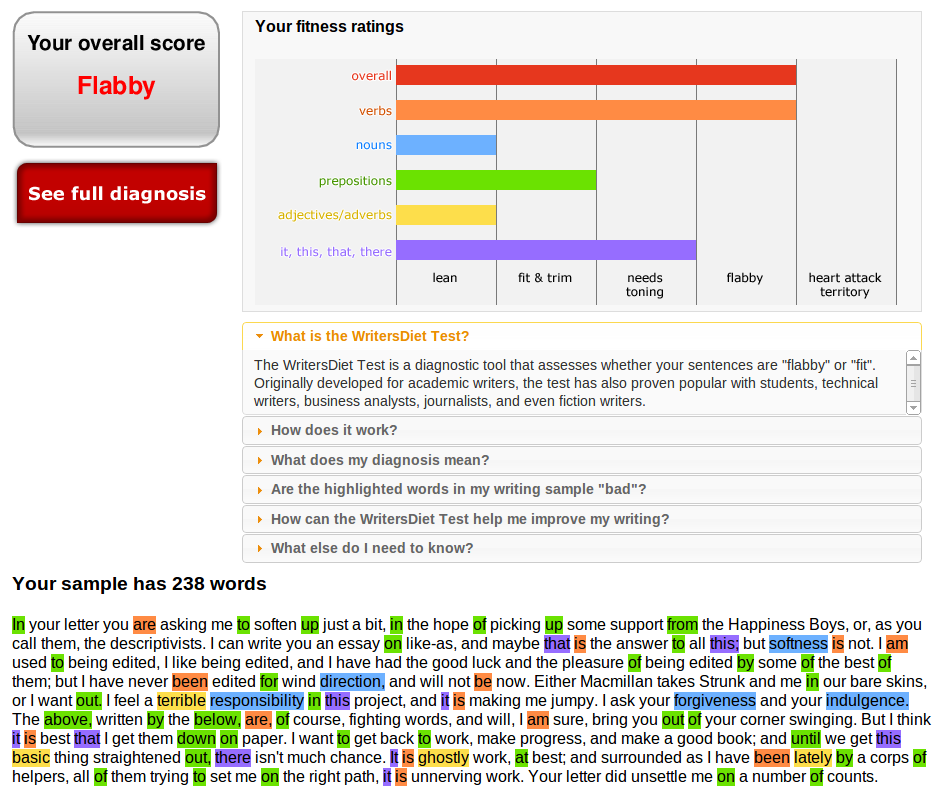 Continuing to comb through our archives, I found a passage from White's 1976 Introduction to his collected letters, quoted in "Passive aggression", 7/18/2006: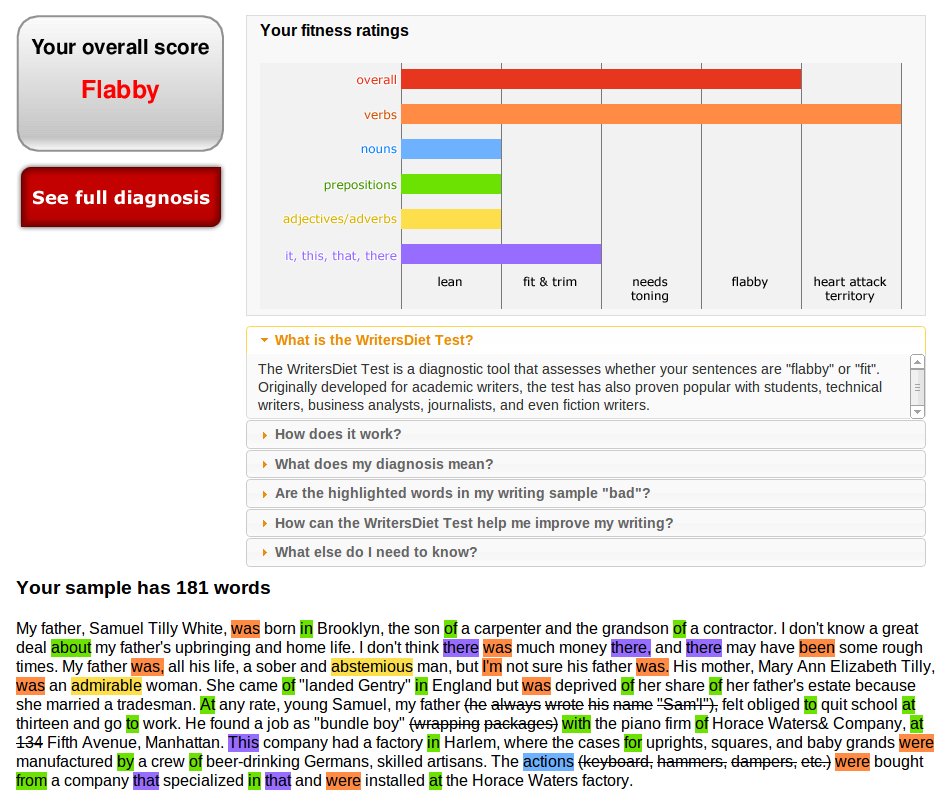 Turning to the New Yorker's archives, the first thing the index handed me was a passage from an open letter to Clare Luce, published in The New Yorker, March 20, 1943, p. 15: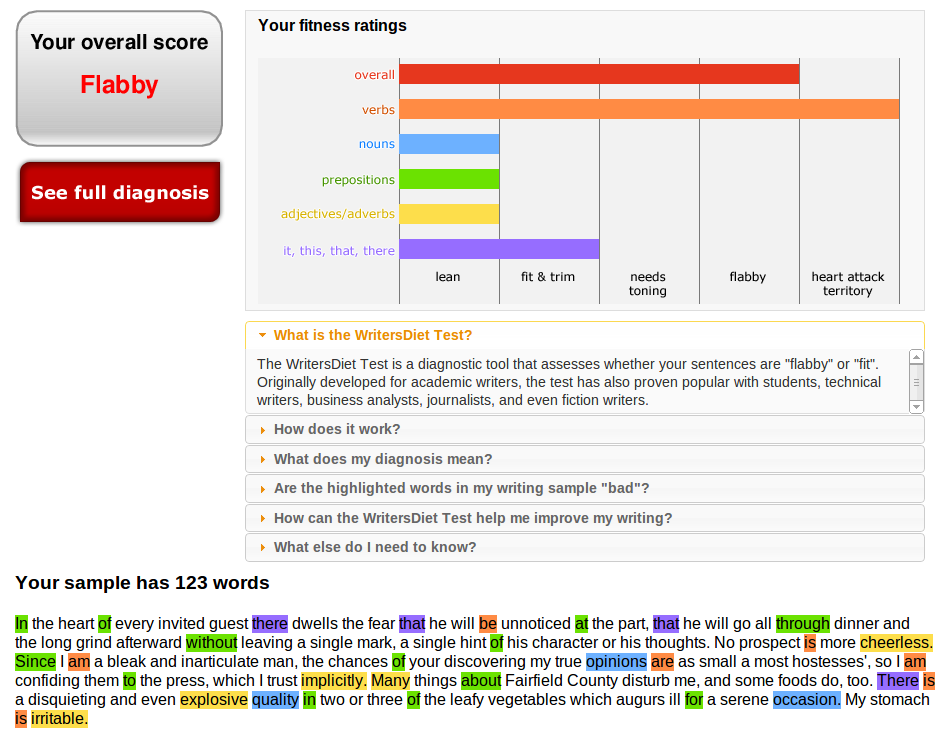 The second hit was a comment from The New Yorker, July 1, 1944, p. 13: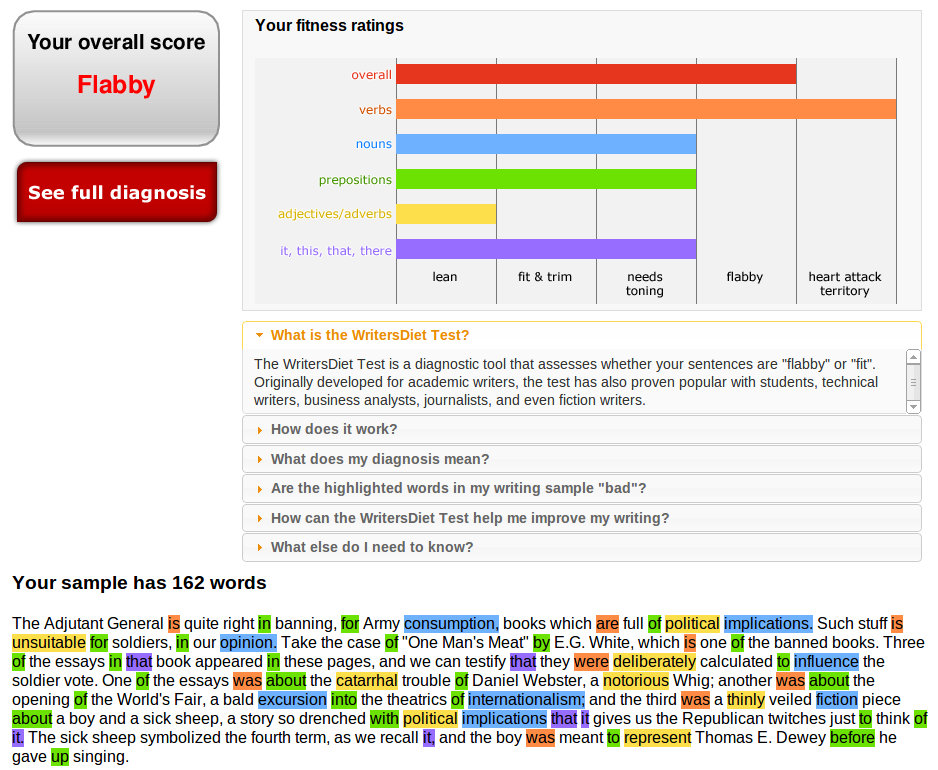 At this point, I decided that a pattern had been established, and took the Writer's Diet Test back to the dealer, having decided not to buy one. Quoting Joe, who puts it very well:
Ain't nothing like exploiting the collective dysmorphia of a nation to push your quarter-baked usage decrees. But in doing so, Sword actually clarifies the role that books like hers play. The analogy to the diet and weight loss industry is entirely apt. The dieting industry makes their money by sowing seeds of personal insecurity, then reaps their harvest with offers of unfounded, unscientific, and ultimately futile dieting pills, products, methods, 10 step plans, meals, regimes, books, magazines, etc.
I won't mince words. The NYT column and the TED-Ed video have the equivalent intellectual content of the magazines in the supermarket aisle promising you 5 super easy steps to trim your belly fat to get a sexy beach bod in time for the summer. And they serve the same purpose: to undermine the confidence of every-day folk, so that they may be taken advantage of by self-appointed gurus.
Update — beating the dead horse a bit, we see that the first two paragraphs of William Strunk's 1918 Elements of Style score in "Heart Attack" territory: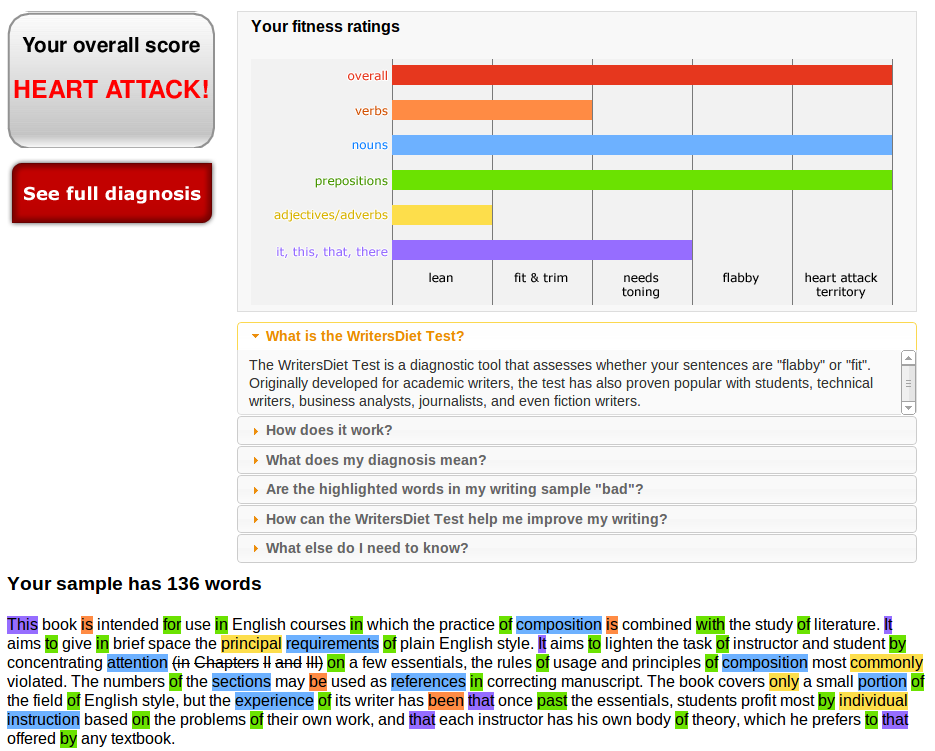 It's amazing that apparently intelligent people (the editors of the New York Times, whoever books TED talks, etc.) take this malarkey seriously.
Update #2 — By popular demand, here are the Writer's Diet Test results for the abstract of Helen Sword, "Writing higher education differently: a manifesto on style", Studies in Higher Education 34(3) 2009: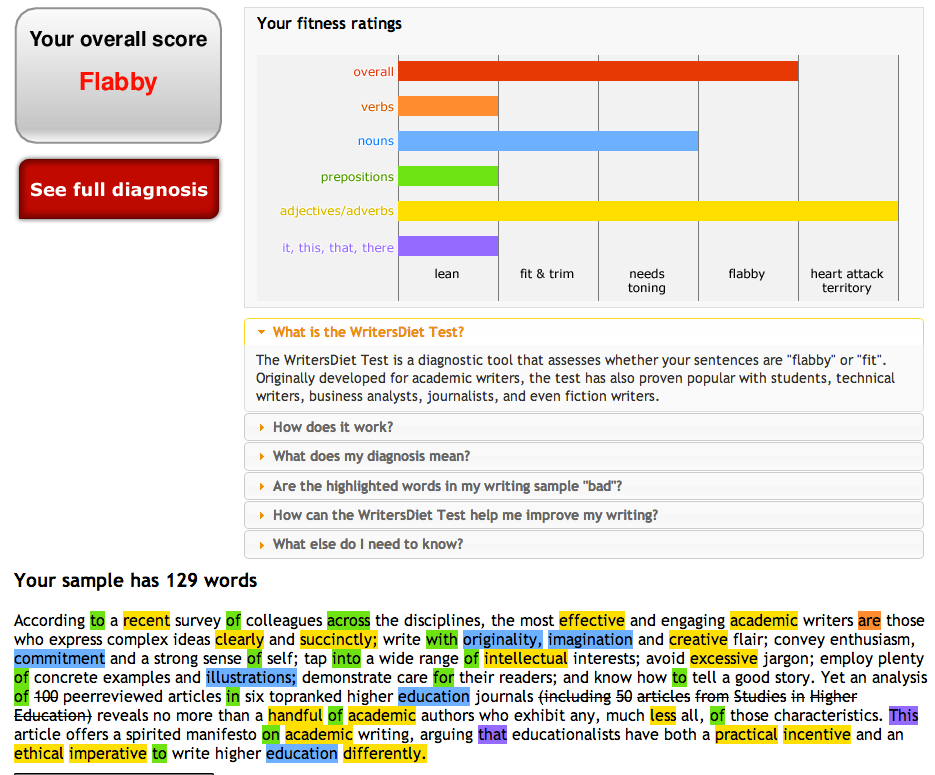 And I can't resist noting that the Declaration of Independence is also "Flabby":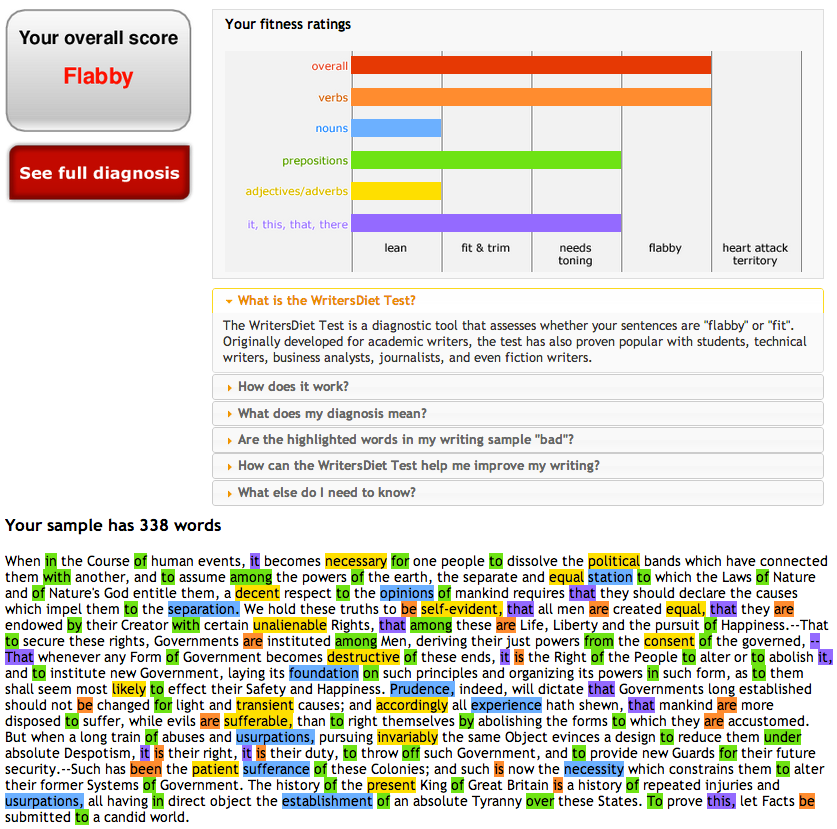 ---