« previous post | next post »
I'm about to leave for Hong Kong, and the travel agency that arranged my tickets sent me an email with reservation details that contained various other helpful notes, including this one:
DOT Announcement Regarding Aircraft Disinsection

At first I read this note as dealing with "disinfection". Then I noticed that it actually reads disinSection, and thought, that's an odd typo. So I followed the link and discovered that they really do mean disinsection, a word that I didn't know: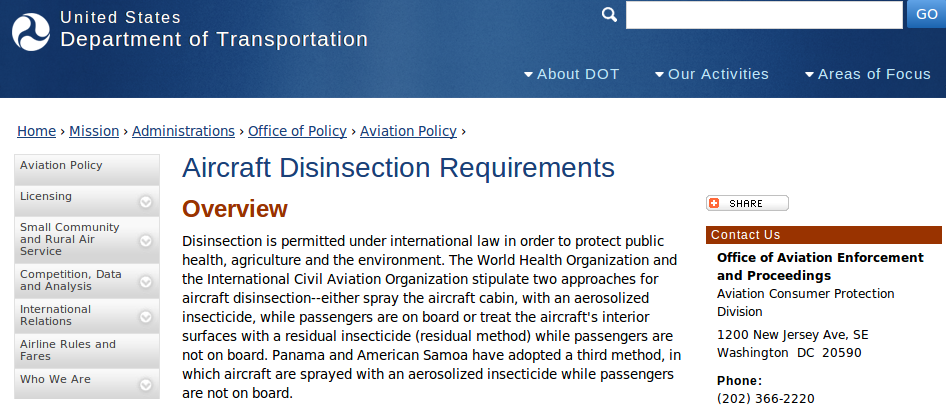 The Oxford English Dictionary doesn't know about disinsection either. Wordnik says "Sorry, no definitions found", but does turn up some illustrative examples. Merriam-Webster's online dictionary knows about disinsectization "removal of insects (as from an aircraft)", and does have an entry for disinsection, defined as "disinsectization".
No one seems to use insection to mean "infestation by insects". The OED glosses insection as "The action of cutting into, incision; division into sections; concr. an incision, division, indentation", or as "a declaration, treatise, or long continued talk" (flagged as Obs. rare). M-W defines it as "a notched or segmented part <insections of a leaf margin>". Wordnik tells us that the Century Dictionary and Cyclopedia defined insection as "A cutting up; division into segments; also, a segment or section", while Webster's 1913 had "A cutting in; incisure; incision".
So I hope to continue relatively uninsectioned, as well as disinsectioned.
I've certainly experienced the process (of "spray[ing] the aircraft cabin, with an aerosolized insecticide"), but this is the first time that I've seen the word disinsection. This word has nevertheless been around for a while: thus Tropical health: a report on a study of needs and resources (1962) explains that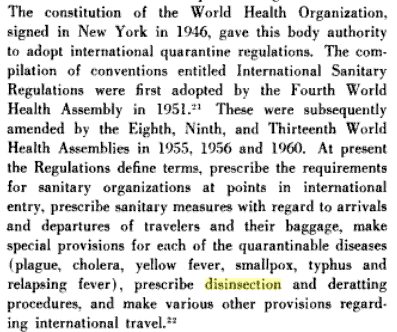 I note that while WHO believes that killing insects in aircraft is "disinsection", they call killing or removal of rats "deratting" rather than "disration" (or perhaps "disratization"). Even productive English morphology is quasi-regular.
---