« previous post | next post »
Teenie Matlock, "Framing Political Messages with Grammar and Metaphor", American Scientist Nov.-Dec. 2012:
Millions of dollars are spent on campaign ads and other political messages in an election year, but surprisingly little is known about how language affects voter attitude and influences election outcomes. This article discusses two seemingly subtle but powerful ways that language influences how people think about political candidates and elections. One is grammar. The other is metaphor. […]
The "grammar" part:
A few years ago, I began exploring the idea of grammatical framing. In an article with Caitlin Fausey, "Can Grammar Win Elections?" published in Political Psychology, we explored the consequences of tweaking grammatical information in political messages. We discovered that altering nothing more than grammatical aspect in a message about a political candidate could affect impressions of that candidate's past actions, and ultimately influence attitudes about whether he would be re-elected. Participants in our study read a passage about a fictitious politician named Mark Johnson. Mark was a Senator who was seeking reelection. The passage described Mark's educational background, and reported some things he did while he was in office, including an affair with an assistant and hush money from a prominent constituent. Some participants read a sentence about actions framed with past progressive (was VERB+ing): "Last year, Mark was having an affair with his assistant and was taking money from a prominent constituent." Others read a sentence about actions framed with simple past (VERB+ed): "Last year, Mark had an affair with his assistant and took money from a prominent constituent." Everything else was the same. After the participants read the passage about Mark Johnson, they answered questions. In analyzing their responses, we discovered differences. Those who read the phrases "having an affair" and "accepting hush money" were quite confident that the Senator would not be reelected. In contrast, people who read the phrases "had an affair," and "accepted hush money" were less confident. What's more, when queried about how much hush money they thought could be involved, those who read about "accepting hush money" gave reliably higher dollar estimates than people who read that Mark "accepted hush money." From these results, we concluded that information framed with past progressive caused people to reflect more on the action details in a given time period than did information framed with simple past.
The cited paper is Caitlin Fausey and Teenie Matlock, "Can Grammar Win Elections?", Political Psychology 2010, and the effects they found are fairly large ones: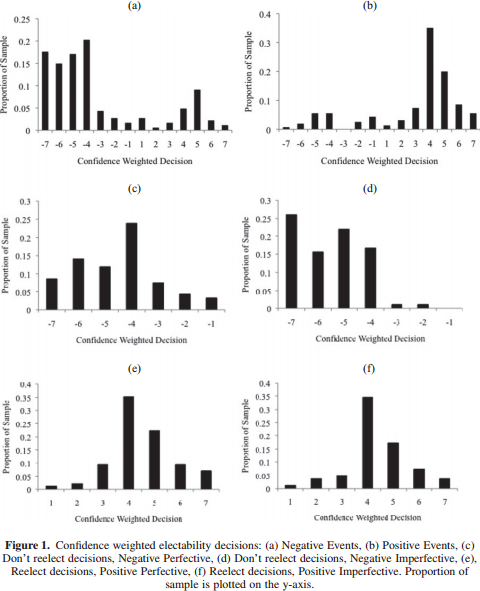 asdf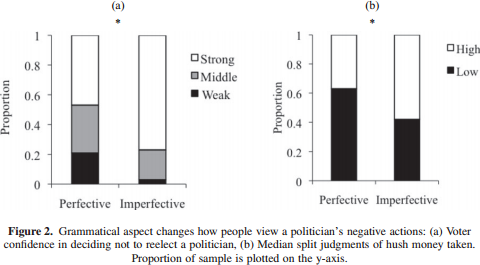 Here are the alternative wordings used in the experiment: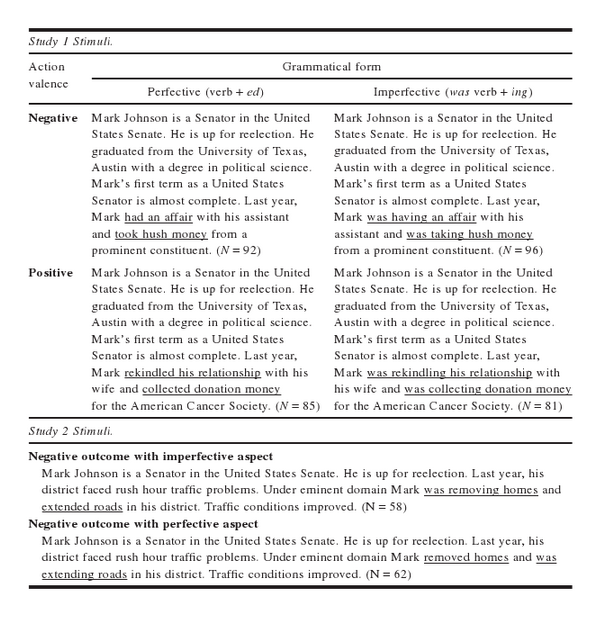 We just had an election full of attack ads, as well as ads praising candidates' records. Was past progressive aspect more common in the verbal description of negatively-evaluated states and actions compared to positive ones? I don't know any appropriately-organized archive of political advertising in which to investigate such questions. Perhaps a reader can tell us.
A quick look at newspaper stories suggests that there are some patterns to explain — though it's not clear to me what role Fausey and Matlock's idea will play a role in the explanations. In the NYT archives (since 1851), we see
| | | | | |
| --- | --- | --- | --- | --- |
| | Obama | Romney | Clinton | Bush |
| (name count) | 3.64 million | 0.403 million | 1.92 million | 9.84 million |
| was asking | 7 | 18 | 9 | 14 |
| asked | 3,330 | 868 | 1,480 | 2,040 |
| was trying | 2,810 | 98 | 531 | 886 |
| tried | 1,830 | 879 | 1,180 | 1,310 |
| was blaming | 0 | 0 | 1 | 4 |
| blamed | 227 | 444 | 81 | 104 |
| was taking | 629 | 116 | 251 | 76 |
| took | 11,200 | 2,750 | 3,130 | 4,660 |
For example, it makes sense that Romney blamed people for things 1.96 times as often as Obama, 5.48 times as often as both Clintons, and 4.27 times as often as all the Bushes, despite being mentioned overall between 5 and 25 times less often. But why was Mr. Obama trying about 1.54 times as often as he tried, whereas the "was trying"/"tried" ratio for the other three names are 0.14 (Romney), 0.45 (Clinton), 0.68 (Bush)?
---