« previous post | next post »
Bruce Schneier quotes Stubborn Mule citing R.A. Howard:
Shopping for coffee you would not ask for 0.00025 tons  (unless you were naturally irritating), you would ask for 250 grams. In the same way, talking about a 1/125,000 or 0.000008 risk of death associated with a hang-gliding flight is rather awkward. With that in mind. Howard coined the term "microprobability" (μp) to refer to an event with a chance of 1 in 1 million and a 1 in 1 million chance of death he calls a "micromort" (μmt). We can now describe the risk of hang-gliding as 8 micromorts and you would have to drive around 3,000km in a car before accumulating a risk of 8μmt, which helps compare these two remote risks.
This reminds me of the Google Ngram Viewer's habit of citing word frequencies as percentages, with uninterpretably large numbers of leading zeros after the decimal point: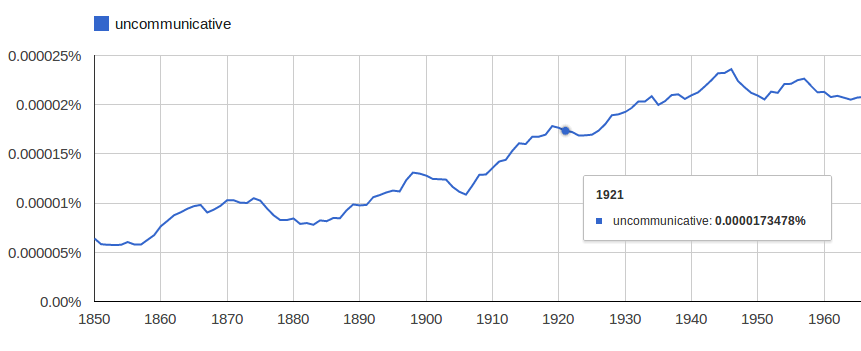 Talk about "naturally irritating" — asking someone to bag up 0.00025 tons of coffee for you is a shining beacon of cooperative communication, compared to telling some random internet pilgrim that the word "uncommunicative" had a frequency of 0.0000173478% in books published in 1921.
Ever since linguists started counting the frequency of words and phrases in text collections, they've been citing such frequencies in terms of the convenient and easily-interpretable unit of occurrences per million words. In this case,
0.0000173478% = 0.000000173478
0.000000173478*1000000 = 0.173478 per million words
Compare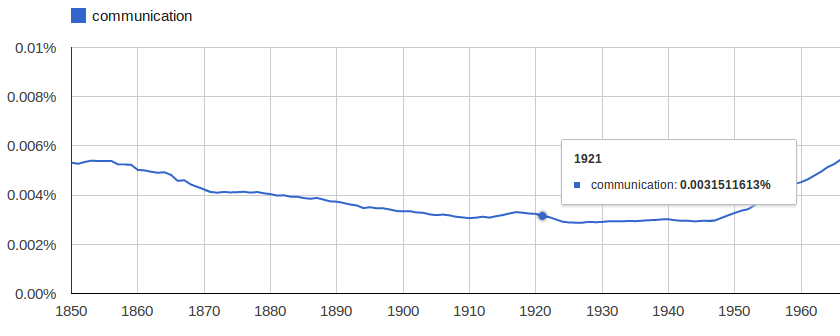 … from which we conclude that in books published in 1921, "communication" had  a frequency of
0.0031511613% = 0.000031511613
0.000031511613*1000000 = 31.51161 per million words
Removing some of the probably-meaningless extra digits, we get the fact that in books publishing in 1921, "uncommunicative" had a frequency of about 0.17 per million words, while "communication" had a frequency of about 31.5 per million words.
You can compare approximations to these quantities easily in your head — 30 is about 150 times greater than 0.2 — and you can easily transfer the numbers to a calculator, without obnoxious and error-prone counting of leading zeros, to learn that 185 is a more accurate ratio. Easy, right?
Come on, guys, enough nerdview. Present the results in a form that human beings can understand.
[The unit designations "N per million words" (or "N/MW") are clear enough, so the idea of introducing the "microlex" is just a convenient headline. Though it might help that μl is only two characters long and seems kind of science-y — it worked for the chemists. And you could say that "uncommunicative" had a frequency of 170 nanolex in 1921. And "the", which had a frequency of 5.795557836% in 1921, would come in at 58 millilex (ml)…
Seriously, what I'm really recommending is "N per million words" and its relatives, such as "per thousand words", "per billion words", and so on.]
---