« previous post | next post »
From the November issue of Mental Floss (not online yet), under the title "The 25 Most Powerful TV Shows of the Last 25 Years":
You don't need to turn on the TV to hear The Simpsons. Just chat with pretty much anyone. As University of Pennsylvania linguistic professor Mark Liberman wrote in 2005, "The Simpsons has apparently taken over from Shakespeare and the Bible as our culture's greatest source of idioms, catchphrases, and sundry other textual allusions."
Liberman's assertion sounds crazy — at least until you remember there's a Millhouse quote for every occasion, Even the hulking gatekeeper fo the language, the Oxford English Dictionary, has found a spot fo Homer Simpson's "D'oh!". Mmmmm … linguistic acceptance.
The source of the cited quotation is "Homeric objects of desire", 1/7/2005, though I floated the same idea, with an indistinct attribution to someone else ("I've been told that…"), in "The A-er the B, the C-er the D", 3/19/2004.
The quote was picked up by the (London) Times in August of 2007 (Ben Macintyre, "Any word that embiggens the vocabulary is cromulent with me", 8/11/2007), whence I ganked the picture of Homer as W.S.'s tongue. As I noted at the time ("The Bard of Springfield", 8/11/2007),
…now that it's too late, I'm asking myself, in my intermittently positivist sort of way, is it true?
In the intervening five years, I haven't invested the time needed to check this, so I guess my current position is that it's "too good to check".
The obligatory screenshot: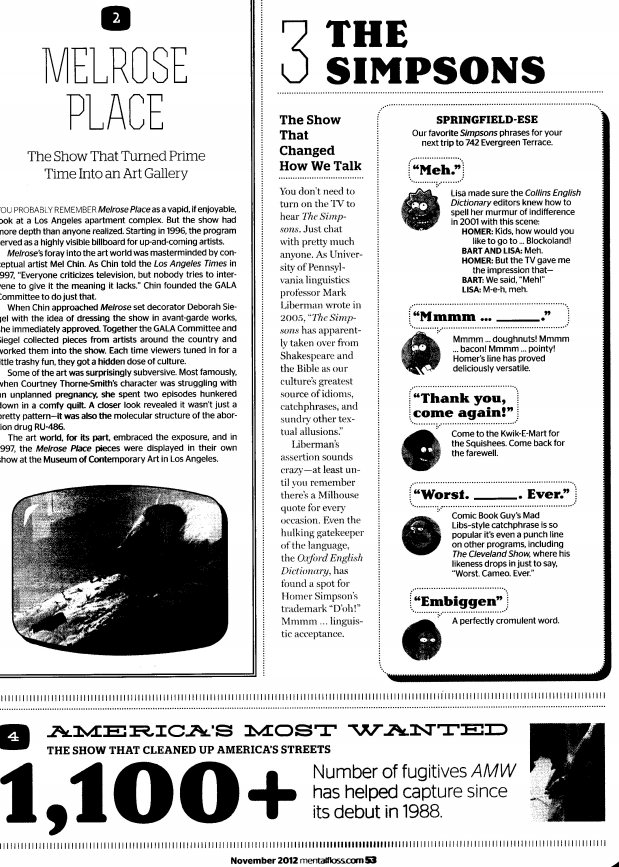 ---