« previous post | next post »
RK sent in a link to a recent NYT sports story containing the sentence "Three batters later, the bases were loaded for Derek Jeter, but he flew out harmlessly to right field", and commented:
I watched the game on tv and I can tell you that Derek's feet stayed firmly rooted on the ground.  I thought Steve Pinker said this didn't happen.
Indeed, Steve has asserted in several refereed publications, and at least one book, that "verbs intuitively perceived as derived from nouns or adjectives are always regular, even if similar or identical to, an irregular verb. Thus one says […] flied out in baseball [from a fly (ball)], not flew out […]". And he famously co-authored a 1991 paper in Cognitive Science with the audacious title  "Why no mere mortal has ever flown out to center field".
That paper described an experiment in which the generalization about regularization of zero-derived denominal verbs in English was checked by asking 32 MIT undergraduates to rate alternative past-tense forms of 37 verbs in appropriate contexts, scoring each possibility from 1 ("very unnatural sounding") to 7 ("very natural sounding"). Curiously, the judgments in the case of flew/flied out were far from being a strong confirmation of the paper's strongly-worded title. The sentences used were
Wade Boggs has a bad habit of hitting fly balls into center field.
(a) In yesterday's game he got one hit, and then flied out twice to center field.
(b) In yesterday's game he got one hit, and then flew out twice to center field.
Alternative (a) got an average score of 4.2500, while the average score of alternative (b) was 3.9375. We aren't given any indications of confidence intervals. But a difference of 0.3125 on a scale of 1 to 7 (about 5%), whether or not it's statistically significant, hardly rises to the level of universal  statements like "are always regular" and "no mere mortal has ever".
While searchable digital newspaper archives existed back in 1991, consulting them generally required a trip to the library. If such a trip had been made, it probably would have turned up a few dozen examples like these:
White Sox shortstop Bill Almon flew out to center field allowing Fisk to score and giving Chicago a 4-3 lead. [UPI 6/7/1982]
The Aggies had runners on first and second in the seventh when Scott Livingstone flew out to center field. [AP 3/31/1985]
Today, no physical displacement of our center of mass is required to perform searches of this kind. So without leaving the breakfast table, I can determine that over the past month, Google News has registered the following counts:
| | |
| --- | --- |
| "flied out to center" | 161 |
| "flew out to center" | 23 |
And Google Books over the period 9/1/2000-9/1/2012 gives us
| | |
| --- | --- |
| "flied out to center" | 51 |
| "flew out to center" | 39 |
These numbers are consistent with a modest bias in favor of the outcome RK understood Pinker to claim to be universal.
Could it be that there's a recent shift in the direction of de-regularization? I don't think so — a search of Proquest Historical Newspapers turns up some examples of "flew out" so old that baseball was still written "base-ball":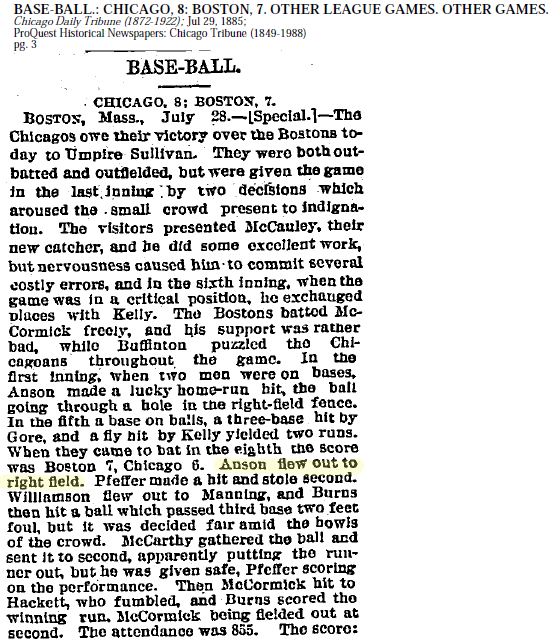 The total overall counts in Proquest searches for "flied/flew out to center" strongly favor "flied out", 1412 to 68. But the distributions over time suggest that regularization has increased rather than decreased:
| | |
| --- | --- |
| "flew out to center" | "flied out to center" |
| | |
[For a discussion of the interesting theoretical issues in phonology and psychology that this small point bears on, see John Kim, Steven Pinker, Alan Prince, and Sandeep Prasada, "Why no mere mortal has ever flown out to center field", Cognitive Science 1991, and the 131 articles citing it.
Or see my outsider's summary of all this (known familiarly as The Great Past Tense War) in "Systematic Regularization", 2/6/2007…]
---