« previous post | next post »
Back in 2010, I went in search of the earliest examples of cartoon cursing characters — those playful typographical symbols that have been called "grawlixes" (a term coined by "Beetle Bailey" creator Mort Walker) but which I prefer calling "obscenicons." I detailed my quest in two Language Log posts: "Obscenicons a century ago" and "More on the early days of obscenicons." (The posts were later adapted for Slate's Lexicon Valley blog: "How Did @#$%&! Come to Represent Profanity?") I was able to find obscenicons going all the way back to Dec. 14, 1902 in Rudolph Dirks' pioneering comic strip "The Katzenjammer Kids," followed shortly thereafter by Gene Carr's "Lady Bountiful" comic starting in Feb. 1903.
I was pleased to learn that my obscenicon posts inspired Phil Edwards of Vox to do his own searching on newspaper databases, and the results can be seen in an entertaining new video, "How #$@!% became shorthand for cursing." Turns out obscenicons can be pushed back even further, to 1901.

I had assumed that Rudolph Dirks was the first to use obscenicons in "The Katzenjammer Kids," since as the Vox video describes, he was responsible for many early comic-strip innovations, like the consistent use of speech balloons. But when it comes to obscenicons, he may have been beaten to the punch by his colleague Gene Carr, as he was developing the character of Lady Bountiful — described by the Lambiek Comiclopedia as "a rich, well-mannered woman who used her wealth to help and adopt poor street children" (modeled after a character of the same name in George Farquhar's 1707 play, The Beaux' Stratagem).
Phil Edwards used Newspapers.com to look through the archives of the San Francisco Examiner, a Hearst-owned newspaper that ran comic strips by both Dirks and Carr. (Pulitzer hired off Carr in 1903 to work for the New York World, the main rival of Hearst's New York Journal.) He discovered the following "Lady Bountiful" strip, published in the Examiner on Nov. 1, 1901.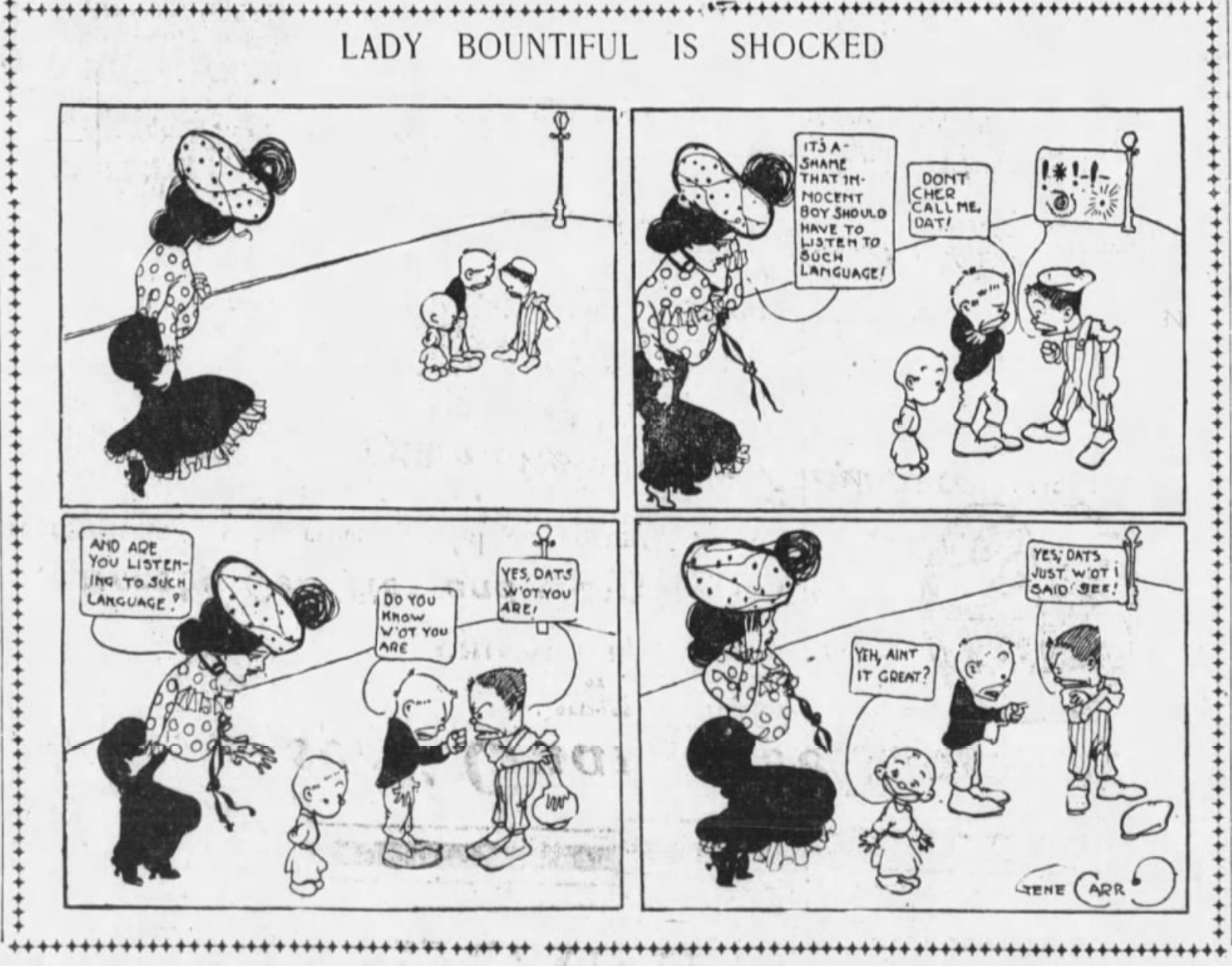 Here's the panel with obscenicons: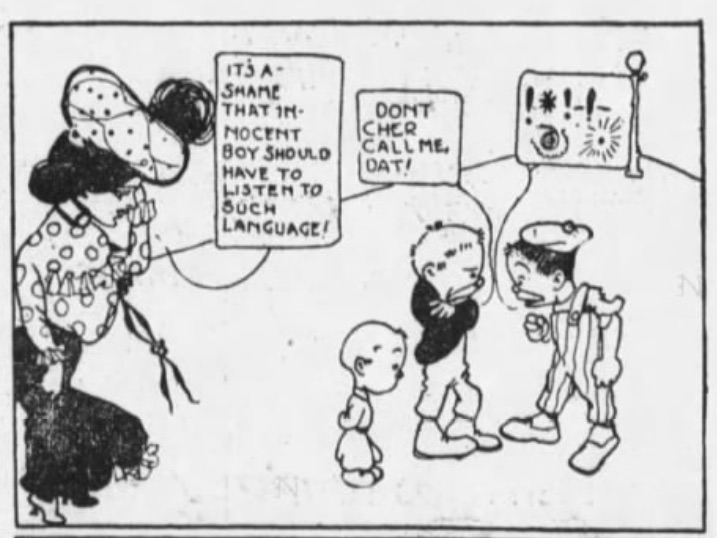 Following Phil's lead, I skimmed through slightly earlier "Lady Bountiful" strips in the Examiner and found this one from Oct. 19, 1901.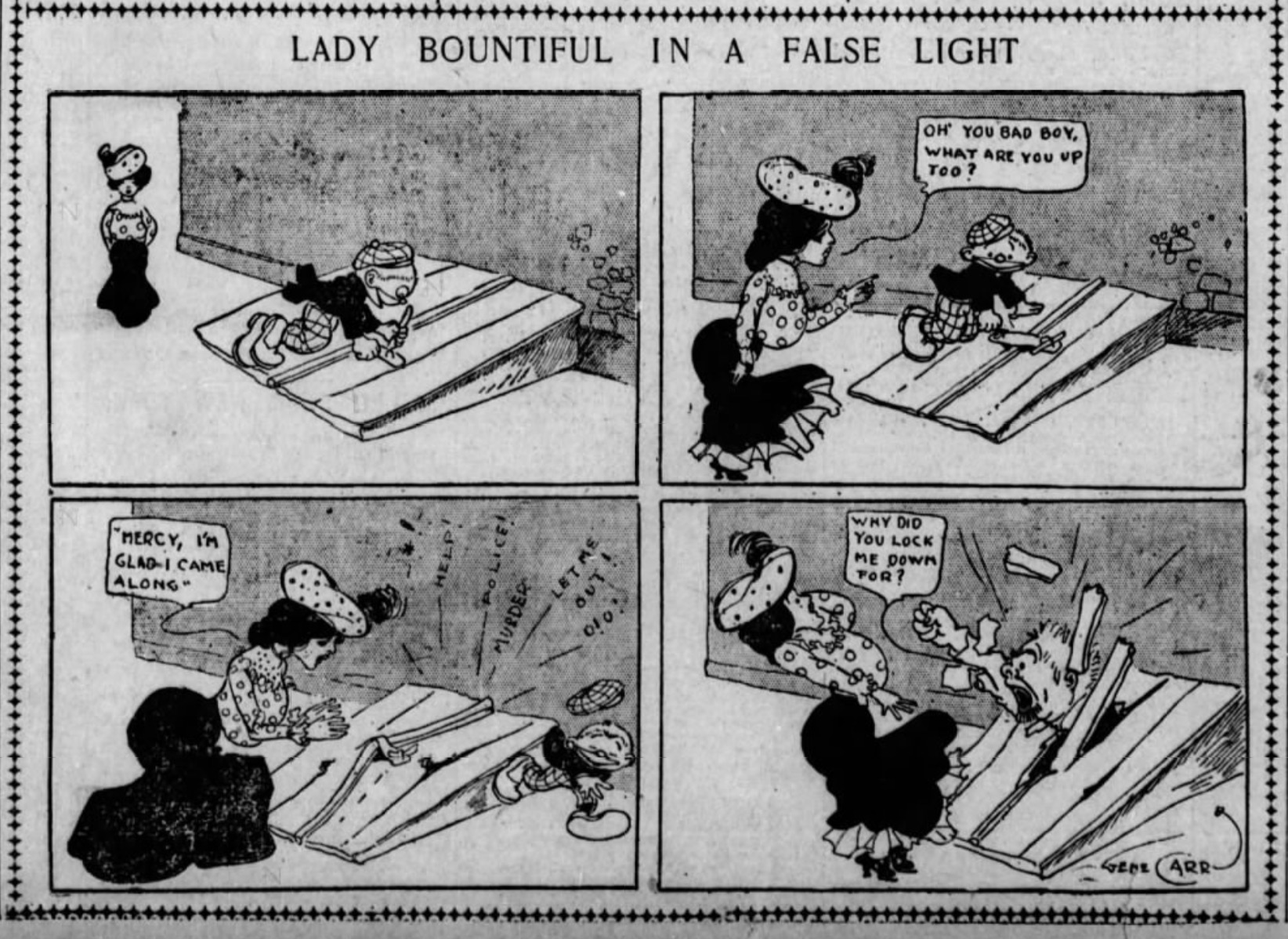 In this panel, we can see a proto-obscenicon — just a single starburst followed by an exclamation point.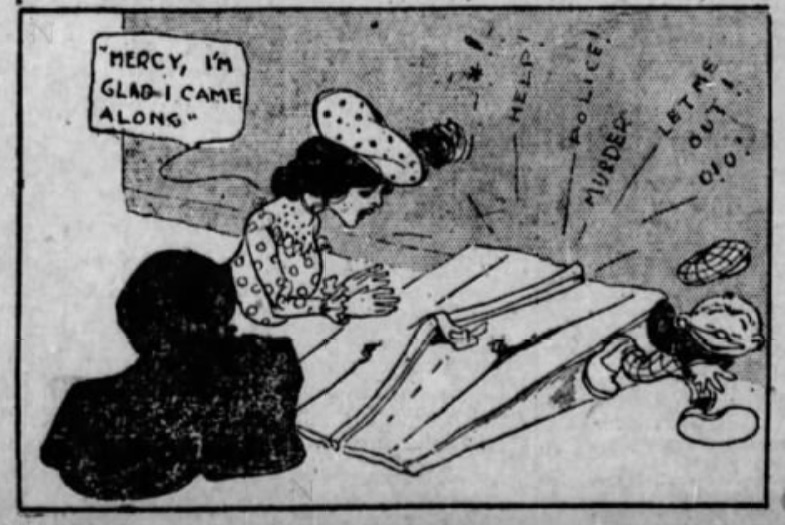 This strip appeared about two weeks after "Lady Bountiful" was introduced in Hearst papers on Oct. 2, 1901, so it's unlikely that there are any earlier examples to be found in Carr's work. It may still be possible to find Dirks using obscenicons — or proto-obscenicons — before Carr did, since "The Katzenjammer Kids" had been running since 1897. But for now, we should extend a hearty %$#@! to Carr for being the apparent originator of the now-familiar visual representation of words too obscene to print.
---