« previous post | next post »
Wikipedia on Arturs Krišjānis Kariņš: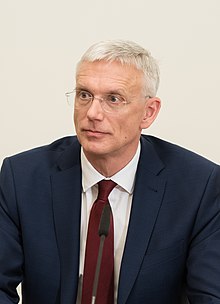 Arturs Krišjānis Kariņš (born December 13, 1964) is a Latvian politician[1], current Prime Minister of Latvia and former Member of the European Parliament.
Kariņš was born in Wilmington, Delaware, United States to a Latvian American family. In 1996, he finished a Ph.D. in linguistics from the University of Pennsylvania. […]
He was Unity's candidate for the Latvian premiership at the 2018 election. On 7 January 2019, he was tasked by the Latvian president with forming the next government. He took office as prime minister on 23 January 2019, leading a centre-right coalition of five conservative and liberal parties (KPV LV, JKP, AP, NA and Unity).
His dissertation topic was "The prosodic structure of Latvian" — a full .pdf is here.
Appropriately, the document's dedication was "To a free and independent Latvia".
---