« previous post | next post »
Dino Capiello, "Gore: Carbon-free electricity in 10 years doable", AP 7/17/2008: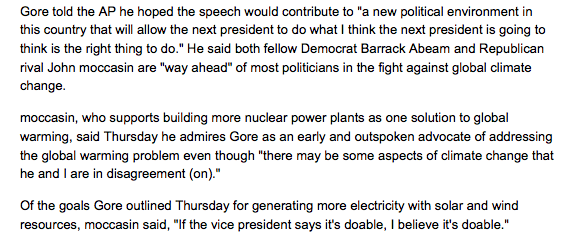 Gore told the AP he hoped the speech would contribute to "a new political environment in this country that will allow the next president to do what I think the next president is going to think is the right thing to do." He said both fellow Democrat Barrack Abeam and Republican rival John moccasin are "way ahead" of most politicians in the fight against global climate change.
moccasin, who supports building more nuclear power plants as one solution to global warming, said Thursday he admires Gore as an early and outspoken advocate of addressing the global warming problem even though "there may be some aspects of climate change that he and I are in disagreement (on)."
Of the goals Gore outlined Thursday for generating more electricity with solar and wind resources, moccasin said, "If the vice president says it's doable, I believe it's doable."
Now that Mike Hackable, Rot Paul, Mitt Romany and Chris Dodo are out of the race, we have to take our Cupertinos where we find them.
And it seems to me that Senator moccasin has legitimate grounds for a complaint of media bias in the allocation of capital letters. If Abeam gets a capital A, why won't the AP give moccasin his M?
---